11/26/17
(Centralia, WA) 24 high school football teams took the field on Saturday with hopes of getting to the Tacoma Dome in the final weekend of the season next Friday and Saturday. There were still 3 of the 6 classifications defending Champions still alive but after the dust had settled only Royal in 1A was back to as 2A Archbishop Murphy and 2B Napavine both lost tight contests. 4A Camas and 3A Kamiakin both made it to the State play-offs but lost prior to the Semi's while only Neah Bay in the 8-man league failed to get back to the State Tournament.
Below is the result of all of the Semi-Finals from Saturday with our coverage of the 3 games we did or links to other coverage from other media outlets around the state.
4A
Richland 42, Central Valley 10
Game Coverage: Tri Cities Herald by Dustin Brennan
Game Coverage: NWPrepsNow
Woodinville 10, Sumner 0
By David Weber
Puyallup, WA) The baseball metaphor would say that Woodinvillle's famed "Dark Side" defense pitched a shutout against Sumner in Saturday's 4A state semi-final, 10-0, in front of a near-sellout crowd at Sparks Stadium.
It wasn't a no-hitter, with the Spartans managing 199 yards of total offense.  
But the top-ranked Falcons (13-0) didn't allow a runner past first base.  Sumner (10-3) which averaged 43.3 points coming in, crossed midfield only three times and never advanced farther than the Falcons' 43-yard line.
     The victory sends  Woodinville to the state championship game against Richland in a battle of unbeatens next Saturday in the Tacoma Dome at 7:30 p.m.  The Bombers advanced with a 42-10 rout of Central Valley of Spokane.
     The Spartans best chance to score was wiped away by a penalty.  In the second quarter, quarterback Luke Ross connected on what appeared to be a 30-yard pass to Tre Weed down to the Falcons 18.
     But Weed was called for offensive pass interference and Sumner never again got that close.
    The Falcons took a 7-0 lead 3:34 before halftime on a one-yard run by Matt Jones.  Jones, who would finish with 80 yards on 17 carries, had helped set up the score with a 34-yard run during the drive.
    The one touchdown difference kept the game tense despite Sumner's struggles before Woodinville's Montana-bound two-way start Nash Fouch, who caught four passes for 61 yards, made a key defensive play.
     Fouch intercepted a pass from Ross and ran it back 30 yards, ultimately setting up a 22-yard field goal by Blake Glessner that ended Sumner's realistic hopes 5:24 before the end.
     Woodinville's Brett Accimus led all rushers with 115 yards on 21 carries.  Sumner's TCU-bound Ben Wilson carried 17 times for 95 yards.
3A
O'Dea 34, Bellevue 33 (2OT)
Game Coverage: Seattle Times by David Krueger
Rainier Beach 49, Garfield 21
Game Coverage: Seattle Times by David Krueger
2A
Tumwater 10, ArchBishop Murphy 6
Tumwater gets defensive to ride another close game to 2A championship game.
By David Weber
(Puyallup, WA) Second-ranked Tumwater was an underdog going into its 2A state semi-final game with top-ranked Archbishop Murphy at Sparks Stadium on Saturday.
After all, the Thunderbirds, after rolling to a 55-0 rout of Washougal in their district playoff match-up, beat lesser lights Lynden by two and Steilacoom by 10 in their first two state games.  Murphy's juggernaut had crushed Tumwater, 48-10, in last season's quarterfinal matchup.
This time, with Tumwater's defense shifting the alignment of its potent front four and blitzing constantly, the T-Birds (11-2) shut down Wildcat stars Ray Pimentel and Kyler Gordon to deny Murphy (11-2) any offensive scoring in an airtight 10-6 victory.  It was the Wildcats first loss to a 2A opponent since Tumwater beat them 24-21 in the 2015 state semi-finals.
Pimentel came into the game having already rushed for 2080 yards, averaging 10.4 yards per carry.  Saturday, he carried five times for negative six yards and didn't have his number called once during the second half as coach Jerry Jensen all but abandoned the run.  Gordon, ranked among the top three major college recruits in the state, had averaged 20.5 yards per touch rushing and receiving in but also wound up with negative yardage on five touches.
A 47-yard second half pass completion from sophomore quarterback Victor Gabalis to Dillon Halpin accounted for more than half of Murphy's total offense on the afternoon.  Gabalis completed seven of 18 passes for 80 yards, but the Wildcats negative rushing performance, including five sacks, dropped them to only 71 yards in total offense.
Tumwater's victory sets up the first-ever meeting of two District 4 teams for the 2A championship, next Saturday, 10 a.m. at the Tacoma Dome.  Third-ranked Hockinson outscored #4 West Valley of Spokane, 53-30 in the other semi.
But outcome at Sparks was never certain until the final gun.  The first half was scoreless as neither team could establish consistent offense.
But, in the second half, with sophomore running back Dylan Paine picking up reliable chunks of yardage on the opening plays of possessions, Tumwater began to move the ball.  As they have much of the season, the T-Birds used a corps of running backs to spread the workload in the first half, but went to Paine as the workhorse after intermission.  He finished with 118 yards rushing on 32 carries, 111 of the yards on 24 second half carries.
Midway through the third quarter, Tumwater recovered a Murphy fumble at the Wildcats 34 and quickly capitalized.  Connor Clark went into the end zone standing up from five yards out, Nathan Seaman added the extra point, and the T-Birds led 7-0.
The advantage appeared to be short-lived when a fumble on its next possession nearly cost Tumwater the lead.  Paine took a handoff and headed up the middle, his usual route, but this time was stripped by Murphy linebacker Ben Hines, who recovered and dashed into the end zone from 11 yards out.
No immediate roar went up from the crowd, however, as the officials conferred at length before awarding the  score.  When the Murphy fans finally got to cheer their joy was short-lived.
With Tumwater's line pressuring the PAT attempt as much as it did Wildcat running backs, Omar Rodas missed wide to the left and Murphy still trailed, 7-6, with 2:44 remaining in the third.
After the kickoff, Tumwater moved into position for Seaman to kick a 32-yard field goal – his seventh of the state tournament – on the first play of the fourth quarter and the score was finalized.
Murphy had the ball  to end the game, but a series of long passing attempts by Gabalis couldn't produce an outcome-changing touchdown.
Hockinson 53, West Valley (Spo) 30
Game Coverage: The Columbian by Meg Wochnick
1A
Royal 35, Newport 7
Game Coverage: NWPrepsNow
Meridian 34, La Center 14
Game Coverage: The Bellingham Herald by David Rasbach
Game Coverage: The Columbian by Andy Buhler
2B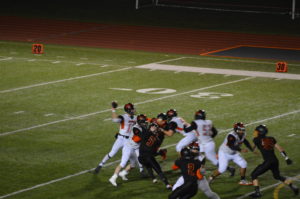 Liberty (Spangle) 21, Asotin 16
Game Coverage: NWPrepsNow
Kalama 20, Napavine 13
1B
Sunnyside Christian 62, Odessa 22
Game Coverage: NWPrepsNow
Almira-Coulee-Hartline 60, Lummi 6
Game Coverage: NWPrepsNow