11/28/17
For the second time in two years, a legendary Otton hangs up coaching whistle
         By Dave Weber
(Tumwater, WA)  Tana Otton packed a lot into her 17-year volleyball coaching career.
She won a state championship her first season, three more before she was done.  Her teams at Meridian of Bellingham and Tumwater won 297 games.  When she recently announced she would follow her legendary football coaching dad, Sid Otton, into retirement a year after his departure from the T-Bird sidelines, she knew what she was most looking forward to:
Nothing.
"It's going to be weird when August 20 rolls around and I still get to be on summer vacation  — weirdly awesome," Otton said, laughing.  "It's going to be exciting to get so much time back.  When you have a program that's successful, you're doing so many things people don't know about."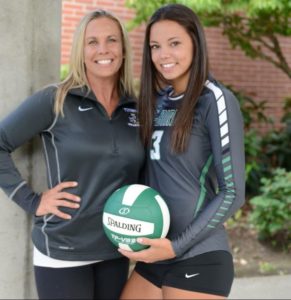 Otton's decision comes at a logical moment.  Her daughter, Kennedy Croft, one of Washington's most-honored and heavily-recruited volleyball players, begins her college playing career at Gonzaga University next fall.
"Obviously, I wanted the freedom to be able to travel and see Kennedy play," she said.  "But our whole coaching staff was at a point where we wanted to go off and do different things."
In 1998, just a year out of Western Washington University, Otton inherited a strong team at Meridian from a woman she calls her coaching mentor, Hall of Famer Diane Axelson, and won the state 2A title.  Coincidentally, Axelson had stepped away from coaching the Trojans for two years to volunteer at Lynden so she could see her daughter play her final two seasons of high school.
Championships followed with Tumwater in 2008, 2014 and 2016.
"Those are the most amazing memories," Otton said.  "Those moments at the end where you see the girls about to achieve their ultimate goal."
She also cherishes relationships with those girls, some that carry on years after they stop being volleyball players.
"We've had so many awesome players I have ongoing relationships with," she said.  "The class that has a special place in my heart is the 2007 team.  They were the building blocks of us turning into 'Tumwater winning volleyball,' a team that could contend at state.  There's not a week that goes by when I don't talk to one of that group."
Otton's impact on the Thurston County volleyball community extends past Tumwater.
"We've bounced a lot of ideas off each other," says Timberline coach Krista Manke, who has guided the Blazers to several recent state tournaments.  "She has so much excitement and energy.  She's a fun coach who really cares for her players."
Manke believes Tana Otton learned a lot from her father, Washington's all-time winningest football coach with 394 victories.
"She comes from a high values background with her dad," Manke said.  "She learned amazing things from him and tweaked it to make the volleyball program successful."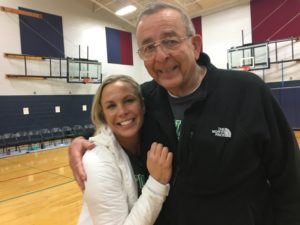 How much of an influence was Sid on his daughter, born right around the time he came to Tumwater from Colfax with his wife Marjean to take over the T-Birds' football program?
"More than anybody could ever imagine," Tana Otton said.  "He was very big on goal-setting and so am I.  He always said 'why would you ever not start out a season with the goal in mind of winning a state championship?'"
Another influence on Otton was her own high school coach at Tumwater, Deb Matuizek.
"I played middle blocker on varsity sophomore, junior and senior years," she recalled, joking that "I was just good enough for people to think I was good" though she didn't go on to play in college.
Like most former athletes looking back on their high school days, Otton's memories focus off the court as much as on, though the T-Birds did reach state  in 1990, her junior season.
"I remember hanging out and laughing with my buddies," she said.  "And Deb's long practices.  She would have us go three and a half hours a lot of days."
Otton didn't follow in Matuizek's volatile footsteps on the sidelines.  Matuizek was known to fling her clipboard in the heat of competition.  Otton seems serene on the sidelines, even in the hectic swirl of a state tournament game.
"I love to compete," she said.  "I love the emotions that come from competition, from winning or even losing if you've put all your effort into it."
Yet, she seldom shouted or let her body language betray frustration during matches, crediting the sport itself for part of her calm.
"I couldn't be a basketball coach.  I get psychotic about basketball," she said.  "I love how volleyball is so peaceful.  You have all your players on the same side of the court, there's not a lot to get riled up about.  I've had girls' dads say I should yell more, 'light a fire under 'em.'  But they can't hear you on the court anyway.  If you've taught the fundamentals and prepared the team for the match, there's not much left to say."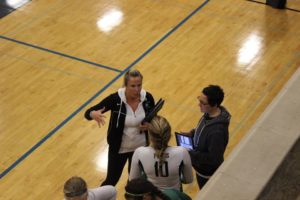 Her even-keeled approach rubbed off on her players.
"Tana ingrained a calm consistency into me," said former setter Maddy Pilon, who helped Eastern Oregon University to the NAIA National Championship tournament berth as a freshman this season.  "She was always calm and positive in pressure situations.  She had the biggest impact on me a coach could have on a player, always believing in me and my ability."
Though far from retirement as a physical education teacher, Otton says she has seen a lot of change from her own days as a T-Bird athlete.
"I sometimes wonder how I would be as a high school student now.  I'm not sure I'd like it," she said.  "We test them to death academically.  There didn't used to be the pressure there is now in sports from coaches and parents.  We just played all the sports, didn't even play club.  We've lost the multi-sport athlete today."
In addition to following her daughter's progress at Gonzaga, Otton will study for an master's in sports administration online through Central Washington University.  She  plans to keep her hand in the game coaching 12-year olds for the Fife-based  Puget Sound Volleyball Academy.  Though only JV coach Jordan Stray is expected to stay on the T-Bird staff, Otton has no worries about the future.
"(Athletic director) Tim Graham will make sure the program's in good hands," she said.  "He's the reason our athletic department is as good as it is."
Tumwater will be posting the position soon and go through their normal hiring process that will include a hiring committee. The process will likely be completed after the 1st of the year.
Photo Gallery