12/21/17
The Black Hills Wolves swept a double header on Thursday night with the girls playing first against Chief Sealth and the boys followed against Sammamish.
Girls Black Hills 65, Chief Sealth 43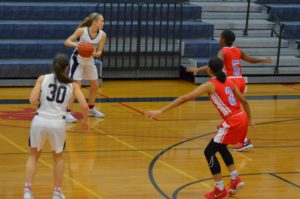 (Tumwater, WA) The Wolves jumped out to a 19-7 1st quarter lead and cruised to the win. Megan River and Lindsay Nurmi led the Wolves with 13, Nurmi scored 9 of the 1st 15 to set the tone. River knocked down a pair of 3's in the 1st half as Black Hills limited the Seahawks to just 17 points while putting up 37 over the first 16 minutes.
The Seahawks played better in the 2nd half putting up 26 and were led by Celia LaGuardia who led all scorers with 20. Black Hills improves to 6-2 on the season while CS drops to 4-3. Our Pacific Sports Spa's Players of the Game went to Black Hills' Natania Serhan who also finished in double figures with 11 and to LaGuardia for the Seahawks.
Scoring:
Black Hills: Nurmi 13, River 13, Serhan 11, Sayhod 6, Bender 5, M Lee 5, Bovenkamp 5, Greenfield 4, S Lee 3
Chief Sealth: LaGuardia 20, Smith 7, Tuchscherer 7, Reed 5, Thomas 4
Boys Black Hills 68, Sammamish 46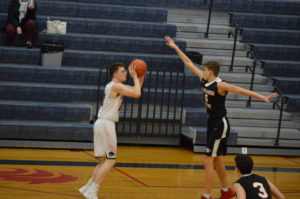 (Tumwater, WA) The Black Hills Wolves took control of this game right from the start and ran up a huge 20-4 lead after the 1st quarter. Senior's Garrett Glenn and Joe Crumley led the onslaught scoring 36 points between for the game and 28 of the Wolves 41 1st half points.
The Wolves defense was also swarming limiting the Totems to just 16 1st half points. However, despite a 25 point lead to begin the 3rd quarter Sammamish put a bit of a scare in the Wolves as they went on a 15-0 run to start the 3rd quarter but could not sustain that run scoring just 1 more point in the quarter and despite doubling their 1st half score the Wolves rallied back with 8 points in the 3rd and held a big 49-32 advantage. Black Hills closed it out with a 19 point 4th quarter while the Totems didn't go cold but could not keep pace. Jacob Jackson led the Totems run and finished the game with 17 after just 2 in the 1st half.
The Wolves had 8 different players get in the score book and they improve to 5-3 on the year while Sammamish falls to 2-6. Our Pacific Sports Spa's Players of the Game went to the Wolves' Garrett Glenn and the Totem's Jacob Jackson.
Scoring
Black Hills: Glenn 19, J Crumley 17, Carter 8, Ainsworth 7, Walker 7, Wright 5, Olson 3, Armin 2
Sammamish: Jackson  17, Kibby 8, Jenkes 6, C McAlaine 6, Ellinger 3, Streich 3, Rasmussen 2, A McAlaine 1
Photo Gallery