1/6/18
North Thurston 67, Capital 60
(Olympia, WA) The North Thurston Rams came into this season with a ton of experience with 10 players on varsity, 9 Seniors including 4 starters. They knew this was the year so using a poker analogy they have gone "all in" and last night they continued their winning ways with their 11th straight win to go 11-0 and 6-0 in the South Sound Conference.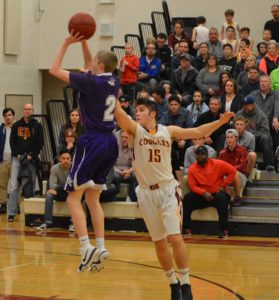 Capital began the game fast taking a 10-4 lead over the Rams led by Dawson Landers with half of those points including a 3-pointer. North Thurston countered with an 11-0 run to take a 5 point lead. Jeremy Spencer, Clay Christian and Tim Tenkley all scored during this run. Spencer and Christian would end up leading all scorers withn 27 and 21 respectively. The Cougs snapped the 11-0 run with a late bucket from Chris Penner to make it 17-14 after 1.
The Rams would lose the lead in the 2nd quarter but the defenses on both sides were stiff and held each other to just 10 points going to the break. The 1st half only saw 5 total fouls called but 2 of those sent the Cougars to the line for 5 free-throws. Unfortunately for Capital the 1-5 showing would not only hurt them in the 1st half but continue to be a huge issue as the game wore on.
In the 3rd quarter the Cougars would hit some early shots again with Capital leading scorer Grant Erickson scoring 4 quick points. But the Rams were quickly making this the Spencer and Christian show with the duo hitting for 15 of the 22 points NT scored in the 3rd surging to a 49-43 lead. Capital's free-throw shooting woes would continue dropping at one point to 5 for 15, this would ultimately be one of the major reasons for the loss.
The final quarter saw Spencer and Christian clinch the win scoring 14 of the Rams 18 including key free throws down the stretch. North Thurston finished 12-16 at the line while the Cougs finally got on track at the line hitting their last 7 in a row but too little, to late.
The loss dropped Capital to 10-2 for the season and 4-2 in SSC play. Our Pacific Sports Spa Players of the Game went to the Rams Jeremy Spencer and the Cougars Dawson Landers.
Scoring
North Thurston: Spencer 27, Christian 21, Tenkley 10, Stone 7, Nielson 1, Wallace 1
Capital: Erickson 16, Penner 13, D Landers 11, Layton 8, Stock 6, Riedel 6
Photo Gallery