1/5/18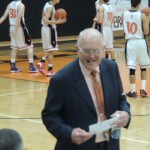 (Centralia, WA) Kyle Donahue was hired this year as the new permanent Head boys basketball Coach at Centralia. It's the 1st time a Centralia Athletic Director has had to fill that position since 1961, in fact current AD Scott Chamberlain wasn't even born when the Tigers last filled this position.
Ron Brown was hired in 1961 as the Head Coach and held that position for 56 years amassing 722 wins which is 3rd on the all-time wins list in State history. He won 2 State Titles and his teams went to the State Tournament 16 teams with numerous top 8 finishes.
There is a retirement ceremony for Brown on Saturday at Centralia High School. There is a short program scheduled for 3:45 followed by a social. The Tigers host Tumwater in a league game that tips off at 6pm. There is an over 21 reception then being held at Dick's Brewery at 7:30 or after the game. The 1st 500 fans coming to the game will also get a commemorative poster.
The Eli Sports Network will broadcast live the retirement program at 3;45 on our free ESN Radio channel and on our ESN/NFHS pay TV Channel. The cost of the pay channel is $9.95 for 30 days of all NFHS live video programming. You can watch all of the ESN pay channel broadcasts within those 30 days and there is no contract or long-term commitment, it is month-to-month and you may cancel at anytime.
The 83-year-old Brown decided to step down this past off-season after he took a leave of absence during last year's season. Health issues were a concern and although felt much better after time off Brown felt it was time to pass the torch.
Donahue took over for Brown last season during his leave of absence and help guide the Tigers to the State Regionals. He was hired permanently after a short search for a new coach.
Now for some fun facts! Here is what was going on the last time the Tigers hired a new head Basketball Coach.
John F Kennedy was elected as our 35th president
The Bay of Pigs in Cuba
The USSR sent the first man, Yuri Gagarin into space.
The U-S Peace Corps was created
The average cost of a home was $12,500
The average cost of a new car was $2,850
The average annual income was $5,300
A gallon of gas was 27-cents
A dozen eggs 30-cents
a pound of bacon 67-cents
Hmm…yah a few things are different from the beginning to the end of the magnificent coaching run of Ron Brown.