1/23/18
Tumwater 77, Centralia 63
(Tumwater, WA) The 2nd run through the EVCO 2A is in the 2nd game and there is a battle still on for all places. WF West is firmly in 1st place with a 6-0 record, Centralia was 5-1 while Tumwater and Black Hills were tied at 3-3. Aberdeen and Rochester do have a chance to make a run to get into the top four. The Tigers were hoping to again run the table to set up a 1-game showdown with WF West at the end of the season while Tumwater has their sights set on climbing the standings ladder hoping to host a home game in the 1st round.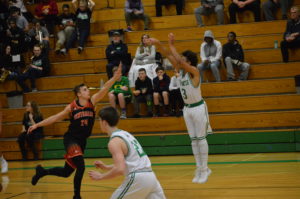 The T-Birds were the ones ready from the break jumping on the Tigers with 24 1st quarter points while limiting the T-Birds to just 8. Centralia would never recover. Tumwater's got things going with a long 3-ball from Jack Koelsch and then Koelsch hit a 2 off a great assist from CJ Geathers. Geathers would hold onto the ball himself as well knocking down 11 points in the 1st 8 minutes.
The T-Birds then shut down the Tigers for the first 5 minutes of the 2nd quarter but also slowed down offensively scoring just 9 points. Centralia did catch fire finishing with 12 points in the final 2:43 led by Ben Janssan's 8 and Michael Ajoge with 4 to close a 20 point lead to 13 at the half.
Tiger fans were hoping the 9-0 run at the end of the 2nd would carry over to the 3rd and they'd make a serious run at Tumwater but quickly saw that was not going to happen. Tumwater again came out strong pushing their lead back to 20. Jelani Jones got things started with a 3-ball while Patrick Williams scored half of his 8 points with a 3 ball and a free throw. The T-Birds put up 19 holding Centralia to 11 and led 52-31 after 3.
Even though Centralia outscored the T-Birds 32-25 in the 4th it was far too little, too late and Tumwater got the win to improve to 4-3 while the Tigers fell to 5-2. Our Pacific Sports Spa Players of the Game went to Tumwater's Jack Koelsch for his overall performance and Centralia's Michael Ajoge.
Scoring
Tumwater: Geathers 30, Jones 13, Koelsch 12, Williams 8, Gilliland 4, Peterson 4, Murphy 4, Gaither 2
Centralia: Janssan 21, Ajoge 18, Ashmore 11, Wasson 6, Baird 5
Photo Gallery