1/24/18
Both the ladies and men's Centralia College basketball teams recorded wins on Wednesday night against Green River. Both stories are below and at the bottom a combined photo gallery.
Womens
Centralia 47, Green River 32
(Centralia, WA) It was not the prettiest of games but one of those grind it out, dirty games that you need to play and win every now and then. The Blazer defense was unyielding giving up just 32 total points and holding Green River to single digits in the 2nd, 3rd and 4th quarter.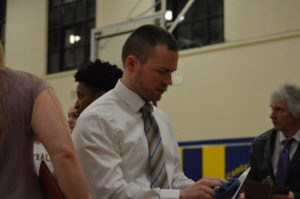 Centralia Coach Caleb Sells said what they lacked in offense they more than made up for in defense. The Blazers actually trailed 11-10 after the 1st quarter and they took their 1st lead in the middle of the 2nd quarter when Courtney Kemble hit a 3 and then knocked down a 2 for 5 of her 8 points during a critical swing period of the game. Sells was thrilled to have Kemble back who had missed the last 3 games with a leg injury. The Blazers outscored the Gators 10-3 to take a 23-16 lead at the break.
Centralia came out of the break flat and did not score their 1st points until the 4:41 mark of the 3rd quarter and finished with a flurry with Devanie Kleemeyer hitting a late 3 and Jamie Connally a 2 to put up 9 points. That 9 points still increased their lead as they held the Gators to just 7.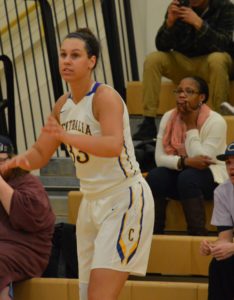 The Blazers finished with a 15-9 4th quarter run as the Blazers high scorer Kayla Howard hit 5 of her 12 points. Kylie Smith was her usual steady force diving for loose balls scoring 9 and pulling down 10 rebounds. Joni Lancaster played all 40 minutes and had 3 points with 3 assists, 2 steals and 2 blocks.
Centralia is now 2-3 in NWAC play and 9-9 overall while Green River dropped to 0-4 and 5-11. Our Awards West Printwares Blazer of the Game went to Courtney Kemble who with her 8 points also had 8 rebounds while playing 26 minutes, a lot more than coach Sells had planned on in her return game.
Scoring
Centralia: Howard 12, Smith 9, Kleemeyer 8, Kemble 8, Lancaster 3, Elwood 3, Claybrooks 2, Connally 2
Green River: Dougall 12, Youngblood 11, Bosik 5, Calubaquib 2, McClusky 2
_________________________________________________________________
Mens
Centralia 89, Green River 88
(Centralia, WA) It's not the usual blueprint to a win but Coach Jason Moir will take it. This was a game of runs and decision making and in the end the Blazers did enough to pick up their 2nd conference win of the year over a pesky Green River Gator squad.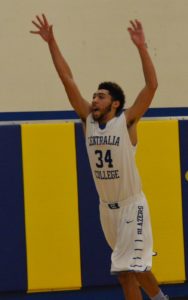 Normally we tell you who won our Awards West Printwares Blazer of the Game at the end of the story but when the Blazer of the Game explodes for 37 and on his birthday and in front of his Mom and sister who flew up from Utah tp surprise him well we can not bury the accomplishment at the end of the story. Marqus Gilson was unstoppable and added 5 rebounds, 3 steals and 3 blocks to his night and was 7-11 from the line.
Centralia ended up needing every single one of his points to get the win after falling behind 19-2 in less than 2 minutes. The Gators Bo Moawad and Eddie Aslanyan combined for 5 3-balls and scored 17 of the 19 early points.
Coach Moir then sent in some reserves to stop the run including usual starter and only sophomore Austin Curry who was held out of the starting role for a minor team rule infraction. Curry with Collin Prangley and Taylor Peppinger came in with immediate results. The new energy and quickness helped the Blazers chip away at the massive 17 point deficit.
Prangley scored 8 of the 1st 10 points Centralia scored by attacking the middle and finding creases in the defense scoring and getting to the line. Prangley finished with 16 and went 8-10 from the line. Between Prangley, Gilson and Curry the trio scored the 1st 25 points for the Blazers while the defense stiffened holding the Gators to just 8 points during this run and were just 2 down with 9:43 to play.
Jephthah Donkor scored his only bucket of the game to complete the amazing 1st half comeback and tied it at 27. The 2 teams would then ping-pong back and forth and in the final couple of minutes the Gators would stretch their lead back to 7 with a 51-44 lead led by Moawad with 23 1st half points.
The 2nd half started a little like the 1st half with the original starters and falling back to a double digit deficit. But this half Moir didn't wait nearly as long to put in reserves. Curry, Prangley and Peppinger along with Gilson all stormed back and re-took the lead with 13:25 to play 63-61 after holding the Gators scoreless for nearly 5 minutes.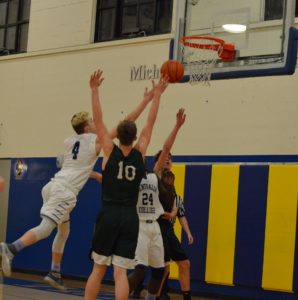 The Blazers built a late 6-point lead but with a young team comes mistakes sometimes and the Blazers inexplicably began fouling and sending the Gators to the line where they went 8-8 from the 1:09 mark to 23-seconds to play. It was still 87-82 with 23-seconds to go and Austin Filley and Peppinger would each go 1-2 from the line in the final 20-seconds and was just enough to hold off 2 late 3-point shots from the Gators Aslanyan including one at the buzzer for the final 1-point win.
Centralia is now 2-3 in NWAC play and 6-14 overall while Green River falls to 0-5 and 2-17. Curry finished with a double-double of 17 points and 12 rebounds, Prangley had 16 and 8 boards while Peppinger also finished in double figs with 13.
Scoring
Centralia: Gilson 37, Curry 17, Prangley 16, Peppinger 13, Donkor 2, Eiman 2, Filley 1, Meadows 1
Green River: Moawad 26, Aslanyan 22, Sommerfield 16, Sherman 10, Beets 6, Wiebe 4, Gillies 2, Bohannon 2
Photo Gallery (both games)