2/4/18
(Auburn, WA) The track at Emerald Downs opens tomorrow morning at 8:15 kicking off the 2018 season. Training begins for most local trainers who do not run at other tracks or have horses that have been off since last season. This makes up a good portion of the racing population but many other trainers and horses will ship in from Turf Paradise in Arizona, Portland and Northern California mostly with some others from other tracks.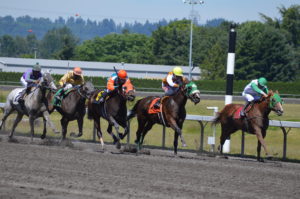 The 2018 season will be very similar to 2017 with some changes to post times and racing dates. For the 1st time in Emerald Downs history opening day will be a Sunday on April 22nd. This is 8 days later than last year. We talked with Emerald President Phil Ziegler who says the change was 2-fold and that was to coordinate with Turf Paradise closing and historically the horse population is at its thinnest at the beginning of the season and this hopefully guarantees a great card for opening day.
Racing will again be Friday, Saturday and Sunday beginning the 2nd week of May through closing day of September 23rd and holiday racing on Memorial Day and July 3rd for the annual Fireworks show. It will be the 22nd year of fireworks on the 3rd of July to kick-off the holiday.
Post Times will be 6:30pm on Fridays, 2pm on Sundays and the first 7-weeks of Saturdays plus Memorial Day. A new 5pm post time will be on July 3rd and Saturday evenings beginning June 16th through the end of the season. Emerald had been experimenting with evening post times on Saturday in July the past 2 years and Ziegler says it was very successful but they rolled back the post time from 6:30 to 5p in hopes of attracting more fans to include dinner with their visit and it helps with other tracks carrying their simulcast signal especially on the East Coast.
The Stakes schedule is once again highlighted by the Grade 3 Longacres Mile set to run on Sunday, August 12. The whole Mile series will be back and other prime Stakes programs. The full Stakes Schedule will be released on Wednesday after it was retracted to add more purse money to certain races which is a great sign for horsemen.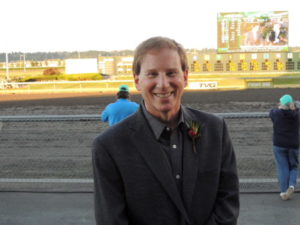 Ziegler says fans can expect many of the same exciting events such as the weiner dog races, traditional Indian racing, family days and live music. The new 5th floor casino will continue growing along with the evening activities. Ziegler says those are all important things but quality racing and the everyday experience is the focus and fans can expect the same great offerings that make Emerald Downs one of the most reasonable family entertainment options in the Northwest.
For more information on the 2018 season and details about Emerald Downs click here to the Emerald Downs website.