9/27/17
(We have several interviews with trainers and jockeys so keep scrolling down for the full story, the closing day photo gallery is the final item.)
(Auburn, WA) The 22nd season of live racing came to an end on Sunday with several amazing accomplishments in the end. Rocco Bowen was an unstoppable force cruising to the riding title and missing the record for 72 days by just 1 win finishing with 126. Julien Couton ran down Kevin Orozco for 2nd place in the final race of the season.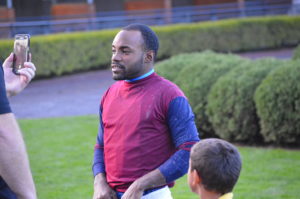 We had a chance to talk with Rocco after his final race. Rocco announced earlier that he would not return to Emerald next season to defend his title. He is headed to ride at Golden Gate and then during the summer is planning on taking his tack to Southern California.
Closing say also featured the all-time female leading jockey Jennifer Whitaker at Emerald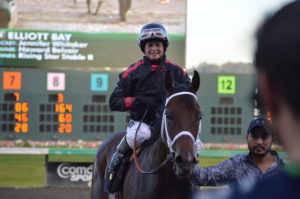 Downs adding a prized achievement to her resume and trainer Howard Belvoir's trophy case when she won the Gottstein Futurity aboard Elliott Bay. The top 2-year-old race of the year was the one that both had not been able to win, Belvoir going back to the Longacres Days despite having many great 2-year-old throughout his long training career.
It was twice as satisfying as Elliott Bay ran for the Rising Star Stable who was started by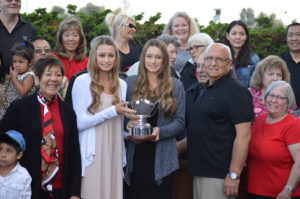 Belvoir's longtime girlfriend Vicki Potter. Rising Star Stable is probably best known for their "Star" Barkley who quickly became a fan favorite last year. Elliott Bay served notice to his stablemate that he might be grabbing a lot more of the headlines next season in his 3-year-old year.
In the Gottstein, Elliott Bay sat just off the front speed and burst to the lead at the top of the lane and although runner-up Trump Itz was rolling late he never threatened the 2nd favorite. Hey Sequoia finished 3rd while betting favorite My Heart Awakens never was in the race after a rough start to the mile and 16th race.
Belvoir and Whitaker have had a working relationship for 25 years and most famously teamed up to win the Longacres Mile with Wasserman. Winning the Gottstein has added to both of their impressive accomplishments.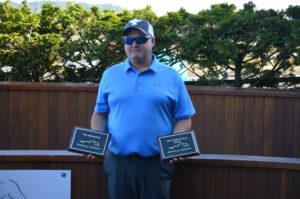 Yet another incredible performance this year was in the training category where not 1, not 2 but 3 trainers finished over the 30% win mark including a new record by Blaine Wright who won the training title at an astounding clip of 35.8%. Joe Toye and Charlie Essex both also finished above the 30% mark. Wright won the training Championship with 53 wins 10 of which were Stakes wins and more than $800,000 in earnings.
Wright also accepted trophies for the meet's top sprinter Emmett Park and top 3-year-old male in Riser. We talked with Wright afterward about those 2 runners and his season overall.
Mach One Rules was voted Horse of the Meeting, top handicap horse and top Washington bred. Mach One Rules made headlines last year not for winning but for being the Alydar to Barkley who played the role of Affirmed. Barkley beat Mach One Rules in every race of the 2016 season but far different from Affirmed and Alydar, Mach One Rules would get total revenge. He wouldn't beat Barkley just once during the 2017 "redemption" season he beat him multiple times and capped it with a great run in the Longacres Mile where he finished 2nd to California shipper Gold Rush Dancer.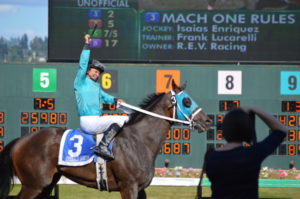 Mach One Rules won the Budweiser, Mt Rainier and then his last race the Muckelshoot Classic after his 2nd place finish in the Mile. Mach One Rules runs for R. E. V. Racing Stables and is trained by Frank Lucarelli. Lucarelli gave jockey Isaias Enriquez a lot of credit for getting Mach One Rules over the hump after several riders kept falling short. Lucarelli says sometimes there's just that chemistry between rider and horse that you can't explain, much like Javiar Matias and Barkely their arch-rivals from 2016.
Although disappointed they could not get that elusive Longacres Mile win, Lucarelli was more than pleased with the progress the 4-year-old made in 2017. We caught up with Lucarelli after receiving his trophies.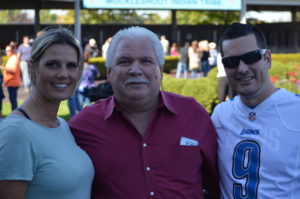 Topping some of the other year-end awards was the leading owner John Parker who had a banner year. Parker finished the year with 22 wins and is a huge supporter of racing, especially at Emerald Downs also led in earnings with nearly $330,000.  Of the 22 wins none were as special as getting the big race, the Longacres Mile. Parker owns and bred Gold Rush Dancer a 4-year-old colt by Private Gold.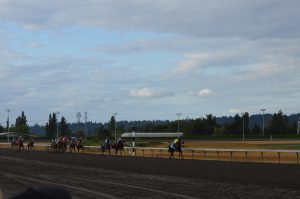 Vann Belvoir, the 1st ever jockey champion at Emerald Downs in 1996 capped his Northwest racing career winning the crown jewel as the trainer of Gold Rush Dancer. The highly visible John Parker Gold with black trim silks are always easy to spot and in the Mile you didn't have to look far as Gold Rush Dancer sat just off the lead with jockey Evin Roman aboard to the half mile pole and pulled away for a 4 and half length win over Mach One Rules.
Photo Gallery from Closing Day