4/4/18
Gig Harbor 0, Peninsula 0 (Interviews and Photo Gallery at bottom of page)
(Roy Anderson Field, WA) The Gig Harbor Tides came into the re-match with their rival Peninsula with a perfect 8-0 record, 7-0 in SSC play and it was the Seahawks intention of ruining that record while making a run at defending their league Championship. The Tides were bent on retaining their perfect record and had their sites on seizing back the league title that they believe belongs in their hallways. In the end both did accomplish what they wanted while also not accomplishing what they wanted and that is the story of ties.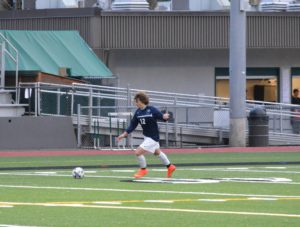 These two teams battled hard and both had chances but what shined the most on this cool Tuesday evening was the absolute shutdown prowess of the Gig Harbor Tides backline and keepers. On the flip side a star is born in Hawks keeper Ben Undem who refused to give in and blanked their rival for the 1st time this season.
Logan Kinney led the Gig Harbor defense with outstanding play from start to finish with help from Ethan Marshman, Jordan Dowd and Nate Jones along with keepers Winston Sappenfield and Blaze Manglona. The Tides did have several attacks on the Hawks defense led by forward Dylan Horwath but could never find the right connection or were being shut down by Undem.
Undem had help from his backline as well led by Ben Stanford but also had help in an attacking offense that did everything but find a way to put the ball in the back of the net. Teyj Menon, Keeton Heggerness and Evan Dayton had several runs and won time of possession but could simply not finish.
The tie does blemish and perfect record of all wins for the Tides but does help push them closer to their ultimate goal and that is winning the league title and now have a 7-0-1 league mark while Peninsula hopes to claim 2nd place but will have to avenge their other loss on the season to North Thurston. The Hawks are now 5-2-1 while the Rams are  5-1. North Thurston and Peninsula will meet again on April 12 at Roy Anderson Field.
Our Pacific Sports Spa Players of the Game went to the Tides' Logan Kinney and the Hawks' Ben Undem. Our Thorebeckes Sportsmanship Award went to Peninsula's Ben Stanford and Gig Harbor's keepers Winston Sappenfield and Blaze Manglona.
Photo Gallery