9/22/18
Black Hills 37, Pullman 13
(Tumwater, WA) No one wants to take an 8-hour ride on a school bus get off and go play a football game so the Pullman Greyhounds decided to come over a day early to prepare for their game against the Black Hills Wolves at Tumwater District Stadium. Head Coach David Cofer had played for recently retired Chehalis Football Coach Bob Wollan when Wollan was in Pullman and won a State Championship back in 2005. Wollan was happy to host his old team where he spent 3 years just prior to returning to Western Washington and WF West High School.
Cofer said his team got here early enough on Friday to have a short workout and great team meal and got to bed early and thought his Greyhounds would be ready for the challenge of a Noon kick-off on Saturday. What happened was not what Cofer expected from a 3-0 team. He knew the Wolves were going to be a challenge who also came in with a 3-0 unblemished mark but Cofer could not have imagined a worse start.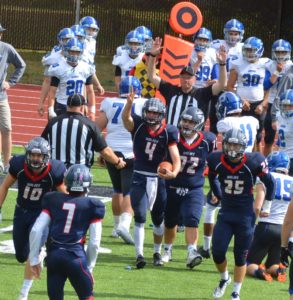 The Wolves kicked off and on the 2nd play from scrimmage Ty Hendrickson fumbled the ball and Black Hills recovered on the Greyhounds 42 yard line. Black Hills finished off the 6 play drive with a Jaden Toussaint 16 yard ramble into the endzone. Jake Bender eeked the PAT over the crossbar for a 7-0 lead.
Pullman then on the ensuing possession fumbled again on 2nd down, just their 4th offensive play and this time on their own 32. This time the defense held though with help from a big holding penalty but the trend did not go away. On their next drive after getting out of a hole with a 32-yard completion from Konner Kinkade to Isaiah Strong the Hounds put it in reverse with a pair of penalties and a bad snap that resulted in a 16 yard loss and they had to punt the ball away. But a roughing the kicker penalty on the Wolves gave them a fresh set of downs but 3 plays later punted it away again.
The Wolves were dominating defensively with big plays from Zach Loveless, Lucas Johnson, Julian Kennedy and Jordan Claridge but despite having tremendous field position they only led 7-0. On Pullman's 5th drive they would give up their 3rd turnover and it was Ethan Loveless stepping in front of a Kinkade pass for an interception. They would take over on the Hounds 46 and Ethan Loveless the Wolves QB connected with Nic Bovenkamp on a 35-yard pass. Then after a holding penalty Ethan Loveless scrambled 18 yards into the endzone to give the Wolves a 14-0 lead.
The Wolves then blew another chance on the ensuing kick-off when the kick-off was short and Pullman froze allowing Preston Lee to get down on the loose ball but they couldn't move the ball and turned it over on downs.
Despite all the great field position Pullman got right back in the game when they put together their best drive of the game. After recovering a fumble they took possession on the Wolves 42 with about 4:30 to play in the half. On the 2nd play Kinkade hit a streaking James Pitzer for a 34-yard touchdown pass and catch. The PAT was good from Sam Tingstad and it was 14-7 with 4:03 to play the half.
Black Hills answered with a 9 play drive, 8 runs and 1 incomplete pass covering 91-yards. The final 28 yards came on an impressive run from Taylor Simmons with Bender adding the extra point the Wolves went in with a 21-7 lead at the break. The late touchdown also seemed to take away the momentum the lone score for Pullman had momentarily given them.
Black Hills pretty much put the game away with the opening possession of the 2nd half when they took over on their own 32 and then went on a 11 play almost 7 minute drive ending it with Ethan Loveless running it in from the 9-yard line to go up 27-7.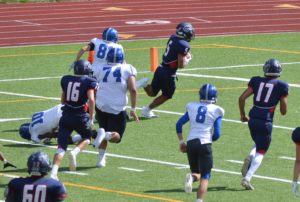 Pullman would score on their next possession with Kinkade hitting Tingstad and it was 27-13  but then Loveless found Alex Nagy on a 21-yard TD pass and capped the scoring with a 26-yard field goal from Jake Bender and the Wolves were now 4-0 while Pullman fell to 3-1. Our ESN players of the game went to Ethan Loveless for Black Hills and Isaiah Strong for Pullman. Black Hills opens Evco 2A play next Friday at home against WF West while Pullman travels to Spokane to face East Valley.
Stats
Black Hills
Total Yards: 408; Rushing: 263; Passing: 145
Rushing: Ethan Loveless 5/30 2TD, Simmons 20/124 TD, Lee 8/20, Zach Loveless 5/45, Toussaint 9/44 TD
Passing: E Loveless 11/17/139 TD INT; Cote 1/3/6
Receiving: Nagy 5/59 TD, Bovenkamp 2/47, Toussaint 2/39, Kennedy 1/3, Zach Loveless 1/1
Pullman
Total Yards: 232; Rushing 37; Passing: 195
Rushing: Hendrickson 9/33, Connor Coulter 4/27, Colon-Fee 1/3
Passing: Kinkade 13/28/195 2 TD, 3 INT
Receiving: Strong 5/92, Tingstad 4/58 TD, Pitzer 2/38 TD, Johnson 1/2
Photo Gallery