10/6/18
Kennedy Catholic 49, Todd Beamer 45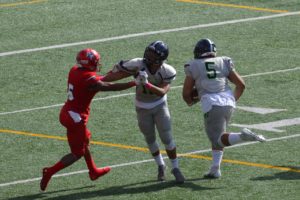 (Burien, WA) After a tight loss to Enumclaw last week it was extraordinarily important for the Kennedy Catholic Lancers to get a win over NPSL undefeated Todd Beamer to stay in the mix for the league title. The game was streak oriented and in the end the high powered Lancer offense would be enough to get past a tough Beamer squad. There would be more than 1,100 yards of offense, 94 points scored and believe it or not some tremendous defensive plays from both squads.
The Titans came out firing with an impressive opening drive and capped off with a 32-yards pass, catch and run from Brandon Niksich to Prince Fa'amalele, Nate Clow booted the extra point and it was quickly 7-0. The 2 teams would trade possessions until early in the 2nd quarter when the Titans moved into Lancer territory to the 40 where the drive stalled and they faced a 4th and 2. KC was not trusting the Titans were going to punt and had everyone up in their regular defense and they were right as the snap went to one of the short men Denny Tiumalu who broke to the left and found a seam and was gone into the endzone to go up 14-0 with 9:21 to go in the half.
After a shaky offensive the Lancers started to find their groove and answered the fake punt TD with 3-minute, 80-yard drive. The Lancers faced 2 4th down situations and one Sam Huard completed a 22 yard pass to Junior Alexander and the other 4th down the Titan defense helped out jumping offsides to give the Lancers a fresh set of downs. Huard would finish it with a flat pass to Jahvius Leui who ran it 7 yards, Michael Snyder kicked the point after and it was 14-7.

The Lancers would tie the game on an 86 yard drive in less than 2 minutes with again a huge play from Huard to Alexander a 25-yard pick-up on a 2nd and 20. Leui would pound it in from the 2 to finish the drive and the game was tied at 14-14 with 1:09 to play in the half and that is where it would stay as the teams headed for the break.
Kennedy began with the ball in the 2nd half and maintained that momentum from the 1st half even though halftime was extra long for homecoming activities and went on a 77 yard drive highlighted by a spectacular 1 handed catch by Justin Baker for a 32-yard pick-up. Huard would then find Alexander for a 14-yard TD strike but the PAT would be blocked but KC took their first lead in the game 20-14.
Beamer would answer  with a 4-minute, 78-yard drive that featured a big 39-yard pass completion from Niksich to Brycen Dillworth setting up a Billy Vann 1-yard plunge and with the PAT the Titans took the lead back now up 21-20. TB then appeared to give themselves some breathing room after forcing a Lancer punt and taking over on the KC 49. Niksich would find Blake Stafford for a 34-yard pass completion to the 17 and then Vann rolled in on the next play and with the Clow PAT it was now an 8-point 28-20 lead but there was still a ton of time left to play.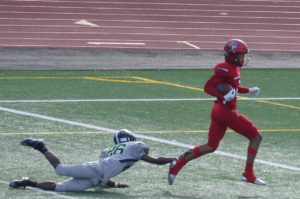 It would take the Lancers less than 30-seconds to answer when Huard hit Alexander in stride at the 50, Alexander then side-stepped an on-coming defender and was gone 73-yards to pull the Lancers within 2 at 28-26. Huard then dropped back on the 2-point attempt and found Alexander on a crisp slant pattern that Huard delivered on the money and it was even at 28.
Beamer came right back answering with a 72-yard touchdown drive with Vann finishing it off again from the 12 and the Titans now led 35-28. Kennedy not to be outdone scored early in the 4th quarter with a brilliant 36-yard touchdown combination from Huard to Justin Baker to tie the game again at 35. Vann then got the lead back for the Titans on the ensuing possession blowing up the middle cruising to a 54-yard TD run and it was now 42-35. This was also the 6th TD in 7 possessions of the 2nd half.
With 6:57 to play in the game the Lancers would again pull even. The 80-yard drive featured some unbelievable throws and catches between Huard and Alexander picking up key 1st downs and once they got it into a 1st and goal situation Kennedy Coach Sheldon Cross went back to his old reliable bulldozer, Jahvius Leui who bulled his way in from the 1.
TB wouldn't waste their next opportunity but they also would not be able to capitalize on it as much as they needed to either. They took over on their own 23 and Ar'Tavious Magee caught a Niksich pass and took it to the 10 of KC. The Lancer defense then held and forced a 4th and long and they settled for a 21-yard Clow field goal and took a 45-42 lead with 3:54 left to play.
The Lancers then went to work and calmly rolled down the field picking up 1st downs and keeping the clock going as well. Once they crossed midfield it was Huard to Alexander once again with a ridiculous catch at the 1-yard line. Leui was then called on to do what he does and he pile drove himself into the endzone for the go-ahead score. The critical extra point was good by Snyder and it was a 4-point game.
Kennedy made it interesting with a squib kick that didn't get through the front line of the Titans and Beamer would have it right on the 50 with 26-seconds to play. On the 2nd play Niksich tried to force a ball into coverage and Nate Ardales picked off the pass to end the game.
Kennedy improved to 2-1 in NPSL play while Todd Beamer dropped to 2-1. Enumclaw is in 1st with a 3-0 mark and Beamer travels to Enumclaw this coming Friday and finishes with Auburn-Riverside. The Lancers are at Auburn-Riverside and then at Kentwood to wrap up their league schedule.
Our ESN Players of the Game went to KC's Junior Alexander and TB's Billy Vann.
Stats
Kennedy
Total Yards: 578; Rushing 85; Passing 493
Rushing: Leui 12/39 3 TD, Lozolo 9/41, Baker 4/23, Huard 3/-18
Passing: Huard 35/54/493 4TD Int
Receiving: Alexander 15/246 2TD, Baker 7/161 TD, Tinae 6/28, Lozolo 4/23, Shumpert 2/28, Leui 1/7
Beamer
Total Yards: 531; Rushing 313; Passing 218
Rushing: Vann 24/188 4TD, Tiumalu 9/73 TD, Sampson 5/22, Watson 5/34, Fa'amalele 2/10
Passing: Niksich 9/19/218 TD 3INT
Receiving: Stafford 2/60, Vann 3/47, Fa'amalele 1/32, Dillworth 1/26, Magee 2/45
Kennedy's Junior Alexander talks about the Lancer's big win
Photo Gallery