4/9/19
Centralia 9, Rochester 3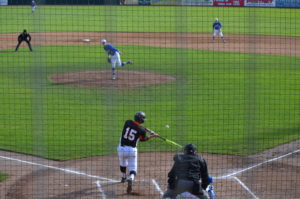 (Centralia, WA) The Tigers jumped on the Warriors quick with 8 runs in the first 3 innings. Jeremy Wood led off with a blast off the fence for a lead-off double. After a walk and a fielder's choice there was 1 out and runners on 1st and 2nd when Jackson Hull belted a shot in the gap for a 2 run double. Hull then scored on an RBI single from Cameron Erickson to give the Tigers a 3-0 lead after 1.
Rochester then took advantage of 4 Tiger errors and 2 runs on a double from Dailin Schlecht. They scored a 3rd run when Tyler Soderback was hit by Wood for the 2nd straight inning but this time with the bases loaded to tie the game 3-3. But with the bases loaded and 1 out the Warriors could not come up with the big hit they needed with an infield pop up and a fly ball to right to end their half of the 2nd.
The Tigers responded both offensively and defensively scoring 6 unanswered runs with 2 in the bottom of the 2nd led by Derek Beairsto's RBI single along with Erickson's 2nd RBI single. In the 3rd, Centralia added 3 more on a bases empty, 2-out rally. Bayden Teitzel got things started with a walk followed by singles from Wood and Robbie Aldrich when Beairsto came through again with a 2 RBI single.
Wood nearly went the distance but ran into the pitch count and came up 1 out short of a complete game win. Beairsto pitched the final out and actually picked off a runner at 2nd to finish the game. Our Pacific Sports Spa Player's of the Game went to Centralia's Jeremy Wood and Rocheter's Tyler Soderback. The Tigers evened their  league mark at 2-2 and improved  to  6-3 overall while the Warriors fell to 1-3 and 2-4. Same 2 teams schedule to play tomorrow at Rochester.
WF West 3, Black Hills 2
(Chehalis,WA) The Bearcats kept their undefeated league mark alive but had to come from behind  to grind out a hard fought win over the Black Hills Wolves. WF West defeated Black Hills 3-2 on a walk off RBI single by Max
Taylor in the bottom of the 7th.  WF West loaded the bases with one out on back to back singles by Daniel Fagerness and Luke Bennett along with a walk to Cyrus Bunker.  After a strike out Taylor ripped a pitch over the head of the Wolves left fielder for the game winning RBI.
WF West took a 1-0 lead on an RBI double by Brock Jones that scored Lane Douglas in the 1st inning.  Black Hills took a 2-1 lead in the 3rd on RBI singles from Taylor Simmons and Josh Rodgers.  WF West tied
it at 2-2 after Lane Douglas tripled and scored on a wild pitch in the 6th inning setting up Taylor's heroics in the 7th.
Brock Jones pitched 5 innings for the Bearcats allowing 2 runs and striking out 11. Kaden Wright pitched well for Black Hills going 5 2/3 with 4 K's and allowing just 1 run. WF West is now 4-0 in EVCO 2A play and 8-1 overall while Black Hills drops to  2-2 and 4-5. Same 2 teams on Wednesday at  Black Hills High School and you can watch that game live on  ESN.
Tumwater 17, Aberdeen 0
(Aberdeen, WA) The T-Birds  got right back on track after a tough loss to WF West just before Spring Break with an easy win against the Bobcats. It took some  time for the T-Birds to get cranked up as they led just 4-0 after 4 but scored 5 in the 5th and  then closed out the game in the 6th. The T-Birds are now 3-1 in league  play and 6-3 overall while Aberdeen is now 0-4 and 2-7.