4/25/19
WF West 3, Centralia 0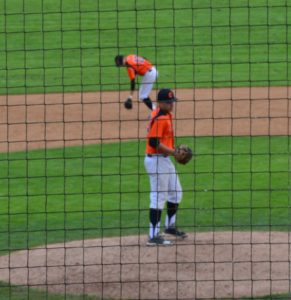 (Centralia, WA) Centralia's sophomore pitcher Benito Valencia finshed the game he started on Monday but was delayed until Thursday after just 2 innings due to rain. He had given up back-to-back doubles to Brock Jones and LeAndre Gaines and trailed 1-0 when play resumed at Wheeler field in Centralia. He would finsh the game with 5 strike-outs and gave up 2 more hits and 2 unearned runs scored for a final stat line of 3 runs on 4 hits and 2 errors that led to the 2 runs that scored on Thursday. That is a solid stat line and probably comes up on the winning side 75% of the time or close to it.
Unfortunately for Valencia this game fell in the 25% and it turned out the winning run had been scored on Monday. Not only did Jones score the winning run it was all he needed to post the win after throwing a complete game shut-out while giving up 4 hits but striking out 12. The Bearcats wasted little time in getting an insurance run when Valencia plunked Lane Douglas with the first pitch on Thursday. Douglas moved to 2nd when Josiah Johnson walked and then scored when Jones grounded one to 2nd baseman Bayden Teitzel who flipped it to short stop Jeremy Wood for the force out of Johnson and Wood tried to hurry his throw to turn 2 and get Jones but overthrew the ball to Jackson Hull at first allowing Douglas to score.
Jones then knocked in a 2nd insurance run in the bottom of the 7th when Crytsian Bean walked, advanced to 2nd on a base hit from Douglas, then took 3rd on a fly out to right by Johnson and Jones picked up the Sac fly RBI to center pushing the score to 3-0.
Centralia would threaten in the bottom of 7 bringing the tying run with 2 outs to the plate after Derek Beairsto walked and Tyler Milton singled but Jones finsihed off the Tigers when he picked up strike-out number 12 getting Teitzel swinging to end the game. WF West improves to 11-0 in league play and with the win clinches the Evco 2A title. The rest of the league is now a mess with Centralia, Tumwater and now Rochester all at 6-5. The Warriors belted Aberdeen yesterday 10-2 to pull into a tie with the Tigers and T-Birds. Centralia is at Tumwater Friday and Rochester travels to WF West. Black Hills isn't out of it yet either trailing those 3 with a 4-7 record with 4 games left to play.
Our Pacific Sports Spa players of the game went to both pitchers, Brock Jones of WF West and Benito Valencia for the Tigers.