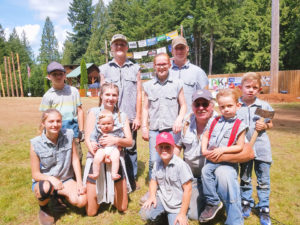 Hundreds embrace adventure at Amboy Territorial Days
By Dan Trujillo
Eli Sports writer
More than 75 outdoor enthusiasts from Washington and Oregon demonstrated their skills with a saw, ax, rope and chain at the Amboy Territorial Days Log Show Saturday.
For Stan Sawyer and his 10 grandchildren from Amboy, it was just another day in the backyard.
"This is more than 40 years for me," Sawyer said of annual competition that raises money to keep Amboy Territorial Park open to visitors year round.
"I don't normally get choked up," he added after posing for a picture with his young loggers Brett, Ethan, Audrey, Riley, Prairie, Delaney, Gattlin, Travin, Brodin and Joslin.
Sawyer competed in the choker set chainsaw event, but he got more thrill out of watching his grandkids throw axes at targets and leap over logs. Audrey, 11, was one of the youngest competitors to attempt the kid's pole climb. She reached the top and rang the bell.
"It's fun watching the kids," said 29-year-old competitor Beverly Frick from Carbonado, Washington, in Pierce County. "They're adorable. They're out there in their little suspenders."
Five years ago, Frick introduced herself to Amboy by finishing fourth the all-around competition. She was the only woman out there going up against all the men. Today, Amboy offers all-around trophies to men and women.
"I like chainsaws. Whatever I get to do with a chainsaw," Frick said. "I like doing the modified (races) because no guy wants to go up against me."
Beverly Frick and her husband, Scott, compete in log shows to honor his father, Sonny, who died 5 years ago.
"We enjoy coming to Amboy. It's not that long of a drive," she said. "I like how you can sit on a nice, grassy hill and watch. There's always something going on, which is nice."
Start your mowers
Sunday's lawn mowers races at Amboy Territorial Park offered plenty of thrills and one spill.
Tom Lindblom of Battle Ground took home a trophy for best rollover. The 56-year-old walked away from the accident unscathed. He got back on his lawn mower and won a handful of trophies.
"It was kind of a dubious honor," Lindbolm said of his best rollover award. "Usually, you don't do that in a time trial. I just kind of bumped the wrong way and there it went. You just kind of roll with it. Get back on and go."
Kristi Thorson, also from Battle Ground, had a huge cheering section of family members. She passed her rival, Brenda Olstad of Amboy, on the third lap of the women's championship race and never looked back.
"We had a rough start. Lost two tires, but we pulled it off. We have a lot of heart, we have a really good support team and we have good machines," Thorson said. "Hard work paid off. We actually enjoyed the fan's reaction almost more than the racing. We don't get much around here, so when this happens, it's huge."
Kristi Thorson loves racing lawn mowers with her father, Kyle, and her husband, David Kellogg. They are looking forward to the Morton Loggers Jubilee Aug. 9 to 11 in Lewis County. The lawn mower races start at 6 p.m. Aug. 9.
Amboy's own Chad Kuschel won the open and 8-horsepower class championships. He said it had been at least five years since he won a race in his hometown.
"It's awesome. I've been coming to this race for a long time," Kuschel said. "Been breaking down the last few years. Keeping (the lawn mower) going is half the battle."
Mike Kuschel, his son Chad, and Kyle McKee have been instrumental in keeping the logging and lawn mower events alive at Amboy Territorial Days.
"It's getting more popular. We're getting more mowers out and more people in the logging show and we're just trying to make it bigger," Chad Kuschel said. "Everything goes to the fire department and Territorial Days. We want them to keep this going, and if somebody doesn't do it, it will just eventually go away."