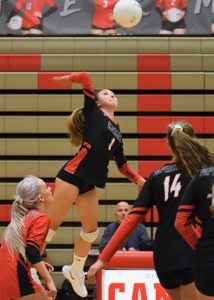 GSHL RIVALS ON A COLLISION COURSE
Down 24-20 during a critical third set in the Prairie Falcon Nest Thursday, 5-foot-5 Emma Villaluz put the Camas Papermakers on her back and propelled them to a sweep.
Villaluz delivered a flurry of kills in the final moments and the Camas High School volleyball team celebrated a 25-20, 25-15, 26-24 victory. She finished the match with 10 kills, 11 digs and 2 assists.
Grace Varsek gathered 11 digs and 3 blocks. Mackenzie Hancock had 5 kills, 6 digs and 7 assists. Emmy Hansen added 6 kills and 7 digs. Emma Speakman earned 6 digs.
Thursday was the bounce back Camas needed after losing to Columbia River in four sets at home Tuesday. This was the first match of the season for Prairie.
Service errors cost the Falcons in the first set. Prairie grabbed some momentum early on in the second set, until senior outside hitter Amelia Renner went down with a serious knee injury.

Prairie played with a lot of heart, led by seniors Sophia Carter, Alissa Feeney, Ashley McMurray and Jamie Packer. Carter collected 10 kills, 11 digs and 4 blocks. Packer added 15 digs and Feeney chipped in 13. McMurray finished with 5 kills and 5 digs. Renner had a spree of kills before the injury.
Lewis River rapids
The La Center and Woodland high schools have a rapid sports rivalry along the Lewis River.
The Beavers and Wildcats take it up a notch by vying for a trophy. It goes to the school with the most wins against the other at the end of the year. Woodland is in possession of the trophy for the moment.
The Beavers kicked off the 2019-20 chapter of this rivalry in style when their volleyball team beat the Wildcats 25-17, 25-9, 23-25, 25-19 Tuesday in La Center. Emma Swett anchored the attack with 20 kills and 4 aces. Payten Foster added 17 digs, 9 kills and 2 aces. Leanna Russell collected 17 digs and 2 aces. Liz Hurn earned 27 digs and Lucy George gained 8 kills.
Tiffany Chander came on strong for the Wildcats. She finished the match with 11 kills and 11 digs. Abby Banholzer had a strong all-around performance with 6 kills, 4 digs, 5 service points, 2 aces, a block and an assist. Amie Russell added 15 service points and 2 aces. Grace Powell earned 5 blocks.
Contenders clash in Ridgefield
The defending 2A state champion Ridgefield volleyball team outmuscled 4A Skyview 25-9, 14-25, 24-26, 25-16, 15-12 Tuesday.
Delaney Nicoll, the All-State Player of the Year, led the Spudders with 20 kills, 6 digs, 2 blocks and an ace. Allie Andrew delivered 11 kills and 8 blocks. Emilea Stepaniuk earned 18 digs and 2 aces. Kohanna Fukachi collected 26 assists and Morgan Hartner dished out 20.
While Ridgefield swept Union Thursday, Woodland rallied from two sets down to defeat Kalama 16-25, 10-25, 25-21, 25-19, 15-9. Swett had another big night for the Beavers with 23 kills, 10 digs and 3 blocks. Foster finished with 20 digs and 7 kills. Hurn collected 16 digs and George notched 9 kills.
Woodland and Ridgefield are on a collision course. They face each other in one of the first 2A Greater St. Helens League matches of the season Tuesday, Sept. 17, at Ridgefield High School. Eli Sports Network broadcaster Dan Trujillo will be there to call the action. The pre game starts at 6:45 p.m. Log on, watch and listen at elisportsnetwork.com.