3/31/2021
Our Wednesday line-up included the WIAA Volleyball game of the week, another Metro league volleyball match, an unbelievable Fastpitch game and a baseball game. Our re-caps, pictures and video clips are all below.
Fastpitch
WF West 1, Rochester 0 (8)
(Chehalis, WA) WF West edged Rochester 1-0 in 8 innings in Evergreen 2A fastpitch action.  Chase White scored the winning run on a throwing error to give the Bearcats the victory.  White leadoff off the 8th with a bunt single.  WF West's leadoff hitter Lena Fragner then laid down a sacrifice bunt but when the bunt was fielded the throw to first base was errant and ended up in the right field corner which allowed White to reach third base.  However, the return throw from right field sailed wildly into the WF West dugout allowing White to score the winning run.
The pitchers were the story of this game as Kamy Dacus and Liz Phelps dueled it out in the circle.  Dacus struck out 15 Rochester batters while Phelps nearly matched her by striking out 14 Bearcats.  The Bearcats could only muster two hits as White went 1 for 2 with a walk and Lena Fragner went 1 for 4 but reached on an error twice.  Rochester was led at the plate by Faith Kennedy who went 2 for 3.  Callie Crawford went 1 for 3 as well as Kaylee Clark 1 for 3 with a double for Rochester.
WF West moves to 2-0 on the season while Rochester slips to 1-1.  Kamy Dacus and Liz Phelps were named our players of the game.
                      R   H  E
WF West    1   2   0
Rochester   0  4   3
<iframe src="https://player.vimeo.com/video/531952060?badge=0&amp;autopause=0&amp;player_id=0&amp;app_id=58479″ width="1280″ height="720″ frameborder="0″ allow="autoplay; fullscreen; picture-in-picture" allowfullscreen title="WF West wins it on 2 over throws in the bottom of 8″></iframe>
Baseball
Centralia 14, Aberdeen 3
(Centralia, WA) The Tigers improved to 2-0 with their win over the Aberdeen Bobcats and they did it by scoring in big chunks. In the top of the 1st Bayden Teitzel led off with a single followed by a single from Noah Aliff. Cameron Erickson then slammed an RBI double to put the Tigers on the board. A fielders choice and an error led to a 4 run inning and a 4-0 lead.
The Tigers then began the 3rd inning with the same 4-0 lead and Bobcat starter Maliki Balesteri struck out the lead off batter. Benito Valencia then stepped up and line-drove a shot to center, the Bobcats Trey Anderson took a gamble and laid out for the ball but it got by him and Valencia had a double. Kyuss Mano then singled and Sawyer Kassel was hit by a pitch and the bases were loaded. A walk to Moshie Eport both then picked up RBI walks and Aliff slapped a solid base hit for 2 more. That would be it for Balesteri and Luca Pisani came in to pitch. After a fly out he then hit Gabe Seymour to load the bases for Landen Jenkins who struck out to start this inning. Jenkins singled 2 runs and Valencia would step in and blast a shot to deep center for his 2nd double of the inning and 2 RBI and just like that the Tigers rolled out to a 12-0 lead after 3. 
Aberdeen was not being shut down offensively, in their first 3 innings they had stranded 2 runners each time including the top of the 1st where they had runners on 2nd and 3rd with no outs but starting pitcher Noah Aliff worked out of it with a soft line drive to 2nd and 2 strikeouts. In the top of the 4th Centralia sent out Eport to relieve Aliff who went 3 innings, gave up 3 hits and 3 walks while striking out 6.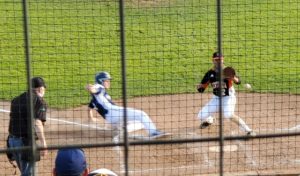 Eport struggled with the 1st two batters walking both Pisani and Baylor Ainsworth. Kenny Dawson then drop a hit into shallow right field to load the bases and Pisani would score the first run of the season for the Bobcats on a wild pitch. Trey Anderson then grounded out but picked up the RBI and Hunter Eisele belted a double to score the 3rd run which was big. because that cut the lead from 12 to 9.
Centralia would then rally with 2 outs in the bottom of the 4th with a hit by pitch to Teitzel, an Aliff single, a walk and a 2 RBI single from Seymour to extend the lead to 14-3. Eport had settled in and retired the Bobcats in order on a pop-up, a ground out and fly ball to center to clinch the win. 
Aberdeen drops to 0-2 and next will host Black Hills on Friday. Centralia is 2-0 and will travel to Shelton on Friday. Our Pacific Sports Spa visiting player of the game went to Hunter Balesteri and our Thorbeckes home player of the game was Benito Valencia.
WIAA Volleyball Game of the Week
Garfield 3, Franklin 0
The Bulldogs improved to 4-0 with the straight sets win. Franklin battled and made the Bulldogs earn this win. The 1st set went extra time with Garfield winning 26-24, took the 2nd set 25-22 and finished the match with a 25-20 set win. The Quakers drop to 1-4 and will next play at Rainier Beach next Wednesday.
Garfield's win sets up quite a showdown with Eastside Catholic who stayed perfect themselves on Wednesday with an easy straight sets win over Rainier Beach to improve to 5-0. So the 4-0 Bulldogs will travel to 5-0 EC on the 7th with the 1st serve at 7pm.
Eastside Catholic 3, Rainier Beach 0
The Crusaders rolled to a perfect 5-0 record at Rainier Beach on Wednesday night. Eastside Catholic picked up wins of 25-4, 25-15 and 25-12. Rainier Beach drops to 1-3 and will host Franklin next Wednesday and Eastside Catholic will gear up for a huge showdown with Garfield as both teams come in undefeated.

www.elisportsnetwork.com