5/23/2022
(Adna, WA) If you have been around High School sports in the 2B classification then you likely have come across K C Johnson. Johnson is the long time Head Football coach of the Adna Pirates, since 2001 to be exact and has been the Pirates AD since 2015. Johnson is known as a fierce competitor, great communicator and a guy who simply loves his chosen career.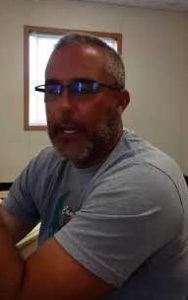 Johnson has made a very difficult decision but his career came to a crossroads and he felt it was time to venture down a new path and has resigned as the Head Football Coach and Athletic Director at Adna High School. Johnson has accepted the position of Superintendent of schools for the Raymond school district.
Johnson talked with ESN and says "it really is coming full circle for me going back to where I grew up." Johnson was born into an education and coaching family where his Dad taught in Raymond and was part of 4 State Championships back in the early 70's. K C  has fond memories of growing up on the Willapa Harbor and remembers being a ball boy for those great Raymond teams. 
Just prior to High School Johnson's Dad took a teaching and coaching job in Toledo and that is where Johnson graduated.
It was one of his boyhood friends, current Raymond AD Mike Tully who reached out to Johnson to see if he'd like to come home and step into a difficult situation. Johnson said in the past he had said no to moving up into administration and that he loved coaching and teaching and working one on one with kids. But this time his gut told him to think this one over. He said he reached out to several friends and colleagues for their thoughts along with his wife and family. 
Eventually he came to the decision it was time to change paths and take a shot at fixing a place he dearly loves, his hometown. He accepted the offer and came to an agreement with the Raymond school board that he was not interested in a long interview or search process and asked for a 1-year deal. If at the end of next year everyone is happy and excited they would then negotiate a 3-year contract. 
Johnson says this protects both sides and gives both sides a chance to see what works and if it doesn't that would likely come to light sooner than later and both sides could then begin to make plans.
Johnson leaves an indelible mark at Adna leading the football program for 21 years, racking up a 150-75 over all record with 1 State Championship in 2009. The Pirates also had 2 other Semi-final appearances under Johnson, 3 quarterfinals and overall 13 state tournament appearances.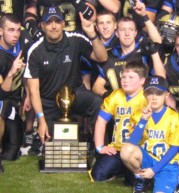 Johnson began his career teaching in 1989 and took his 1st assistant coaching job at Toutle Lake in 1991, coaching both football and baseball. In 1994 he moved to Zilla and had stints with the Leopards and Wapato. In 1996 back to the west side of the mountains getting his 1st head football coaching position at Ilwaco and was also the AD. Johnson compiled a 13-15 record leading the Fishermen and then took another leap of faith heading north to Shorecrest for 1 season. He finished 0-9 and wasn't a big fan of being at Shorecrest so when the opportunity opened at Adna he jumped at it and got back to familiar and comfortable territory where he would spend the next 21 years.
His overall career record is 163-99 and had set a goal of getting to the 200 win mark but instead he is going to be off the sideline for the 1st time in 40 years. Johnson says he is excited for the new challenge and being 57 he feels he may still get a chance to get to 200 after he retires in 8 or so years.
Johnson feels his work as athletic director has been a good prep experience for the Superintendents position. He say of course dealing with students but his relationship with teachers is different due to checking on all athletes, he's had to work with transportation, administration, maintenance and of course parents. He also led the effort to build the new stadium and field. He says that experience helps open those doors and will help his continued learning process of his new position.
Johnson does not know what process Adna will take to replace both of his positions or what kind of timeline. He says both positions should be highly sought after. The sports programs are solid for both boys and girls and Johnson says he in no way is leaving the cupboard bare with the football program. He said sitting there looking at his roster for the next few years made this decision exceptionally difficult.
But in the end he has always followed his gut and Johnson says his gut was telling him to go home. 
www.elisportsnetwork.com