6/9/2022
(Renton, WA) Alex Anaya grew up in Cimarron, Kansas, not far from Dodge City, and was around horses and animals but had not thought much about being a jockey since the closest racetracks were 350 or so miles away. So when a man he kinda knew, since you kinda know everyone in Cimarron, approached him in a convenience store and asked him if he ever thought about becoming a jockey he was surprised.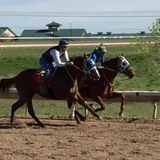 The man, Rodney Davis would end up becoming a huge part of Anaya's life and remains an important part, all from that fateful meeting while he was deciding what candy bar he wanted to buy. Alex told Davis he would love to learn and after Anaya's parents gave him the ok the two have been nearly inseparable.
ESN reached out to Davis and we connected with him and had a chance to talk with him about his relationship with Anaya. Davis has a stable and access to a 1/2 mile track adjacent to his land owned by the County but he has an agreement to use it as long as he remains a horse training facility and he maintains the grounds. Davis says this type of agreement doesn't happen to often anymore but at the time it worked for both parties and continues to be a good agreement.
Davis told us since there isn't any racing nearby he is constantly looking for young people interested in race riding and will approach anyone who may fit the bill. We not only talked with Davis but we went ahead and zoomed with him and he showed us his stable and where Alex got his start. We are not going to re-write the interview with Davis so we encourage you to watch it and in this is a great story and includes a story about Alex's 1st time driving a car. Rod and his wife were both part of that experience and we had to chuckle because neither of them really cared that he was only 12, they were more bothered by Alex's lack of experience, it is a must watch!
Alex Anaya's Mentor Rodney Davis from Cimarron, Kansas
As Davis said in the interview Anaya began riding for him and his Dad and a few others before he decided to move out here to Washington State with his Mom and onto a family farm in the Tri-Cities area. This was shortly after he graduated from High School. Anaya worked in the orchards before coming to Emerald Downs. He needed to have money in his pocket to survive while he tried to hook on with someone to work.
Anaya says when he made the move in 2018 from the Tri-Cities to Auburn he went in and met with the Stewards and got his license. He then just started walking from barn to barn asking to see if anyone needed some help. His 1st work came from trainer Frank Lucarelli which was for about a week and finally he hooked on with Neil Knapp and worked regularly for the longtime veteran conditioner.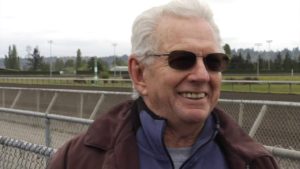 Anaya says he got another big boost when he also started working for Larry Pierce the Hall of Fame jockey prior to getting into training. Anaya credited Pierce with teaching and mentoring him on riding really taking off from what he had learned from his time with Davis back in Kansas.  Later in that 2018 season he also worked regularly for trainers Mary Tate and Vince Gibson and still is a regular for Gibson.
Anaya scored his 1st ever win for Rod's Dad Frank Davis aboard J W Flyer at 7-1. He came from just off the pace to get the win. This was the race where Alex waved at the crowd that Rod talked about in his interview. This was at Columbus race track in Nebraska in 2016. Anaya would ride 20 races in 2016 and pick up 2 wins, 4 seconds and 1 third. In 2017, Anaya was a senior in High School and only rode a late winter/early spring meet at Fonner Park also in Nebraska. He had 32 mounts and scored another couple of wins again one for Frank Davis. It was then he was ready to move and get out of Kansas and made the move to Washington state. 
Anaya got his first action at Emerald on opening day 2018 with 4 rides. He made his biggest impact in a maiden special weight race for Larry Pierce on Gold Supply at 27-1. After getting bumped early he went 6 wide and got up for 2nd. He would place 2nd a couple of more times and a pair of 3rds before he got his 1st win in his 17th start of the season and again it was for Larry Pierce this time on Great Eagle at 13-1 he got up just in time to win by a nose. He'd finish 2018 at Emerald with 5 wins from 89 mounts.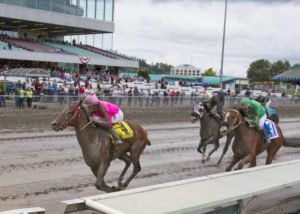 He then continued to ride in the NW at Portland until the 2019 meet at Emerald. He struggled for wins for much of the season but got his 1st big win of his career when trainer Jack McCartney put him on a horse name Unmachable in the Washington Cup Juveniles Stakes race and Anaya took the 1st time starter from last in a 10 horse field to 1st blowing past the entire field to win by 1 1/4 lengths. He would get to ride Umachable again in the Gottstein and was a clear 2nd. From there he went south to Turf Paradise and rode there and at Arapahoe race track in Colorado until Emerald Downs opened late June due to the Covid shut down. 
In 2020 Anaya would finish with a 21-24-26 record good enough for 7th place in the standings and earnings of more than 245k. He also got his 1st ride in the Longacres Mile aboard Hollywood Heat at 129-1 and finished 2nd last. Last year Anaya was 24-37-31 from 226 rides, an 11% win clip and in the money 41% while earning a career high $337,239.
He would then head to Grants Pass where he flourished winning the jockey title and scoring 3 more Stakes wins including the 25k Grants Pass Mile. He was really feeling good going into the final night of racing and planning on heading down to Turf Paradise when he was involved in one of the strangest incidents ever at thoroughbred race track. Unfortunately it led to him being injured but not seriously and it was truly a pretext to what would happen at Grants Pass. 
Dubbed "The Night the Lights went out in Grants Pass", it was the final race of the season and Anaya was on the 2 horse when the gate opened and he quickly hustled up to sit 2nd on the rail when it all went black. Anaya recalls that night when we talked with him just prior to the start of the racing season at Emerald. We have his interview along with the video of the actual race below.
Alex Anaya on what it was like when "The Lights went out in Grants Pass"
Here is the actual video of the Race
This race would ultimately be the final race at Grants Pass as some hoped for legislation from the Oregon Governor would pass and help Grants Pass stay open it wa rejected and the track has not re-opened and the future does not look bright. Anaya did go on and ride at Turf Paradise but was heading home for the Holidays and decided to stay, rest a little and get ready for the Emerald season and has been here since horses were let back on the grounds.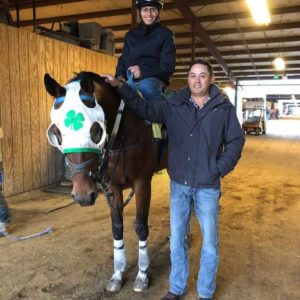 In 2022 he is not getting the number of wins yet with just 2 from 36 mounts but he has 9 seconds and 3 thirds. Anaya remains optimistic and positive believing by the end of the season this will be his best years yet. His career totals are currently 105-133-155 from 1,185 mounts and earnings of nearly 1.25-million.
The 23-year-old Anaya is engaged to be married to Litzy Anette Holguin Castillo. He is thankful for his parents Maria Azahel Anaya and Jose Efrain Villanueva and has a sister Daniela Villanueva Anaya.
He drove for the first time at the age of 12 on a highway, he didn't hesitate to getting on the backs of thoroughbreds, left his whole life back in Kansas to start over here in Washington state, walked into the Stewards office at the age of 18 by himself and then found work on his own and then rode through a black-out. If taking your lumps on life's highway is an indication of heart and fearlessness then Anaya is already way ahead of the rest. 
We also remain optimistic for Anaya and believe he is sitting on a big year. We can't wait to see what's next for him. 
Photo Gallery
www.elisportsnetwork.com