6/8/2022
The top 10 is scrambled again with the biggest move from Jockey Kassie Guglielmino jumping 6 spots. But the 2 time defending jockey champion re-claimed the top spot with a huge week of 9 wins. 
The Power Rankings are meant to be fun and to focus on the human competition between these awesome athletes. Moreover it's a chance to focus more on each rider and their accomplishments each week. We stress there is nothing "official" about these rankings and we know there will be varying opinions which is also great and we hope it does create more conversations about our sport and our athletes.
Here is our 4th edition of the Emerald Jockey Power Rankings:
#1 Alex Cruz (last ranking #3)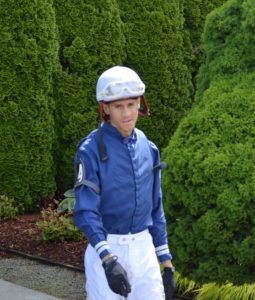 Alex Cruz had been a little hot and cold until this last week when he showed he could dominate this track and quickly reminded people why he has topped the standings the last 2 seasons. Cruz began winning 5 of 7 races on the first Friday night of racing this season. By the way his other 2 races he ran 2nd. Cruz added 2 more wins on Saturday and 2 on Sunday for a total of 9 wins. He won the feature race on Friday night aboard Take Charge Deputy and finished with 5 2nds, 2 3rds and 4 4th place finishes as he surged to the top of our Power Rankings.
#2 Kevin Radke (last ranking #1)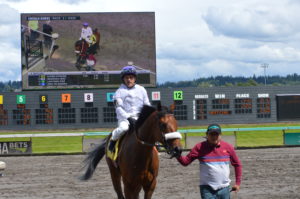 The leading rider and former Emerald riding Champ Kevin Radke was again in the mix each day but only came away with 3 wins for the weekend. Radke caught a touch of that nasty illness called 2nditis and finished 2nd 6 times or double his wins for the weekend. Overall a sold week for Radke and he will be looking to turn a few more of those places into wins.
#3 Juan Gutierrez (last ranking #3)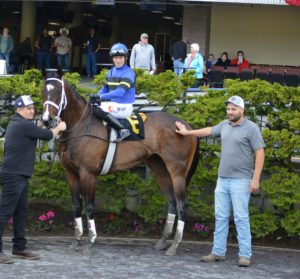 It took Juan Gutierrez time to warm up this week as he began with only a 3rd on Friday night but got a pair of wins on Saturday and finished off the week with 3 wins in the 1st, 7th and 8th races. Gutierrez won the Sunday feature aboard Spittin Image with a heady front running effort. Gutierrez just won too many races to drop in the rankings but didn't have many minor awards this week.
#4 Kassie Guglielmino (last ranking #10)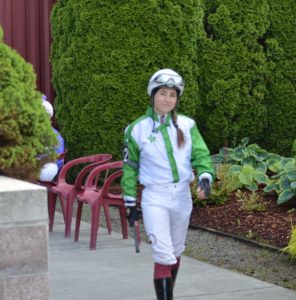 Kassie Guglielmino cracked our top 10 last week and this week she skyrocketed to #4 moving up 6 places. She scored 3rd most points this week in our scoring system and picked up 2 wins including an upset 8-1 win on Democrat in Saturday's feature race. Her weekend included 2 other 2nds, 3 3rds and a pair of 4ths. Guglielmino is beginning to get settled in and won't surprise us if she keeps climbing up the Power Rankings.
#5 Jose Zunino (last ranking #7)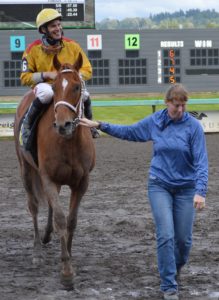 Jose Zunino is looking like how he did at Turf Paradise this last Spring. The Argentine veteran is finding a solid groove and despite getting just 1 win Zunino was in the top 3 another 9 times with 4 2nds and 5 3rds. Zunino also has he fair share of outsiders and 6 of his 10 finishes including his win were all 6-1 or higher with his win on Jersey Red at 9-1. Zunino is a must in your tri's and super's.
#6 Javier Matias (last ranking #5)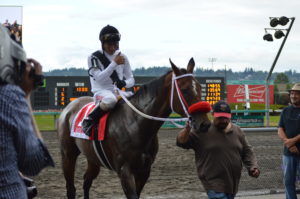 Javier Matias is so consistent he is going to get his wins every week and in fact on Friday after Alex Cruz got done winning 5 of the 7 races leaving only 2 for everyone else, Matias said nope just me and won the other 2 races. Matias picked up another win on Saturday but he didn't hit the board all that much with only 1 3rd and 4 4th places for the rest of the weekend but still we plan on Matias sitting there in the middle of the Power Rankings each week.
#7 Leslie Mawing (last ranking 9)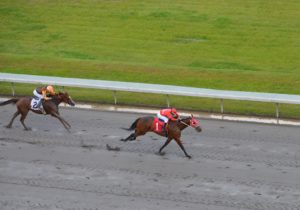 Leslie Mawing finished strong getting his only win on 5-1 outsider Donne Cattive and picked up a 2nd with Whenducksfly on Sunday. Prior to that Mawing had 3 other 3rds for a 1-1-4 run this weekend from 12 rides. Mawing feels like he's getting ready for at least a big day coming soon, keep an eye on Leslie Mawing.
#8 Alex Anaya (last ranking 4)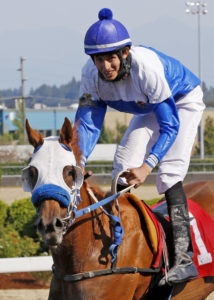 Alex Anaya had climbed up to #4 but tumbled down to 8 after a rough week. Anaya has recorded a win in each of the previous weeks but did not get in the winners circle this week. He had a 2nd and 4 4ths this week. Anaya hopes the several horses he's had are rolling back through this week. We expect a bounce back for Anaya.
#9 Kevin Orozco (last ranking #5)
Kevin Orozco slipped several spots as well falling 4 from 5 to 9th. Orozco showed signs he was rounding into Emerald form but took a step back this past week to the point he didn't even have a mount on Sunday. But still with limited chances he did have a 2nd a 3rd and a 4th. Orozco was the leading Stakes winner last season and we still have a ton of confidence and belief in Orozco and believe it's a matter of time before he explodes, could be this week.
#10 Eddie Martinez (last ranking 8)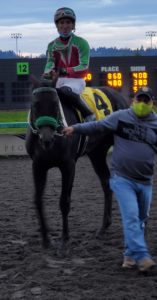 Eddie Martinez dropped 2 spots with a slow week of 1 3rd and 3 4ths. Martinez did have a shot at a better finish on his 3rd place horse but a fading horse caused him to change paths in the stretch costing him valuable lengths. We don't count out Eddie ever, just when you think you can he drops a couple of wins on you and we expect to see him back in the winners circle soon.
Power Rankings Notes:
It was the week of the newby. 3 riders took their 1st ride of the season on Sunday while others with limited mounts also had rides. Nicole Disdier, Edgar Velasco and Kenneth Deonauth all had their 1st rides while Vladimir Jensen, Chester Bonnet, David Martin and James Wooten had rides this weekend.
Velasco had the best outcome finishing 2nd in the get-away race on Sunday aboard Jedi Knight and nearly stole the race on the front end. Bonnet was next with a 3rd place finish on Friday while Jensen and Martin both hit the board with a 4th place finishes, Martin had 2 and Jensen 1.
www.elisportsnetwork.com