6/14/2022
The first big promotion of the season took place on Sunday with the running of the Bulldogs. We have coverage of the Bulldog races at the bottom of our of this post. Stakes races begin next Sunday on Father's Day but another warm-up for Stakes horses was run in the Muckleshoot Casino feature race.
The Track Low-Down
Handle and Horse Stats
The 2nd week of 3-day racing saw declines across the board with one less race, the average number of horses drop from 6.3 to 5.8 and the handle dropped from 3.5 million over June 3-4-5 to 2.86 million this last weekend. We do know a couple of things not to let one back step get us all up in arms is first the weather certainly has not been helpful in attracting fans to the track. The weather especially on Friday led to 6 late scratches which dropped the per race average below 6 and we know there is a solid group of 2-year-olds about to be added into the mix. If the 2-year-olds can add 2 even 3 additional races per week will help tremendously with these numbers. We will stay positive and believe that just a number of factors came together all at once this week.
Bad Week for Favorites
Only 3 betting favorites won this past weekend out of 24 races. All 3 were on Saturday without a single favorite winning either Friday or Saturday. Favorites have been hitting in the 40% area for most of the season this weekend it was 12%. This led to some big pays, especially on Sunday where new high were established and then topped in the $2 win, $1 Daily Double and 50-cent Pick 4 with a new high for the 50-cent Pick 3. It was the 1st time all 50-cent Pick 3 bets returned more than $100.
Jockeys share the wins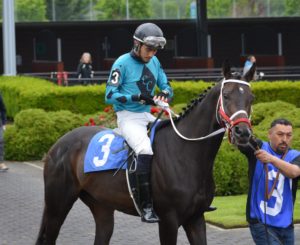 9 different jockeys found their way to the Winner's Circle this week which is the most to win in a single weekend. 4 riders had 3 wins, Kevin Radke, Alex Cruz, Kevin Orozco, Juan Gutierrez and Jose Zunino. Cruz led in 2nd place finishes with 5, Gutierrez had 7 3rd place finishes and Radke led the 4th place position with 5. Radke also led with 21 mounts, Cruz had 20, Gutierrez 17, Orozco 11 and 3 others with 10.
Trainers get 1st wins, others beginning to pile them up
Four trainers picked up their 1st wins over the weekend including last year's leading Stakes trainer Kay Cooper after several runners-up and now sports a 1-3-2 record from 13 starts. Debbie Van Horne got her 1st win also after an 0-3-1 start in 10 tries, 11 was the lucky start for Van Horne. Valentin Garcia tallied his 1st win from 6 starts and Cliff Balcom got a big win on Sunday in the feature race, details below.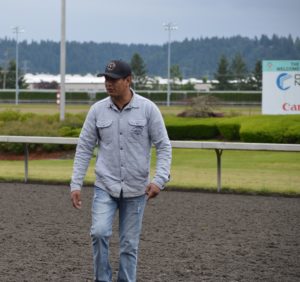 There were three trainers that picked up 3 wins and included all-time winningest trainer at Emerald Frank Lucarelli, winning all 3 on Saturday. Lucarelli is tied for 3rd with 6 wins and an overall 6-4-7 record from 39 starts. Vince Gibson is off to a fast start this season and picked up 3 victories pushing his record to 5-7-5 and tied for 5th. Jorge Rosales, who was 2nd leading trainer 2 seasons ago is back and should be respected as he picked up his 5th, 6th and 7th wins with a 7-4-1 record from 16 starters. Rosales is tied for 1st with Candi Cryderman.
Howard Belvoir picked up a pair of wins to double his total, winning for the first time since winning a pair on opening day. Tom Wenzel is as steady as can be also had 2 wins this week to improve to 4-3-2 and tied with Belvoir for 8th place.
Claiming Window was busy
The claiming window has been pretty busy all year but this weekend may have been the busiest. On Friday there were 4 claims that totalled $20,000 but then on Saturday a whopping $68,000 in transactions were recorded. This was led by the 2nd $30,000 claim of the year when Tim and Sue Spooner took Zazen, matching John Parker's 30k claim of Spittin Image on June 5th. All total there were 8 claims on Saturday to run the total to 12 claims and $88,000 paid and over only 14 races, 7 each day.
On Sunday, another 8 claims were dropped including 3 taken out of 1 race. The total dollar amount for Sunday was $30,500. So for the 3 days and 22 races there were a total of 20 claims for $118,500 or an average of $5,925 per claim.
Muckleshoot Casino Feature Race
Daffodil Sweet was the overwhelming favorite and the 5-year-old mare has certainly earned that privilege as a multiple stakes winner at Emerald Downs and coming off a pair of wins at the Spring Turf Paradise meet. Sweet went off as the 3-5 favorite. Sweet used to be a one run kind of horse, straight to the front and catch me if you can. She has since learned to rate but can still go to the lead. In this race the connections and regular rider Juan Gutierrez felt rating would be the best way to get the job done even though it was only 5 1/2 furlongs, as they knew one of the longer shots Frisco Frills would be quick out of the gate and on the engine.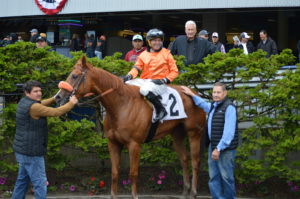 The hope of course is someone else goes but they also felt if that didn't happen that Daffodil would still be able to run down any loose leader. That thought process was dead on except for the final 2-inches of the race. Kevin Radke aboard Frisco Frills went straight to the front and quickly had a 1 1/2 length lead. Radke and Frisco carved out fractions of 21.56 for the quarter and 43.77 at the half. Quick but not unsurvivable quick and Frisco Frills took care of both of the other early runners in Zippin Sevenz with Leslie Mawing who finished 4th in the field of 6 and You Go Girl with Alex Cruz who ended up at the back of the pack.
Daffodil Sweet sat in 4th about a length behind Frisco Frills and never let the 4-year-old filly get out of her sight. As they turned for home Gutierrez eased Daffodil Sweet to the outside of Frisco Frills while Radke was focused on the shortest way possible to the finish line and in a final surge the two hit the line virtually together. In fact as ESN was filming the stretch run in the highlight below we thought Daffodil Sweet caught Frisco. In fact a jubilant Radke who was fired up coming back to the Winner's Circle said "to be honest, I thought I got caught!".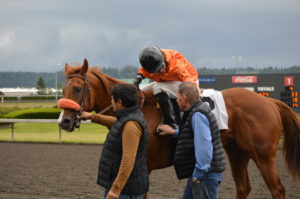 Dontkissntell the 3-1 2nd choice ran a solid race and they knew everything would have to collapse for the closer who was in last until the top of the stretch was only 1 1/2 lengths behind with Jose Zunino. This was the 2nd 5 1/2 furlong race this year for Dontkissntell and certainly can't wait for longer distances. 3rd favorite Time For Gold was also back early and closed at the top of the stretch but then flattened out for the 5th place finish. Time For Gold was coming off 2 turf races at Turf Paradise and certainly needed a run over the Auburn oval.
Frisco Frills owner and trainer Cliff Balcom told Joe Withee in the Winner's Circle interview that he told Radke to break and let her get into stride and see how far she can go. He was thrilled with the ride and the win saying he really didn't want to take on this group of horses because he felt they were too good but now has second thoughts for Frisco.
Frisco Frills is a Washington bred by Coast Guard and out of Tango Twist by Kentucky Lucky and was bred by Cliff and Leslie Balcom. The public let her go at 16-1 returning a new meet high pay-off of $35.00 for the $2 win. The $2 combo ticket was good for $40. Frisco Frills to the big favorite paid a nice $52.40 on the $1 exacta and the 10-cent superfecta paid $62.56.
Stretch run of Muckleshoot Casino Feature Race
Interview with Frisco Frills Winning Connections
The rest of Sunday's races
1st Race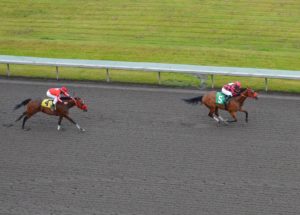 A field of 5 saw odds on choice Curious Sensation with Alex Anaya battle for the lead early while Kevin Radke on Whata Flirt started at the back of the pack and wait patiently. Curious Sensation was caught in a pace battle with 24-1 longshot Guided By Angels with Eddie Martinez and by the time they hit the stretch Angels had enough and faded to finish 4th. Whata Flirt swung 3 wide and engaged Curious Sensation who could not withstand the pressure and Whata Flirt won by 1 3/4 while Curious Sensation ran 2nd. National Heroine with Juan Gutierrez finished an even 3rd. Shelly Crowe was the winning trainer for owners the Whata Lotta Fun Stable.
The Emerald Racing Club's horse Onefineday placed 5th and was bet down as 3rd favorite but will be looking to bounce back the ownership group numbers in the hundreds.
2nd Race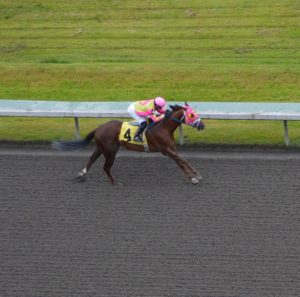 Kevin Radke was on the odds-on choice this time and laid off the lead with Roman Rush. But this time the front runner Code Charlie with Juan Gutierrez had no pressure and Gutierrez set his own pace with a 1/2 length lead then stretched it to 2 lengths, then 3 lengths by the top of the stretch. Radke saw the easy lead and moved Roman Rush up to try and engage with Code Charlie but Gutierrez let off the brakes and shot away to a commanding 6 1/4 length victory. Roman Rush settled for 2nd while Iron Rob with Alex Cruz ran an even 3rd and 19-1 outsider I Am Allthatyouare with Jose Nava-Marin completed the superfecta.
Code Charlie is a Washington bred by Desert Code out of La Midnite Classic by Atticus and bred by Nancy Sorrick. Vince Gibson was the winning trainer for owner Paul Johnson.
3rd Race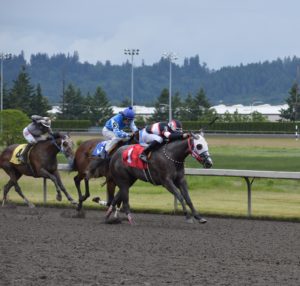 The season high $2 pay-out was set on Saturday at $26.40 which didn't last long as it was topped not once but twice on Sunday. The 1st time was in the 3rd race when Celinas Blue Bird with Jose Nava-Marin stalked the 6-5 favorite Coastal Queen with Alex Anaya and ran her down in the stretch to win by 2 at the hefty price of just under 15-1. 2nd betting choice Dance Ballerina with Jose Zunino was 3rd and 3rd favorite Are You From Dixie with Kassie Guglielmino got up for 4th.
Celinas Blue Bird paid $31.80 for the 1st $30+ $2 win of the year. The $1 exacta was good for $54.50 and 50-cent Pick 3 of 2nd favorite to 2nd favorite to longest shot on the board paid $115.65.
Celinas Blue Bird races for Remmah Racing Inc and trained by Jorge Rosales.
4th Race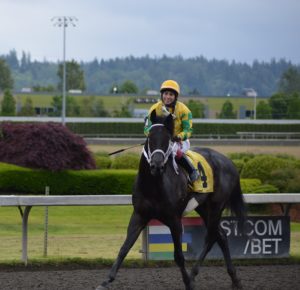 Although not a record the 4th highest $2 win of the season came rolling in when Harbor Outlaw with Kassie Guglielmino aboard rolled by everyone just inside the 1/4 pole and never looked back at 11-1. Tig and Kevin Radke controlled the pace and led by 1 when Guglielmino and Harbor Outlaw began their move hooking Tig by a head at the top of the stretch and his momentum opened a bigger lead with every step to win by a clear 3 3/4. Tig was clearly 2nd best by more than 7 lengths in front of 3rd place finisher Jacana with Alex Cruz who was off a step slow but closed well to grab 3rd over 4th place Coastal King the 1-1 betting favorite with Juan Gutierrez who showed brief speed and tired.
Harbor Outlaw races for the Friendship Stable and Craig Frederickson and trainer Bonnie Jenne. The 4-year-old gelding is a Washington bred by Harbor the Gold, out of Litigious by Scat Daddy and bred by Bar C Racing Stables.
Harbor Outlaw paid $25.20 and the longshot to longshot $1 Daily Double paid a whopping $1,256.10 which sets the meets high Double pay-out blasting the previous high pay of $83.60. There should be no surprise the 50-cent Pick 3 was also easily eclipsed with a $699.75 return over the previous mark of $183 and the a new 50-cent Pick 4 highwater mark of $977.10 edging the May 28th mark of $956.45.
5th Race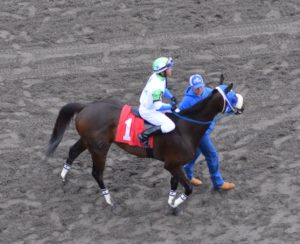 The 5th race proved that a well timed front runner was still difficult to beat on this fast but a tad wet track when Marque It Up when wire to wire for jockey Leslie Mawing. Mawing set the tone with times of 22.02 for the quarter and 44.86 for the half giving him a length lead with 2 furlongs to go. Betting favorite Licorice Drop Pops with Alex Cruz stalked and fired with 3rd place finisher Irish Terrier and Juan Gutierrez but neither could catch Marque It Up in fact Marque and Mawing increased their lead to win by 1 3/4. Licorice Dop Pops held 2nd by a head over Irish Terrier and Erotic with Kevin Radke picked up 4th.
Marque It Up gave trainer Vince Gibson his 2nd win on the card this time for winning owners Lusk Racing. Marque It Up anchored the 2nd best Daily Double pay of $99 even and another big 50-cent Pick 3, also 2nd highest of $637.20.
7th Race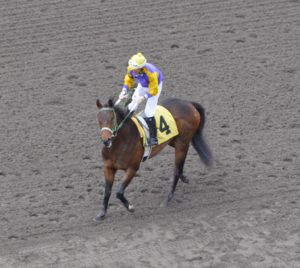 Despite the front running wins in the 5th and 6th races most came from just off the pace and Eddie Martinez timed his ride on Overly Fast perfect sitting 3rd early on. 2nd betting choice Curling Secret with Juan Gutierrez showed early speed  but was engaged in a head and head battle with El Maestro and Alex Cruz and it took its toll as Curling Secret faded to 4th. El Maestro took a slight lead but not for long as Martinez let loose with Overly Fast and swooped past the field to post a 1 1/2 length win. El Maestro did well to hold 2nd after a brutal front run and Abraaj Mirage with Kevin Radke got up for 3rd.
Overly Fast comes from the Tom Wenzel barn and races for James Carlin. The 3rd favorite paid $10.80 to win and was part of the 3rd straight 50-cent Pick 3 that paid more than $300 at $358. The Daily Double from 16-1 Frisco Frills to Overly Fast was the 2nd highest Double pay of the year at $104.60.
8th Race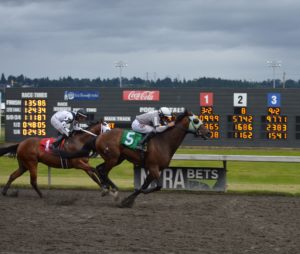 Those hoping for another big pay-off in the get-away race were brought back to earth with the 8-5 2nd choice Mayhem and Chaos catching the betting choice Attorney Louis at 3-2 for the win. Kevin Orozco sent Attorney Louis to the lead in the 1-mile, 2-turn event and maintained solid 1-2 length leads turning away the other early speed of Atlatl with Alex Cruz who finished 3rd  and Tap the Bank with Eddie Martinez who ended up 4th. Jose Zunino bided his time sitting near the back and edged his way closer and was within a 1/2 length at the top of the stretch and eased past a stubborn Attorney Louis to win it by about a length.
Mayhem and Chaos is trained by Debbie Van Horne who recorded her 1st win of the season and for owner WillWin Stable. Despite being 8-5 Mayhem and Chaos still triggered a new high 50-cent Pick 4 paying $1,386.15 beating the $977 previous set earlier in the day. You would have figured the 50-cent Pick 5 $4,013.30 high pay was in trouble but nope, no one got all 5 and the 4 of 5 consolation pay was still a solid $145.50. A carry-over of $13,386 awaits bettors on Friday. The 20-cent Jackpot Pick 6 was also primed to bust the pay-out windows but no one had all 6 on a ticket there either and the 4 of 6 correct paid $93.54 with a hefty $15,570 carrying over to next Friday.

Claims on Sunday
1st Race
Curious Sensation was claimed for $2,500 by Terra Firma Farm and goes to trainer Joe Toye
Whata Flirt was taken for $2,500 by Base Gods, Tandiama Jr., Generoso and Rosales Racing F 1 and trainer Jorge Rosales
3rd Race
Coastal Queen was claimed for $5,000 by Letha and Steve Haahr and the new trainer is Jeff Metz.
5th Race
Marque It Up was claimed for $3,500 by Medina Luciano and goes to the barn of James Gilmour.
Licorice Drop Pops was sold for $3,500 to Cold Boy Stables and new trainer Nick Lowe.
Erotic was bought for $3,500 by the Purple Rose Ranch and trainer M L Pierce.
8th Race
Mayhem and Chaos was claimed for $5,000 by the Purple Rose Ranch and goes to trainer Mike Pierce.
Attorney Louis was picked up for $5,000 by William Jensen and goes to the Joe Toye barn.
Bulldogs run wild!
Sunday was the first big promotional day of the season the running of the Bulldogs. Qualifying heats were run after the 3rd and 5th races setting up the final race after the 7th. A field of 7 featured the 2019 defending champion Howie but there would be no repeat as Howie finished up the track in 10th place.
This opened the door for Benji who just got the nose down in front of Bella to win the big trophy. Benji is from Seattle and owned by Rachel Cockburn. Miranda and Howard Gibson's Bella from Enumclaw just missed having to settle for 2nd. Momo Miraculous ran a solid 3rd for owners Kristin and Brian Botuchis of Everett and completing the superfecta was Buster from Seattle for owner Keven So.
Below are videos and a big picture gallery of the running of the Bulldogs!
The Bulldog Finals
Bulldog Picture Gallery
www.elisportsnetwork.com