8/9/2022
(Updated 6:10pm 8/9/2022)
This is the big week of the year for horse racing in the Pacific Northwest it's Longacres Mile week. The draw and opening week press conference is set for tomorrow (Wednesday) morning at 11am. We were excited to get to the track and talk with with the owners, trainers and jockeys on hand about the biggest race of the meet.
The excitement has been amped up with the confirmation that last year's winner, Background, is set to return to defend his Championship. He is also owned by local fan favorite and former longtime University of Washington football and basketball play-by-play man Bob Rondeau and his wife Molly. Jockey Rocco Bowen was announced as his rider once again. Bowen is an Emerald Downs favorite as well as the only jockey to win the riding title 3 years in a row until maybe this year where Alex Cruz is threatening to tie that mark.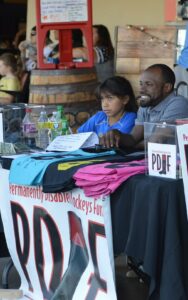 Bowen was here on Sunday as he worked Background at the Pegasus Training center under the watchful eye of trainer Mike Puhich. Following the work Bowen was at Emerald Downs for Sunday racing and signed autographs at the fundraising table for the Disabled Jockeys Foundation. A chance to ride in the final race came open and Bowen jumped at the chance but would be an also ran in the get-away race.
Many of us figured Bowen was here for the week but he had committed to riding in a stake race at Presque Isle Downs in Erie, Pennsylvania. He was set to ride Sequin Lady in the $100,000 Lady Erie Stakes in the 7th of 8 races. While he was there he picked up 3 other rides including a ride on a horse named Prairie Citizen in the 3rd race. It was a field of 9 $6,250 claimers and Prairie Citizen was 26-1.
Bowen had his mount in decent position to the far turn in mid-pack but as they straightened away for the stretch run Prairie Citizen was fading and then just as the last horse goes by the 7-year-old mare clipped heels and went down. Bowen had no chance to respond and hit the ground hard head and shoulder first.
Bowen was taken to the local hospital and suffered a broken collarbone in two places, punctured lungs and lots of bruising. Here is a post by Sonia Perkins who had talked with Rocco….
"Hi everyone. Further update on Rocco. I just spoke with him on the phone. He asked me to write this for him so you will all be in the 'know how'. His collar bone is broken in 2 places, punctured lungs and lots of bruising. He is in a lot of pain, but brave as always. Surgery is scheduled for tomorrow (Wednesday) at 12 noon (9am Pacific time), and I will keep in touch with him as usual. For those who are asking, there was a mishap in the race and both Rocco and his mount fell. Unfortunately the horse had to be euthanized. He is also extremely disappointed as he had some excellent rides in the upcoming weeks, and in several Stakes races. This is a tough sport and I know that Rocco will bounce back, once again."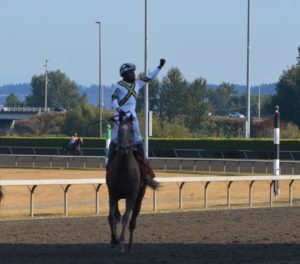 We talked with Emerald Downs Media Director Vince Bruun who says the connections are working on getting a replacement to ride on Sunday. Bruun said they want Geovanni Franco who is currently riding at Ellis Park in Kentucky. Bowen and Franco are the most recent to ride and win on Background.
***We have confirmed with Emerald Downs Director of Publicity Joe Withee that Geovanni Franco is coming Sunday to ride Background and will also ride the other 2 Stakes horses for trainer Mike Puhich that Bowen was slated to ride. More on this after tomorrow's press conference and Mile draw.
Franco has ridden Background in his last 5 races and has a pair of wins, one at Oaklawn Park and one at Churchill Downs he also has a 2nd and a pair of also rans. He has run in 4 stakes races and won 1, last year's Longacres Mile and placed 2nd in the Hanshin Cup at Arlington last summer. Background has a 6-3-4 record from 20 lifetime starts and has earned $430,488.
We have reached out to the connections of Background and Bowen's representatives but have not heard back at the time of this writing. The draw for the Longacres Mile will Wednesday morning at 11am, about the time Bowen may be coming out of surgery in Pennsylvania. We will be at the draw and have full coverage plus will share any updates on Rocco as we get them.
The 87th running of the Longacres Mile will be the crowning jewel to a day filled with 4 Stakes races that include the Emerald Distaff, Muckleshoot Derby and the Washington Oaks. These 3 races will offer a $75,000 purse. Bowen was set to ride in at least two more Stakes and likely other races on the card as well.
www.elisportsnetwork.com