8/10/2022
The 12-horse field is set for the 87th running of the $150,000 Longacres Mile this Sunday and will run as the capper to Championship Sunday. 3 other stakes races all with purses of $75,000, the Washington Oaks, the Muckleshoot Derby and the Emerald Distaff were also drawn. The 4 races will run back to back but the full card will be drawn tomorrow. The likely order will be 6th through 9th but will be set for sure on Thursday.
Below are the the draw's for each race and we talk with the defending Champion Background's owner Bob Rondeau and with local favorite Papa's Golden Boy's jockey Kevin Radke. 
The 87th Longacres Mile
The Field
1 Slew's Tiz Whiz          Jose Zunino  8-1
2 Top Executive            Evin Roman  6-1
3 Majestic Eagle           Declan Cannon  4-1
4 Background              Geovanni Franco  2-1
5 Kingmeister              Javier Matias  30-1
6 Huge Bigley              Eddie Martinez  8-1
7 Unmachable             Kevin Orozco  15-1
8 Hard to Deny            Jake Samuels  30-1
9 Torpedo Away          Alex Cruz  20-1
10 Five Star General    Leslie Mawing  12-1
11 Spittin Image          Juan Gutierrez  15-1
12 Papa's Golden Boy  Kevin Radke  10-1
Overview: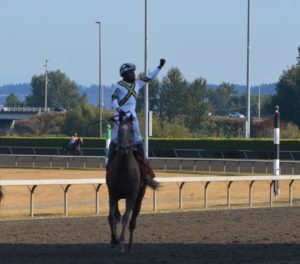 Background is the morning line favorite and will likely be the bettor's choice as well when all the bets are put down. Background won in spectacular fashion last year (see below) for jockey Rocco Bowen coming from midpack to catch Windribbon in the final strides to win by a head. Background has strong Washington connections with Bob Rondeau the longtime voice of University of Washington sports and his wife Molly as owners, Mike Puhich is the trainer and got his start long ago at Longacres and Rocco Bowen so far is the only rider to win 3 straight riding titles at Emerald Downs but got his 1st Longacres Mile last year on Background.
In a story we posted yesterday, we reported that Bowen will not be back to ride this week after suffering a broken collarbone and bruised lungs in a spill at Presque Isle Downs. Bowen was set for surgery today. Geovanni Franco will replace Bowen, Franco will also pick up two other good rides in the stakes races for trainer Mike Puhich.
We did talk with Rondeau on losing the services of Bowen and of course his thoughts were on Rocco getting through surgery and his well being, but also the position of defending his Mile Championship. Rondeau was thrilled to be able to get Franco to fill in as Franco has won twice aboard Background this Spring. Here's our interview with Rondeau….
Background Owner Bob Rondeau on defending the Longacres Mile Championship
If Background wins he would be just the 4th horse to win back to back Mile's. Stryker PHD was the last to do it and only horse at Emerald Downs to win it twice in 2014 and 2015. Before then you had to go back to Simply Majestic at Longacres in 1988 and 1989 and the first one to do it was Trooper Seven in !981 and 1980.
Background wins the 2021 Longacres Mile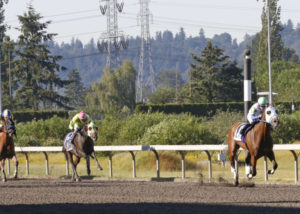 We also talked with jockey Kevin Radke who will ride local favorite Papa's Golden Boy for Lusk Racing and trainer Vince Gibson. Papa's Golden Boy is 10-1 going into the Mile and has won several sprint stakes races and is one of the fastest, if not the fastest sprinters on the grounds but has never been able to carry the full mile. He will also have to break from the far outside the 12 hole. Radke believes he will have plenty of speed early to set the pace. Here's our full interview with Radke….
Jockey Kevin Radke on riding Papa's Golden Boy in the Longacres Mile
Other notable contenders
4-1 Majestic Eagle, owned by Rave Green Racing and trained by Neil Drysdale. Majestic Eagle ships in from southern California and has won a turf Stakes race back in 2019. Declan Cannon will make the trip up to ride Majestic Eagle and comes in with just 4 wins in 38 lifetime starts but has won more than 468k in earnings.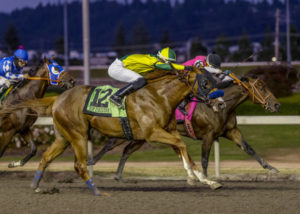 Top Executive is the 6-1 3rd choice in the morning line and was last year's Emerald Downs' 3-year-old horse of the meet. Top Executive will try to become the 1st 3-year-old horse of the meet to win the Mile in his 4-year-old season since Chinook Pass did it at Longacres in 1983. Top Executive is owned by John & Janene Maryanski and Riverbend Stable, trained by Blaine Wright and will be ridden by Evin Roman who will ride Top Exec for the 1st time.
Slew's Tiz Whiz is garnering attention after his fabulous run to win the recent Governor's Stakes running down Papa's Golden Boy in deep stretch. Jose Zunino will get the ride and trainer Tom Wenzel hopes for a repeat and plenty of speed for the 4-year-old gelding to take aim at. K D Thoroughbreds is the owner of Slew.
Also at 8-1 is Huge Bigley owned by Todd and Shawn Hansen from Tenino, Washington and Huge Bigley is a Washington bred but this will be the 5-year-old's 1st race in Washington state. He's been on  the shelf since February 22nd and last won an allowance race at Churchill Downs last November. He's in the barn of Blaine Wright and Eddie Martinez will get the ride.
Double-Digit Odds
Five Star General will begin at 12-1 and is certainly a live longshot having run 2nd and 3rd in the last 2 Longacres Miles and having run well at the Auburn oval on multiple occasions. The 6-year-old also gets Leslie Mawing to ride who has two Mile wins under his belt when he rode Stryker Phd to back-to-back wins in 2014 and 2015. Five Star General is owned by Elttaes Stable and trained by Doris Harwood.
The 1st of two 15-1 shots is Unmachable who is a multiple stakes winner and has recently been in Arizona where he has won a pair of races. He ran a fast closing 5th in last year's Mile and picks up last year's leading stakes rider at Emerald Downs to pilot him in 2022, Kevin Orozco. Orozco almost pulled the huge upset last year just missing the win on 15-1 Windribbon. Unmachable has earned $170,117 in his career for owner Tawnja Elison and is trained by Jack McCartney.
The 2nd 15-1 is Spittin Image with 2-time Mile winner and the all-time winningest jockey at Emerald Downs Juan Gutierrez in the saddle. Spittin Image races for leading owner John Parker and is trained by Candi Cryderman. Parker and Cryderman got Spittin Image earlier this year when they claimed him for $30,000.He then ran 6th in the Budweiser and an improving 3rd in the Governor's. 
Torpedo Away will begin at 20-1 and is coming off a solid come from behind win in a 40k optional claiming race. He is 9-4-7 from 35 starts and has earned nearly 160k in his lifetime. This will be his 2nd stakes race and will get the track's leading rider Alex Cruz for the ride.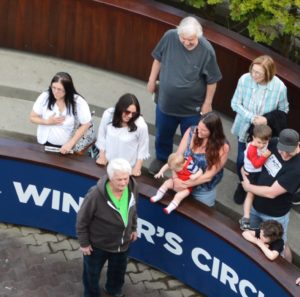 At 30-1 there is Hard to Deny with Jake Samuels aboard. That in itself is impressive since Samuels just returned to racing 2 weeks ago after a 22-month break. Hard to Deny is trained by Niccolo Troiani and owned by the One Horse Will Do Corp, Chris Stenslie and Pete Deraitus. Hard to Deny does love the 1-mile distance with a 3-1-1 from 6 starts record.
And the final entry at 30-1 is Kingmeister owned by Fred Desimone and will be ridden by Javier Matias. The bigger story is that Kingmeister is trained by 94-year-old Bob Meeking. This will be Meeking's 2nd Mile entry with his last being Bucksaw in 1979 or 43-years-ago. Bucksaw ran 8th in 1979 losing to Always Gallant but Bucksaw had won the Governor's Handicap leading up to the 79 Mile.
Kingmeister ran 6th in this year's Governors his only stakes race. He has compiled a 2-3-2 career record from 16 starts but has earned a healthy $155,620 so far in his career. 
Emerald Distaff
1 Lady O'Prado             Jake Samuels
2 Emerald Sea               Javier Matias
3 Prospera                    Eddie Martinez
4 You Go Girl                Juan Gutierrez
5 Princess of Cairo       Geovanni Franco
6 Buyback                     Evin Roman
7 Classic Leah               Kevin Radke
8 Our Lyla Grace           Jose Zunino
9 Unsinkable Molly B    Leslie Mawing
10 Zippen Sevenz         Alex Cruz
Muckleshoot Derby
1 A View From Above   Leslie Mawing
2 Midnight Mojo          Eddie Martinez
3 You're the Cause        Javier Matias
4 Nepolitano                 Jake Samuels
5 Smiling Goodbye       Evin Roman
6 Executive Chef           Kevin Orozco
7 Itsallabouttheride       Juan Gutierrez
8 Little Casino               Kevin Radke
9 Smoken Shadow        Jose Zunino
10 Big Paper Daddy      Alex Cruz
11 Wear the Crown       Alex Anaya
Washington Oaks
1 Gold and Glitter         Juan Gutierrez
2 Unsolved Mystery      Alex Cruz
3 Gold Coast Girl          Javier Matias
4 Tiz a Macho Girl        Jake Samuels
5 Let it Rain                  Evin Roman
6 Princess Payton         Eddie Martinez
7 Koron                        Kevin Orozco
8 Slack Tide                  Kevin Radke
9 Big Java                     Geovanni Franco 
www.elisportsnetwork.com