8/16/22
(Anaheim, Ca) While game two of the three-game series between the Seattle Mariners and Los Angeles Angels wasn't quite as strange and chaotic as the opener, it still wasn't close to a normal baseball game. What looked to be a potential historic night for the Angels quickly turned into a historic and entertaining night for Mariners fans on social media after technical difficulties cause the broadcast to go down for a couple of innings. When the dust settled from the ball game, it was an 8-2 blowout win for the Mariners to take the series and give them the chance for the sweep.
This time it would be the Angels to strike first and strike early. In the bottom of the 1st, Luis Rengifo would do exactly what he did in game one and that would be hitting a solo home run off of a very good Mariners starting pitcher in Robbie Ray. It was Rengifo's ninth home run of the year and the Angels were quickly up 1-0.
Robbie Ray would turn into the strikeout machine he was last season and has been for most of this year as he would strikeout the next four batters he faced. He would run into more trouble in the bottom of the 3rd after singles by David Fletcher and Shohei Ohtani had runners on first and third with one out. It would be Rengifo doing the damage again with a base hit to left to score Fletcher and put the Angels ahead 2-0. After walking Taylor Ward to load the bases, Ray would induce a ground ball to Eugenio Suarez and the Mariners would turn a 5-4-3 double play to end the danger.
Angels starter Jose Suarez was dominant from the very beginning of the game. Suarez would retire the first 16 batters he faced in order and was perfect through 5.1 innings with five strikeouts. The lefty kept the Mariners off balance and the Seattle offense looked uncomfortable. Suarez had been very good against the Mariners all year but this was looking to be extra dominant and extra special.
That was until the top of the 6th with one out when Adam Frazier would hit a ground ball to shortstop and would easily beat it out for an infield single despite a terrific effort by David Fletcher. The first Mariner baserunner would snowball into a rally for Seattle. Sam Haggerty and Julio Rodriguez would both single to load the bases with one out. A struggling Ty France would breakthrough with a solid grounder into right field to score both Frazier and Haggerty to tie the game at 2-2.
The Angels would go to make a pitching change but as they did so, the Root Sports feed would experience some technical issues and would be stuck in a loop that would play over and over again for the next couple innings. During that time where people were refreshing their Twitter feeds for updates, Jesse Winker would hit a fly ball to right field which was deep enough to score Rodriguez and put the Mariners up 3-2.
Robbie Ray really had a fantastic game despite having to throw a lot of pitches. He gave the kind of performance the Mariners front office wanted from him when they signed him to a big five-year deal in the offseason. Ray finished going six innings, allowing six hits, two runs, walking two, and once again striking out ten Angels.
After Ray left the game, the Seattle bullpen would do what they have done for almost two months now and that his hang zeroes on the scoreboard. Andres Muńoz would pitch the 7th and would record three strikeouts despite allowing a couple of baserunners. Matt Festa would do his part pitching a clean 8th inning to preserve the Mariners one run lead.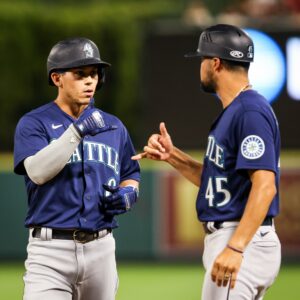 With the feed back up and fans tuning back in, the Mariners decided to add some insurance in the 9th. And they would add a lot of it. Eugenio Suarez would draw a walk after a missed call on a pitch that was clearly a strike and would have been strike three. Instead, it was ruled a ball and Suarez would walk. Curt Casali would record his first Mariner hit with a two out single and Seattle had something cooking. It turned out that they were cooking a five-course meal as Adam Frazier would hit a triple to right to score Suarez and Casali to extend the lead to 5-2.
After a triple for an appetizer, Sam Haggerty would use his fantastic speed to beat out a groundball to second for an infield single and score Frazier to make it 6-2. Julio Rodriguez would then serve the dessert to an exquisite top of the 9th when he would launch his 19th home run of the year to right center and make it 8-2. The Mariners once again had a massive 9th inning as they have scored a total of nine runs in the 9th in the first two games of this series.
Erik Swanson would get the task of finishing the game off and he would do just that pretty easily. Swanson would get Magneuris Sierra and Jose Rojas to ground out. He would then finish things off with a Steven Duggar flyout to left to give the Mariners a delicious 8-2 victory.
The win keeps the Mariners (64-54) in the top AL Wild Card spot as they sit half a game ahead of Tampa Bay. All the teams in the Wild Card race won on Tuesday except for Toronto who now hold the last Wild Card spot 1.5 games behind Seattle and just half a game ahead of Baltimore. Seattle will look for the sweep of the Angels (51-66) in the finale on Wednesday at 1:07p in a game that can only be seen on the MLB's YouTube channel. It will be rookie George Kirby (4-3, 3.39 ERA) getting the ball for the Mariners against Touki Toussaint (1-0, 2.70 ERA) who will be making just his fourth appearance and second start for Los Angeles.
Matt's Takeaway
While the offense was extremely frustrating for five innings, they woke up and got the job done. There hasn't been much energy coming from the offense for a majority of this road trip, but that 9th inning could light a spark that can fuel the fire over the final four games of the road trip. I want to talk about Robbie Ray though. Ray got off to a rough start to the season and has had struggles against the Houston Astros. Since June 12th, the reigning Cy Young winner has thrown ten straight quality starts against teams not named the Houston Astros. He has struck out 75 batters in those starts and walked 18 batters through 59.2 innings. He is going to go out there and give the team a chance to win every time he pitches. This is exactly what the Mariners want and need from him. He doesn't need complete game shutouts. With a dominant bullpen, this offense should be able to score four or more runs against anybody. Robbie Ray has been fantastic and hopefully he can continue that throught the final month and a half of the season.
Top Performers
Mariners
Julio Rodriguez- 3-5, HR, 2 RBI, 2 R

Adam Frazier- 2-4, 3B, 2 RBI, 2 R

Sam Haggerty- 2-4, RBI, 2 R

Robbie Ray (W, 9-8)- 6 IP, 6 H, 2 R, 2 ER, 2 BB, 10 SO
Angels
Luis Rengifo- 2-4, HR, 2 RBI, R

Shohei Ohtani- 3-4, 3B

Jose Suarez (L, 4-5)- 5.1 IP, 4 H, 3 R, 3 ER, 0 BB, 5 SO
www.elisportsnetwork.com