9/10/2022
Sumner 35, Curtis 28
By Alex Benzegala
University Place, WA – Trailing Curtis 14-7,  Sumner Head Coach Keith Ross aka "The Shepard" didn't have to say much during the halftime intermission in the visiting locker room at Bob Lucey Field. The message though, was clear: " This isn't Sumner football." After trailing 16-7 at half last week to Bellarmine before coming back to win 22-16, the Spartans used big plays in all facets of the game to avoid a major early season upset to defeat the Vikings 35-28.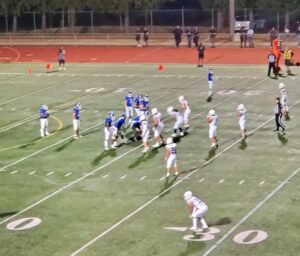 The first quarter belonged to the defenses, as drives stalled for both teams as the defenses focused on stopping the strong rushing attacks of the opposing the offenses. Curtis went run heavy with QB Rocco Koch and RB Lynden Tanoa trying to soften the defense, but the Spartans front was up to the challenge. Sumner ran it early and often with QB Kayde Bodine and RB Matt Spurbeck, but also had some incomplete passes to stall drives in the 1st quarter.

After a scoreless first period, it was Curtis who got on the board first in the 2nd, with a balanced attack and then a 34 yard touchdown strike from Koch to receiver Mataio Wilson to make it 7-0. It was a perfect jump ball throw from Koch to Wilson on a fade pattern for his first his first TD reception of the season.
Sumner answered on a long drive, capped off by a Bodine touchdown run from 11 yards out to tie it at 7-7.
Koch continued to warm up offensively and the play of 1st half was a 41-yard swing pass from Koch to Sophomore star Xavier Ahrens who caught it in the right flat and followed blockers until he found space to cut it back all the way to the right for a long td.
Despite a fake punt conversion on 4th down for Sumner in the 1st half, Curtis did a great job of putting pressure on Bodine and frustrating the Sumner offense and went into the break with a 14-7 lead.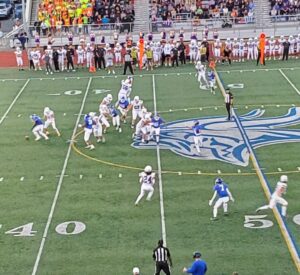 The NFL has a TV show called Turning Point that breaks down pivotal moments in a game, and ESN's high school version of that came early in the 3rd quarter. Curtis forced a punt near midfield, and Ahrens, back to receive the Sumner punt, fumbled inside the 10 yard line. The Spartans had first and goal where they capitalized on another short TD run by Bodine to tie it at 14-14.
After forcing a 3 and out, Sumner had another big play, this time a 41 yard run by Matthew Spurbeck to give the Spartans their first lead at 21-14 midway through the 3rd quarter.
More ESN turning points were coming, as Koch lead a Curtis drive inside the 20, where a fumble gave the ball back to the Spartans.
Sumner began to really wear down Curtis defense on their next drive, running the ball with Steele Isaacs and Spurbeck; Vikings players were in and out of the game with cramps and minor injuries and the Spartans marched to the 36 yard line of Curtis to end the quarter leading by a score.
They took no time to score as Bodine threw his 2nd touchdown of the season, finding Princeton commit Jay Mentink for a 25 yard TD to push the lead to 28-14 early in the 4th.
This is where things get interesting, Curtis showed their grit by going on a long drive, lead by Koch taking what the defense gave him and Lyndon Tanoa scored on a 7-yard run with 8:09 in the 4th to trim it to 28-21.
On the ensuing kickoff, Mentink again showed why he one of the best players in the state of Washington, returning the kick 92 yards for a TD to put Sumner on top by two scores again, 28-14.
But Curtis would not go away, as Koch continued to pick apart Sumner, and his 8 yard TD scamper kept the Vikings alive, cutting the lead to 35-28 with 4:45 in regulation.
Sumner relied on their burly offensive line and strong running game to keep the ball away from Koch and the offense, but how they did it was unconventional and fortuitous. On arguably the craziest play of the game, Bodine and the Spartans faced 3rd and a mile, and the 4 year starter escaped the pocket and fumbled, but still picked up 20 yards to bring up 4th and 1 in their own territory. The Spartans gambled and ran behind their veteran line to pick up the first down. That forced Darren McKay and the Vikings to call their two remaining timeouts, and on 3rd and 7, Sumner  picked up the 1st down with Isaacs to put the game on ice.
Matthew Spurbeck was chosen as the ESN MVP, but I think Paul Beattie and I could have picked 10 players who were equally deserving. After driving home, I realized I probably would have gone with Jay Mentink whose two touchdowns were huge. But no wrong answer here.
Alex's takeaways
Rocco Koch is an early season contender for 4A offensive player of the year. Maybe it's too early, but Koch to me is one of the most impressive players in the South Sound. His Poise in the pocket, ability to feel pressure and escape and either make throws under duress or tuck it and pick up chunks is impressive. If the junior doesn't get a college offer by 2023 I would be shocked.

Sumner is good, but they haven't played 4 complete quarters yet and when they do, they will be elite. Good teams find ways to win, and the fact that they have dominated the 2nd half in two straight games is a positive. But Spartans fans are not used to close games with Bellarmine and Curtis as of late, so that could indicate how tight the SPSL is but also that Sumner can get a lot better. I still think they can win the league and make a deep run in the post season, but they have a lot to figure out.
Curtis is a legit contender to make the State playoffs for the 1st time since 2018. I don't know what is in the water of Darren McKay teams, but I really like this Curtis squad. They are young, but they never quit and with players like Koch, Tanoa and Ahrens, they are an extremely difficult team to beat. They have come a long way since going 1-9 in 2019 and winless in the spring 2021 season. Look out for the Vikings.

This league is really fun. With Puyallup taking down defending state champs Graham-Kapowsin on Friday, Emerald Ridge thumping Olympia on Friday, the SPSL is as wide open as ever. Curtis is 1-1 and takes on a little bit of a surprise in Bethel next week, who is 2-0. Bethel has pitched two shutouts in 7-0 and 6-0 wins over South Kitsap and Bellarmine, so they will get a big test against Curtis next week. Emerald Ridge-Sumner is next week, and that should be a great contest as well.
Video Highlights
Sumner takes their 1st lead on a Matthew Spurbeck run
After Curtis scores to pull within 7 the Sparts' Jay Mentink has the answer
Curtis refuses to give in cuts lead to 1 score with 4 min to play
Sumner Coach Keith Ross on Sumner's win and unique approach to halftime
www.elisportsnetwork.com