9/9/2022
Tumwater 8, North Kitsap 6
(Tumwater, WA) The Tumwater Thunderbirds had to replace a huge portion of their starters from last year's state 2nd place team and it remains a work in progress especially on offense. But the traditional stout defense will always keep the T-Birds in the game and make them contenders.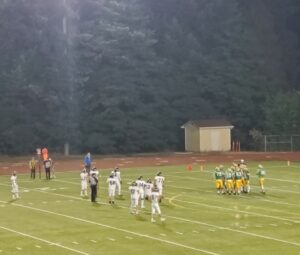 Tumwater held just an 8-0 at the half after a safety and a late 1st half touchdown but missed PAT. The North Kitsap Vikings defense was matching Tumwater's play for play and shut out Tumwater in the 2nd half. The Vikings offense had struggled all night when they put together one scoring drive to pull within 2 at 8-6. It came down to converting a 2-point play and the T-Bird defense made the play to deny those precious extra points to clinch the game.
Our ESN crew has full details, re-caps stats and their MVP of the game below in the Post Game show. Tumwater improves to 2-0 and travels to Kelso next Friday. North Kitsap drops to 1-1 and faces Port Angeles next Saturday at Lumen field with a special 4:45 kick-off. 
ESN Post
 Game Show
Video Highlights
Tumwater takes 8-0 lead late in 1st half
North Kitsap finally punches in a score but needs 2 to tie late in game
www.elisportsnetwork.com