9/14/2022
Franklin Pierce 3, Clover Park 2 (22-25, 25-14, 25-19, 23-25, 16-14)
(Lakewood, WA) The Franklin Pierce and Clover Park volleyball teams have both struggled over the past several season and both were ready to show they are a threat and wanted to get off to a fast start. Both suffered opening night losses and the Cardinals then beat Foss and came to Clover Park High School with a 1-1 record while the Timberwolves were looking to even their record under new coach Kim Lok.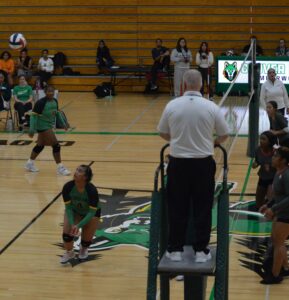 The T-Wolves got off to a fast start with a key service run from Anaya Davis when she reeled off 5 straight points to give CP a 20-17 lead. They would trade points and the Timberwolves won it 25-22 to take a 1-0 lead.
In set 2, Franklin Pierce found their groove and got off to a fast start with Raya Higgins scoring 3 with 2 aces to start. Emily Sullivan had a 4 point run to poush the cushion to a 3 poinit lead. Higgins then opened it up with a 17-13 lead ran the total to 21-14. Mikeila Orta then finished it off with 3 straight points for the 25-14 win and the Cardinals evened the match at 1-1.
In set 3 the two teams again began with solid play and a tight score. Sullivan took the serve with just a 15-14 lead but she scored 5 in a row to blow open the set to lead 20-15. Marlene Iafeta made a run for the Timberwolves and got within 21-18 but that would be as close as they would get in the the 3rd set with FP winning 25-19 and taking a 2-1 lead.
The 4th set was a crazy turn-around for Clover Park. FP was cruising along looking to end the match in 4 and Sadayna Moevao serving up 4 points along with additional points from Angel Olione Silva and Orta building an 18-12 lead. All the momentum  was with the Cardinals and it looked bleak for the Timberwolves.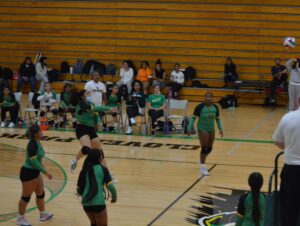 Then Alicia Soliai, the 5'11 senior stepped to the service line and she ripped off 8 straight points with 5 aces. She added some thundering kill shots and got help from Kamila Salanoa and when they were through it was a brand new game with Clover Park leading 21-19.
Franklin Pierce did not give up and battled back with Destiny Aaron serving down 22-20 she scored 3 straight and the Cards re-took the lead. They turned it over tied 23-23 and the T-Wolves Aliana Riviere a sophomore confidently hit two straight points and Clover Park came roaring back to tie the match and force a 5th and deciding set.
The momentum had certainly shifted and the Timberwolves gained a ton of ground with a 4-3 lead when Anaya Davis again ran off 4 points to take an 8-3 lead. The Timberwolves would push it to a 10-5 lead and they just needed to trade a few points to get to 15 but FP wasn't done and had a little magic of their own. The Cardinals chipped away and got within 13-10 when Makeila Orta took the service line and she came up with a huge ace and 2 other points to tie it at 13-13. 
The CP defense dug in and won the next point forcing match point and here came the Cardinals nightmare Soliai. She fired a solid serve but the Cardinals defense was up for it and denied the T-Wolves the match winning point tying it at 14. Emily Sullivan then came to the line and scored 2 for the win and a 3-2 match win.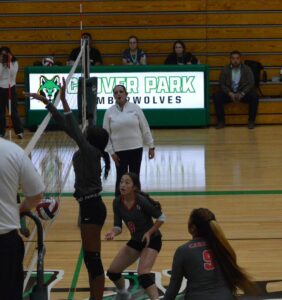 Franklin Pierce got a true team win with Caleigha Webb and Niah Semeli also playing big roles with the others for the Cardinals. Clover Park's heartbreaking loss had big time play from those mentioned along with Samantha Reed, Zinessa Patton and Diliabed Gibson. But our MVP award went to the Cardinals' Makeila Orta.
Franklin Pierce is now 2-1 and will get a week off and not play again until Friday the 23rd hosting Steilacoom. Clover Park is 0-2 and will try to get their 1st win next Tuesday at Washington.
MVP Makeila Orta
Video Highlights
(There was an issue in uploading the On-Demand or Replay of the Match. We are trying to re-upload it and if we can we will add highlights to the story. We apologize for the technical issue.)
www.elisportsnetwork.com