9-15-2022
By Tony Davila
Tumwater 6, Black Hills 0
(Tumwater WA) Sid Otton Field was host to Black Hills and Tumwater both coming in with 1-0 records in the EVCO 2A. The Wolves coming off an 8-1 win over Rochester and the T-Birds beating Centralia 6-0 to open the league season.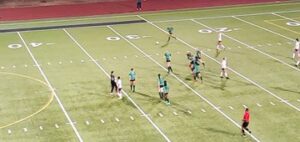 Tumwater heard the whistle and was off to the races showing off their speed and touch down the field. Black Hills defenders Mackie Finney , Brynna Elliot and Hailey Tinsley did their best to help out goalie Carissa Gibbs but the T-Birds attack was unrelenting. Ava Jones would get the scoring started in the 11th minute making up for the goal she had a couple minutes earlier that was waved off because she was caught off sides. Jones would take a corner kick finding Emalyn Shaffer in the 26th minute for a 2-0 lead. Emalyn would strike again quickly with another goal in the 28th minute. The Wolves would hold the T-Birds off for the rest of the half.
The second half began and it is a lot of the same just different names Sophie Boatright would score for Tumwater in the 53rd minute. Emalyn Shaffer would get her Hat Trick with a goal in the 59 minute. That made Shaffer our clear Thorbeckers MVP of the match. Tumwater would save the best goal for last with a corner from Olivia Kee landing on the foot of Lucy Bergford and just getting across the line. Neither team was sure the ball got all the way across the officials would have a discussion and rule it a goal. Tumwater moves to 2-0 in league play and 4-0-1 over all and hosts Ridgefield in a non league game on Saturday.
Black Hills got some offensive help with seniors Mia Thompson and Mia Oniskey leading the way and freshman Harmony Beck and Ella Jarmin giving good varsity minutes. Black Hills is now 1-1 in league and 1-2-1 over all with league opponent Aberdeen coming to town next Tuesday.
You can watch the entire match on the NFHS Network on-demand. Subscriptions are $11.99 per month and gives you access to the entire NFHS Network all across the country to watch the live broadcasts or any on-demand games. Literally hundreds of thousands of hours of game content. Go to 
https://www.nfhsnetwork.com/affiliates/eli-sports-network
Video Highlights
Ava Jones starts the scoring i9n the 11th minute
Emalyn Shaffer gets the Hat Trick
www.elisportsnetwork.com