Peninsula 39, Gig Harbor 30
By Alex Benzegala
(Purdy, WA) In a game that had big plays that could take hours to dissect, the Peninsula Seahawks outlasted the Gig Harbor Tides in another classic showdown, winning the 44th annual Fishbowl game 39-30 to give Peninsula their 7th straight win in the series.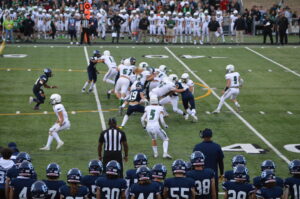 Unlike last years game in which Gig Harbor took a 28-0 lead at halftime before Peninsula came back to force OT and win 35-28, it was the Seahawks who struck first on their opening drive, as running back Conner Burton had a big drive with a long pass reception to set up his own 12 yard rushing score to give the Seahawks a 7-0 lead.
Senior quarterback Will Landram led a long drive on the Tides opening possession, but had to settle for a 32 yard field goal from Boone Leverett to cut the Seahawks lead to 7-3.
On the ensuing Peninsula possession, Seahawks QB Payton Knowles faced heavy pressure and fumbled to give it back to Gig Harbor. Landram continued his hot start, finding Christian Parrish wide open for a TD on a scramble drill to give GH their first and only lead at 10-7.

Landram to Parrish to give the Tides the lead
Another long PHS drive ended with yet another Burton rushing TD, this one from 12 yards out to give Peninsula a 14-10 near midway through the 2nd quarter.
In a wacky final minute or so of the 1st half, the Seahawks got a pivotal stop on defense and had enough time on the clock to get in field goal range for Frankie Cross, who drilled a 31 yard field goal to extend the Peninsula lead to 17-10 at halftime.
Conner Burton gives the lead back to the Seahawks
Gig Harbor went 3-and-out to start the 3rd quarter and  PHS senior Isaac Smith, who began to get more snaps at RB due to Burton being out due to injury took over the game with bruising and explosive runs. Smith scored on a 7 yard run to push the Seahawks lead to 24-10 with 8:21 left in the 3rd.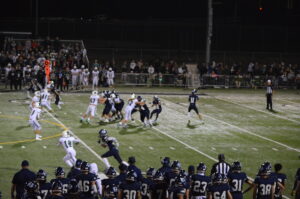 Gig Harbor would not go lightly though, as the Tides marched down the field and got to 4th and goal from the 2. Landram got hit hard on a run a couple plays earlier, forcing backup quarterback Benji Parks into action for this crucial play. To the surprise of many including maybe the PHS defense, Parks rolled to his left and found Benjamin Stephens for the short TD to cut the lead to 24-17.
The Tides defense though just struggled to keep up with the high octane Peninsula offense, as Knowles made arguably the biggest play of the game for PHS with a 12 yard rushing score to push it to 30-17. The Seahawks then botched the snap on the extra point but Brady Laybourne scrambled and got the 2 point conversion to make it 32-17.
Gig Harbor showed no quit, as Landram re-entered the game and made some huge plays, hitting Gavin Nash for a 19 yard TD on a fade route get within 8 at 32-24 with 7:31 left. On the two point conversion, Grady Johnson broke through the Tides offensive line for a sack that was huge for Peninsula.
The Tides finally got a stop on defense to give them a shot, and they capitalized with another majestic drive.  Star running back Blaze Herbert, who was held in check for the majority of the game, came alive with a 26 yard TD on a screen pass to get GH within 2 at 32-30 with 2:29 left in the game. It came down to a 2 point play for the tie but the Seahawk defense rose up and stuffed the attempt and Peninsula held on to a slim 32-30 lead.
Gig Harbor was close to getting the ball back for a chance to win it but a costly penalty kept the Seahawks drive alive and Peninsula took full advantage as Landon Watson sprinted 33 yards for the 5th rushing TD, add the 1 point PAT and the PHS lead was 39-30 with 1:33 left to put the game on ice.
To score 39 points against a Gig Harbor defense was stunning to watch for the Seahawks, as Isaac Smith paced the Seahawks with 11 carries for 76 yards and a TD. Knowles, who made history as the first quarterback to start for both Peninsula and Gig Harbor in a Fish Bowl, was efficient as he completed 10 of 13 passes for 156 yards and his rushing TD was probably a deciding factor in him earning the ESN player of the game award.
Will Landram was the player of the game for the Tides, throwing for a season high 264 yards and 4 touchdowns and kept Gig Harbor close all game.
The loss for Gig Harbor drops them to 2-1 overall and 0-1 in SSC conference play. Peninsula improves to 2-1 and 1-0 in the SSC. The win for the Seahawks is their 7th straight in the series, which Peninsula now leads 23-21. Peninsula will play their 4th straight game at Roy Anderson Field as they host North Thurston next week. Gig Harbor faces Capital and look for their 1st league win of the year.
Alex's Final Thoughts
Fish Bowl 44 lived up to all of the hype, and was probably one of the top 5 Fish bowls ever played in terms of its competitiveness and back and forth nature. The quarterback duel between Landram and Knowles was so fun to watch, but ultimately I think the running game of Peninsula was the difference. The fact that Peninsula scored 39 points against a defense that pitched 2 shutouts to start the season was extremely impressive.
Also you cannot understate the importance of the game on the SSC race and the post season. I think the winner of this game would be in perfect position for at least the 2 seed out of SSC. I came in thinking this years Fish Bowl was close to a 50-50 game, and it turned out pretty close to that. With PHS winning Fish Bowl, they now have the head-to-head advantage over Gig Harbor which is huge.
You have to feel for the Gig Harbor seniors like Landram, Herbert, Nash and Nic Fortney and how much it hurts to lose to Peninsula again. They gave Peninsula their best shot, but fell just short. I think they still will have a great season but no doubt that this one stings for the Tides.
Pre-Game Fan Interviews
Peninsula students ready to defend their Fishbowl Championship @Peninsula1947 #fishbowl pic.twitter.com/CMS6u7vul2

— YourESN (@YourESN) September 17, 2022
Gig Harbor Fan fired up prior to Fish Bowl 44
Photo Gallery
www.elisportsnetwork.com