9/17/2022
Lincoln 42, Camas 28
(Tacoma, WA) The Lincoln Abes came out firing with QB Gabarri Johnson hitting Derek Granberry for 56 yards on the 1st play from scrimmage. Little did we know the opposite would be true for the Abes as they eventually got their ground game rolling and it never stopped.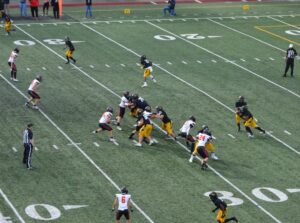 The Abes QB Johnson piled up 500 yards of offense on his own with 290 on the ground and 210 passing. The amazing thing is he had just 13 yards of rushing for most of the 1st quarter. Johnson busted off an 85 yard run (highlight below) with 44-seconds left to go in the quarter. So for all intents and purposes Johnson ran for 277 yards in 3 quarters of play,
It wasn't like Johnson couldn't have rushed for more sooner the Abes o-line (Daniel Wani, TJ Tusi, Vincent Saldana, Anthony Mancao, Trey Meredith) were giving him tons of time as he waited for one of his receivers could get open. Lincoln's offensive coaches urged Johnson not to put that much pressure on his line and to get the ball up field as holding onto the ball that long did result in several holding penalties.
To be fair on the flip side it was clear Camas was more concerned about covering the speedy and talented wide receiving corps which is at least 2 deep in all positions for Lincoln. The Papermakers rushed just 3 for most of the game and Holt Williams and Konan Figueroa both stood out with their efforts and did get to Johnson a couple of times.
Camas had issues stopping the run option between Johnson and Navarre Dixon who also rolled up big rushing numbers with 208 of his own. He had two 40+ touchdown runs. (highlight below) Finally, the Papermakers went to the old "sheriff" defense and designated a linebacker to simply stay on him which was effective but Johnson was still able to add yardage and that opened up the run of Dixon.
Johnson did a nice job throwing the ball spreading it out over 6 receivers led by Derek Granberry with 3 catches for 85 yards. Johnson was 8 for 14 for 179 yards in the 1st half and finished going 10 of 19 for 210 attempting only 5 2nd half passes after the run game took over.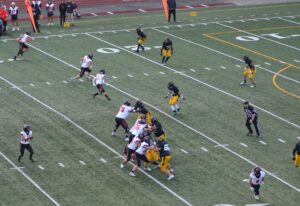 For Camas, they actually got the scoring going with a 3-play 77-yard drive capping off the 1st score of the game with a perfect 36-yard strike from Taylor Ioane to Trenton Swanson (highlight below). Ethan Ouchi added the PAT and it was 7-0 with 1:58 to play in the 1st. 
Camas held sway tying the game at 14 with 10:18 to go in the half as Ioane struck again this time finding Zach Blair for a 49-yard connection. Lincoln would have the last word in the 1st half though when Johnson struck again adding a 57-yard run but the PAT was blocked and the Abes led 20-14.
On the next possession the Papermakers would have to punt giving the ball back to the Abes on their own 43. The Abes drove down to the 1 and Kelly Sio-Fetaui lept over the top for the score but the 2 point attempt failed and it was 26-14 with 2:17 to play.
That was enough time for the Papermakers to answer as they traveled 88-yards in about 90-seconds. Ioane would toss another laser to Swanson who took it in from 36-yards out and Camas pulled within 26-21 as they went to the half.
Camas would get the ball first in the 2nd half and a great chance for the Papermakers to re-assert themselves but instead their 1st 3 possessions were 3 and out, 3 and out and an interception. Meantime, Lincoln added to their lead with a 5 yard TD run from Dixon and Johnson ran in the 2 point try to push the Abes lead back to 13, 34-21.
After the interception early in the 4th, Lincoln took over on their own 2 and drove the ball out near midfield when the drive stalled. Johnson is also the kicker and drilled one all the way to the 17 where Zach Boyd caught it, went straight up the field shook off a would-be tackler and cut to the left sideline and was gone 83-yards to the house, add the extra point and they were again back within 6.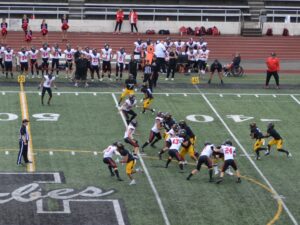 The Abes answered with another bulldozing drive that began on their own 27 and they pushed it to the 44 of Camas. That's when Dixon broke off his 3rd TD run of the game going the distance, Johnson added the 2-points and it was 42-28 with 4:10 left to go.
Camas ran out of responses and took their 3rd straight loss to drop to 0-3. Ioane did finish 25 of 34 for 354 yards, 3 TD's and 1 interception. Swanson led all receivers with 6 catches for 166 yards and 2 TDs. Zach Blair had 2 catches for 92 yards and a td and had that 88 yard punt return for a score. The tight end Sam Stark also productive grabbing 3 balls for 58 yards. The Papermakers running attack was limited with just 10 carries for a total of 57 rushing yards.
Lincoln finished with a total of 708 yards of offense, Camas put up 411 and the 2 teams combined for 1,119 yards. Our game MVP went to Lincoln's Gabarri Johnson.
Lincoln will host Mt Tahoma next Friday in their PCL opener while Camas will look to get their 1st win in another non-league match-up at home against Kelso.
Video Highlights
MVP Gabarri Johnson on the Abes big win
Camas Strikes 1st
Johnson goes 85 yards
Blair returns the punt 83 yard
Dixon rumbles 44 yards for the score
ESN Post Game Show
Photo Gallery
www.elisportsnetwork.com