Washington 39, Michigan St. 28 
(Seattle, WA) The Washington Huskies improved to 3-0 on the season and made a statement to the rest of the country after a 39-28 win over No. 11 Michigan State at Husky Stadium. It was considered the first real test of the Kalen DeBoer era, and Michael Penix Jr. shredded the Spartans defense for 397 yards and 4 touchdowns in the win. Ja'Lynn Polk had a huge game with  career-high 153 yards receiving yards and three TDs.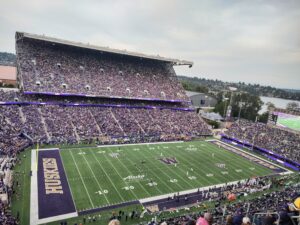 Alex's takeaway
It was the first UW game that I ever went to at Husky Stadium, and it could not have been more fun. The crowd was rocking like it hasn't in a while, and to pick up a win over a top-15 team is huge for the program. I have been impressed with Penix at QB, but his first half performance against Sparty was as impressive a first half as I have seen in a long time. It is one thing to dominate Kent State, but to completely have your way with a  Big Ten MSU defense like he did was incredible to watch.
The offensively consistently dominated up front which allowed Penix to get the ball out of his hands quickly, and the MSU never got really got pressure on the Indiana transfer and the UW receivers dominated their matchups all game.
The first half that Penix played made me think that he should be on the early season Heisman watch list, but in the 2nd half he did cool off a little bit. He missed Rome Odunze on a sure thing touchdown on the right side where he overthrew him badly.
Also, UW had the ball at the 1-yard line twice and turned it over on downs twice. If they punch those in the score would have been even more lopsided.
Now for the defense, it was another bend but don't break performance. Forcing a safety in the first half was big, and they got a couple sacks and an INT in the 2nd half that basically put the game out of reach, but it has too be concerning how many passing yards they gave up, particularly in the 2nd half. The pass rush wasn't consistent through 4 quarters, and Spartans QB Payton Thorne threw for 323 yards and 3 scores which kept MSU competitive late.
Overall though, if you are a Husky fan you have to be really excited about where this team is under year one under Kalen DeBour. They take on Stanford next week at Husky Stadium in the PAC-12 opener, where they will look to build on the MSU win by getting a dominate win over a struggling Stanford team.