9/18/22
(Auburn, WA) Closing Day 2022 featured an 11-race card and 3 stakes races. Below we cover the Stakes races and have some track notes from the final day. Over the next couple of weeks we will be wrapping up our coverage with features on the jockeys, trainers, owners and of course horses.
Let's get to closing day!
The Gottstein Futurity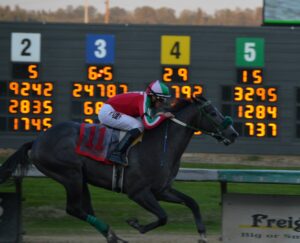 11 2-year-olds went to the gate in the 2022 Gottstein Futurity with what looked to be a wide-open field. The bettors favored Chuckanut Bay with Alex Cruz aboard. Chuck was coming off a 2nd in the Lads Stakes losing to It's Turbo and then a win in the Washington Cup Juvenile but was disqualified and placed 2nd in that win for a bumping incident in the stretch.
The 2nd favorite at 7-2 was Lloyds Logic who was coming off a smoking MSW win by 5 1/2 lengths but regular rider Eddie Martinez chose to stick with Supermax both horses owned by George Todaro and trained by Tom Wenzel. The 3rd choice was 5-1 It's Turbo with Leslie Mawing who had been on the sideline since winning the Lads Stakes on August 7th. The only other less than 10-1 entry was 7-1 J C's a Legend.
The Gottstein was contested at it's usual 1 1/16th and Lloyd's Logic with Jose Zunino, Wenzel's other regular rider, was hung out in the 11 hole. Zunino knew he needed to be on or near the lead and not to get hooked way outside so he was off at the break and cleared the field entering the 1st turn and did so at a reasonable 23.06 pace. Chuckanut Bay settled into 4th from the 3 position and It's Turbo was far back in 10th.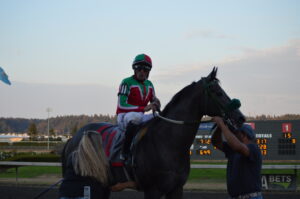 At the 6-furlong mark Zunino and Lloyd had controlled the pace and led Chuck by a length while setting the fraction of 1:11.74. Cruz had begun to push Chuck sooner than he wanted it seemed but no one else applied any pressure on Lloyd. If the horses stamina is compared to a car's gas tank then let's say that not only did Zunino have plenty of fuel he apparently stopped at the 7-11and filled up while grabbing a hot dog and a big gulp because all Zunino did was a little tap and Llopyd's Logic opened up on Chuckanut Bay by 3 at the top of the stretch and the coronation was underway as Lloyd's Logic put distance between him and Chuck with every stride winning by 7 1/4 lengths in a final time of 1:43.38. 
Chuckanut Bay trained by Jorge Rosales could do nothing to change the outcome other than had hoped Lloyd would have been scratched prior to the race as Chuck was a clear 2nd by 7 1/2 lengths. It's Turbo closed to be 3rd and Eddie Martinez who got scratched on his original ride picked up the ride on 29-1 Red Cross Knight also a Todaro/Wenzel entry got up for 4th.
Todaro and Wenzel repeated their Gottstein win from 2021 when Martinez brought Midnight Mojo home for the win. For Zunino he pulled off the biggest Daily Double of the year when he won the Longacres Mile and then the Gottstein the 2 largest purses of the meet.
Lloyd's Logic is a Kentucky bred and earned $38,500 to more than double his $22,500 in earnings to $60,600. His career record is now 2-0-1 from 4 starts. He paid $9.80 on the $2 win.
Lloyd's Logic Winner's Circle
Gottstein Picture Gallery
Muckleshoot Tribal Classic
The Muckleshoot Tribal Classic was that indeed with the whole focus on 2 horses,  favorite Slew's Tiz Whiz and Papa's Golden Boy. These two had 4 times and in their head-to-head had split but in the 1st race it was Papa taking 2nd and Slew 5th in an allowance dash. The next time was in the Budweiser Stakes and Papa blew the doors off the field winning by nearly 5 length while Slew was building his base with a 4th place finish.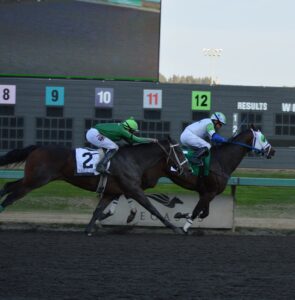 Slew would then win an allowance in his 3rd outing which was a prep for the Governors Stakes. Papa was a big 3-5 favorite but got run down late in the stretch by Slew who was rounding into top form rather nicely and did so at a 9-1 price. That set up their showdown in the Longacres Mile where the criticism of Papa is he couldn't get 2 turns and anything more than 6 1/2 he was in trouble. Papa led throughout the Mile s expected but Slew had been trained brilliantly by Tom Wenzel and was cranked to his peak and found room on the rail and rolled by Papa who ran a great race to hold 2nd in the Mile. Slew then ran an allowance in early September but may have bounced a bit with an even effort finishing 3rd.
Papa had not run since the Mile coming into the closing day Muckleshoot Tribal Classic and this time is was trainer Vince Gibson who had worked with Papa on relaxing on the front end to get him to last just a little longer. But the Classic is not a mile…it is a mile and a 16th! How could Papa last the additional 16th when can't get a mile?
The bettors agreed and hammered Slew's Tiz Whiz down to 1-5. Papa was let go at 5-2 and the rest of the field of 6 was 11-1 to 43-1 and spoiler alert they ran like their odds with the closest 10 lengths behind the match race in front of them.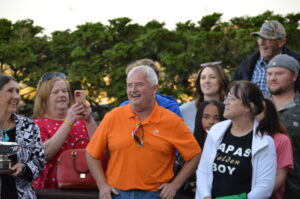 Papa with Kevin Radke aboard went to the lead and was joined by Firewalker setting the early pace while Slew and regular rider Jose Zunino sat back in 5th place. At the 3/4's mark Papa built a 5 length lead running the 6-furlongs in 1:10.31 while Slew's Tiz Whiz began to crank up and was a 1/2 length behind March On Linch. Turning for home Radke had let Papa take a break and led by 3 but Slew and Zunino were closing. At the 16th pole Papa still had about a 1 1/2 length lead and Radke tookk a quick look at the big screen on the tote board and knew he final got Papa across the wire 1st going 2 turns holding on to win by a neck.
Another 10 yards and Slew would have gotten him but no one can now say Papa's Golden Boys can't get 2 turns. 31-1 Naval Escort with Leslie Mawing would end up 3rd and Spittin Image with Erick Lopez got up for 4th.
Papa's Golden Boy is owned by Lusk Racing led by Gary Lusk and trained by Vince Gibson. Papa is a 6-year-old Washington bred by Harbor the Gold out of Brookie Girl by Proud Citizen. Papa's Golden Boy picked up the $27,500 winner's share check and has now earned $228,695 with a 8-5-0 record from 23 career starts. This was Radke's 5th Stakes win of the year which put him #1 in that category for the season.
Papa's Golden Boy Winner's Circle
Muckleshoot Tribal Classic Photo Gallery
Washington Cup Filly and Mare Stakes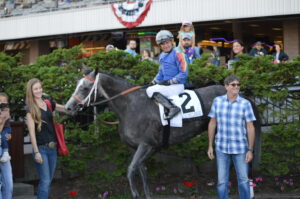 The field of 7 3-year-old fillies and up went 1 1/16th miles and to no one's surprise Zippin Sevenz went straight to the lead for jockey Alex Cruz. Brilliant Bird went early as well with Juan Gutierrez while betting choice Blazingbellablu and Kevin Radke sat in a chilly 3rd. Zippen Sevenz would push his lead to 2 lengths at the half mile in a time of 45.90. By the top of the stretch Brilliant Bird was giving her all and within a 1/2 length of Zip with Blazingbellablu still in 3rd and if she had run she was in a great pouncing position.
Radke swung Bella to the outside and unleashed the beast as she gobbled up the ground flying by Brilliant Bird and engaged Zip who did not give in and came back on Bella. But Radke and Blazingbellablu had too much momentum and she rolled on to a 1/2 length victory. She stopped the clock in a time of 1:42.70.
Zippin Sevenz ran a gutty race and held well for 3rd while 20-1 Emerald Sea with Jose Zunino closed late for 3rd and Brilliant Bird held on for 4th.
Blazingbellablu is owned by Charles Essex and Petra Lewin and trained by Essex. Bella is a 4-year-old Washington bred by Grazen out of Bellomesa by Sky Mesa and was bred by Essex and Lewin. Blazingbellablu earned $27,500 to push her lifetime earnings to $190,348. She has had 13 lifetime starts and now has a 6-4-0 record. Bella went off as the 1-1 favorite and paid $4.20 to win.
This was Radke's 4th Stakes win of the season setting him to be the top stakes rider with 2 stakes races left. Zippin Sevenz finish helped her secure an honor as well and we'll have more on that later this week with our Post Season awards story.
The Winner's Circle Ceremony
Washington Cup Filly and Mare Photo Gallery
Track Notes
Emerald Racing Club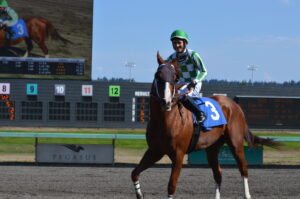 In the 1st race on Sunday race favorite Bennyandthechicks won with Jake Samuels aboard. Bennyandthechicks is owned by the Emerald Racing Club which is sponsored by Emerald Downs which limits the expense for each owner to how much they invest to $500 for the season. It is a program to expose new people to horse ownership.
There are 152 owners and they showed up in force for their final chance at getting a win and Benny and Jake got the job as the 3-2 betting choice. The trainer for the "people's" horse is Jeff Metz and we got a chance to catch up with him after the win. Metz talks about how important this program is to allow people to really be an owner with a low investment risk.
Trainer Jeff Metz on the Emerald Racing Club
Hot Start Quick Doubles
In the 1st four races there were 2 double winners. Jake Samuels won on Bennyandthechicks in the 1st and Wegotbeeronice  for owner/trainer Jennifer Nunnally. Eddie Martinez won the 2nd on favorite Slice of Pie and then took the 3rd also on the even money choice Cause I'm Cool.
New Faces Lighting up the Tote Board
Cassidy Burg who has been working for leading trainer Jorge Rosales as she recovered from an injury took her 2nd ride of the year on Aberdeen's Knight trained by Rosales in the 3rd race and finished a fast closing 2nd to race favorite Cause I'm Cool at 25-1. Aberdeen's Knight paid a whopping $17.20 on the $2 place and $5.20 on the $2 show.
Angela Straight who had been riding at Hastings and took her 1st rides ever at Emerald Downs. In the 4th she was aboard 55-1 My Man Biggie and brought the longshot up the rail to claim 3rd. The $2 show paid big $12.00 and pushed a $1 exacta of $11 to $68 for the 50-cent trifecta.
And in the final race, although he's been here all season jockey Vladmir Jensen got his 1st Emerald Downs win when he brought home 17-1 Beau Rocks in the 11th and final 2022 race. Beau Rocks races for and is trained by Jennifer Nunnally her 2nd win of the day. Jensen was greeted in the traditional way by his fellow jockeys.
Vladmir's welcome from his fellow riders
Closing Day Photo Gallery
www.elisportsnetwork.com