9/20/2022
Tumwater 3, WF West 0
(Chehalis, WA) When teams travel to WF West to face the Bearcats they also have to play on old-fashioned grass. When you play at Bearcat stadium later in the season after multiple football games and soccer matches and the Fall rains come you many times are playing in a mud-bowl. This has been a great equalizer with an advantage to the Cats who play on it more and truly can gain a home field advantage.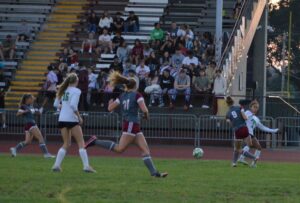 Tumwater Coach Brett Bartlett knows it's a tough place to play and was grateful to get an early date and dry conditions. The T-Birds came out aggressive and pushed the ball into Bearcat territory time and again but the WF West defense would hold led by keeper Staysha Fluetsch. 
Tumwater would finally break through in the 20th minute on a goal from Ava Jones with an assist from Cierra Larson and it was 1-0. For the rest of the 1st half the T-Birds would be challenging the Bearcat defense but they held up denying the T-Birds from the attacks but also several corner kicks and a few set pieces. Kallie Hitch, Violet Radke and Hanna Meier played solidly on the back line. The match would remain 1-0 at the half.
In the 2nd half the Bearcats were again pushed but continued to deny the T-Birds but in the 66th minute Tumwater's offense found a crack and when  Regan Brewer found Lucy Bergford who fired in an insurance goal to go up 2-0. The T-Birds would finish it off and ice the match in the 72nd on Ava Jones' 2nd goal for the final 3-0.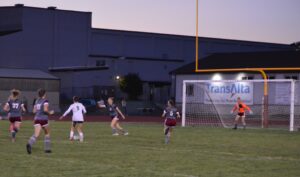 Tumwater is now 3-0 in league play and 4-0-2 overall. They travel to Shelton on Thursday. WF West drops to 1-2 in EVCO play and 2-4 overall and travel to Centralia on Thursday. 
The Thorbeckes MVP of the match went to the T-Birds Ava Jones.
You can watch the entire match on the NFHS Network on-demand. Subscriptions are $11.99 per month and gives you access to the entire NFHS Network all across the country to watch the live broadcasts or any on-demand games. Literally hundreds of thousands of hours of game content. Go to https://www.nfhsnetwork.com/affiliates/eli-sports-network to sign-up if you don't have a subscription or to find the on-demand replay of this game.
Tumwater Coach Brett Bartlett on the T-Birds Performance
Video Highlights
Tumwater's Ava Jones with the 1st goal
Bearcat Keeper Staysha Fleutsch with an amazing save
Lucy Bergford with the insurance goal
www.elisportsnetwork.com