9/20/22 (Puyallup, WA )
In a match-up between two of the top volleyball programs in  4A, it was the Puyallup Vikings who stayed unbeaten after defeating previously undefeated Curtis Vikings in straight sets. The 3-0 victory for Puyallup on Tuesday included 25-15, 25-15 and 25-19 wins in sets. Curtis had lost only 1 set coming into the match, outscoring opponents 15-1 entering the Puyallup showdown, but Puyallup was able to take control of each set in the middle stages to pull away from Curtis.
Jr middle blocker Dani Brown showed why she is one of the top players in the 4A SPSL, the front line with Hollis Downing was causing problems for Curtis. Leilah Lemalu, Ivy Vindivich and Rylie Hangca all had big a match for Puyallup as well.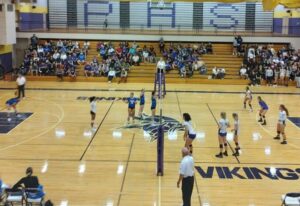 Ella Ensign paced Curtis in kills, and libero Taty Tauese Paulino flew around the back row to get some big digs, but Curtis and their offense never were able to go on a big run to win a set.
Curtis fell to 5-1 and 2-1 in the 4A SPSL, While Puyallup improves to 7-0 overall and 4-0 in the SPSL. Curtis takes on South Kitsap on Thursday while Puyallup travels to Bellarmine on Thursday.
You can watch the entire match on the NFHS Network on-demand. Subscriptions are $11.99 per month and gives you access to the entire NFHS Network all across the country to watch the live broadcasts or any on-demand games. Literally hundreds of thousands of hours of game content. Go to https://www.nfhsnetwork.com/affiliates/eli-sports-network to sign-up if you don't have a subscription or to find the on-demand replay of this game.
Video Highlights
Puyallup wraps up set 1 with an Ace
Curtis battles hard to stay in the match but Puyallup able to close it out
www.elisportsnetwork.com