9/20/22
Athletics 4, Mariners 1
(Oakland, CA) Coming into the opener of a three-game series with the Oakland Athletics on Monday night, the Mariners owned the best record out of all the Wild Card contenders against teams above .500. On the counter side, the Mariners owned the worst winning percentage against teams below .500 out of all of the Wild Card contenders. The bad news for Mariners fans is that they were playing a bad team so they would get a bad result as one bad inning ended Luis Castillo's night and the bats continued to falter in a 4-1 loss to Oakland.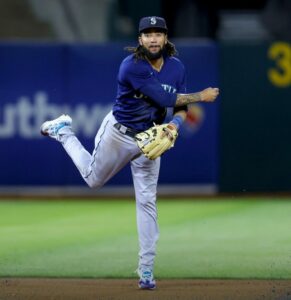 The rematch between Luis Castillo and JP Sears got off to a similar start as both pitchers cruised through the 1st inning. The top of the 2nd wouldn't be as smooth for the Oakland lefty gave up the first hit of the game to Carlos Santana to begin the inning. An error by second baseman Jordan Diaz put runners on the corners with no outs as J.P. Crawford reached base. A couple of controversial strikeouts of Dylan Moore and Abraham Toro had the Mariners in danger of blowing a scoring opportunity. Curt Casali would then walk to load the bases with Sam Haggerty coming to the plate. A called strike that was high changed the at bat, but Haggerty would persevere and drew a walk to score a run and give Seattle a 1-0 lead. In his return, Julio Rodriguez would hit a deep fly ball to center field, but Seth Brown would make the catch to end the inning.

Luis Castillo was dominating through four innings on the mound. La Piedra only got in trouble once in the first four frames when the A's got back-to-back two out singles by Nick Allen and Tony Kemp. Castillo would do what he does best and struck out Vimael Machin to end the threat and keep it 1-0 Mariners.
The bottom of the 5th would undo all the good that had been in the game thus far. A one-out single by Conner Capel gave the A's a baserunner, but Jordan Diaz hit into a 5-4 fielder's choice to cut down the runner at second. With a runner on first and two outs, Nick Allen had a good at bat and drew a walk. The Tony Kemp happened. Kemp got a floating changeup and wouldn't miss it as he hit a three-run home run to right field to give Oakland a 3-1 lead. After Kemp's 7th home run of the season, Vimael Machin and Sean Murphy would have back-to-back doubles to score another run to make it 4-1. After Seth Brown walked, Scott Servais would go to the bullpen and bring in Matt Brash to try to finally put an end to the inning. Brash would do that by striking out Dermis Garcia but the damage was done as the M's now trailed 4-1.
There was virtually no more offense for either team. Seattle recorded just one hit in the game and that was the Carlos Santana single in the 2nd. The M's squared up a lot of balls but just couldn't find the gaps in the Oakland defense. It would be a continuation of what we saw over the weekend as the Mariners lost 4-1.
Luckily for the Mariners, both Baltimore and Tampa Bay lost on Tuesday as well while Toronto got a win. Seattle is still five games ahead of the Orioles and just half a game behind Tampa Bay for the second Wild Card spot but 2.5 games behind Toronto for the top spot. The Mariners (81-66) will try to bounce back as their magic number is now 10 on Wednesday at 6:40pm in Oakland. It will be Robbie Ray (12-10, 3.72 ERA) trying to get things back on track against James Kaprielian (3-9, 4.70 ERA) in game two.
Matt's Takeaway
I don't even recognize this team right now. Everything just feels flat. The pitching is still doing a great job but it is clearly the offense that is almost nonexistent right now. Ty France is dealing with a wrist issue and Cal Raleigh is having thumb problems. Mitch Haniger and Julio Rodriguez are just coming back from injuries but they need them to figure out how to get this offense back on track ASAP. They can't rely on Baltimore losing games. This needs to turn around because the weak schedule doesn't matter anymore. The M's need to win. Fans are starting to worry. Taking these next two games in Oakland will calm a lot of nerves.
Notable Performences
Mariners
Carlos Santana- 1-4, R
Luis Castillo (L, 7-6)- 4.2 IP, 6 H, 4 R, 4 ER, 2 BB, 4 SO
Bullpen (Brash, Festa, Flexen)- 3.1 IP, 1 H, 0 R, 0 ER, 2 BB, 4 SO
Athletics
Tony Kemp- 2-4, HR, 3 RBI, R
Nick Allen- 2-2, R, BB, Great Defense
JP Sears (W, 6-2)- 5 IP, 1 H, 1 R, 0 ER, 3 BB, 7 SO
elisportsnetwork.com