9/25/2022
(Auburn, WA) This is our final edition of our inaugural Jockey Power Rankings at Emerald Downs. (Full Jockey Results at bottom of page)
#1 Alex Cruz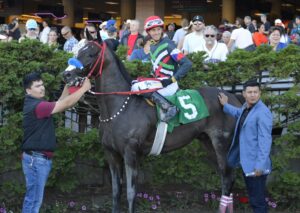 The Emerald Downs riding colony was exceptional this season and may have been one of the strongest in several years yet that guy…Alex Cruz would not be denied. Cruz finished the season with 90 wins as he claimed his 3rd straight riding Championship only the 2nd rider to win 3 in a row joining Rocco Bowen in Emerald Downs history.
Cruz's 90 wins is by far the most he has recorded with 72 in 2020 and 74 in 2021. He also led in earnings with more than 1.25 million which is 300k more than his highest earnings previously at Emerald Downs. His highlight win was in the Emerald Distaff winning with Zippin Sevenz. Cruz did win a 2nd stakes on Chuckanut Bay but was DQ's for bumping in the stretch and was placed 2nd. That 2nd place position was an all to often experience for Cruz who did get the 1 Stakes win but ended with 9 second place Stakes race finishes. He was 1-9-1-1 in the big money races. Cruz also led all riders with at least 10 rides in win percent at 24% and top 3 finishes at 62%.
We had a chance to talk with Cruz after his record tying season as he reflected on the season and told us about his plans.
Riding Champion Alex Cruz talks with ESN
#2 Kevin Radke
Finishing 2nd in the jockey standings and riding just his 2nd full season anywhere since 2008. Radke retired after the 2008 season then made a comeback at Thistledowns in 2016 then rode a short time at Mountaineer in West Virginia before putting in a full season at Thistledowns in 2018. He re-appeared last year here at Emerald Down but injured his arm in a non-racing accident and was out for the season about halfway through.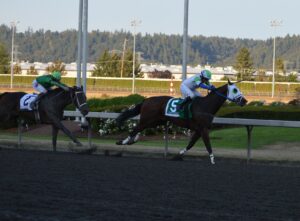 Radke did not win a race on opening day but that trend would quickly end when he won the 1st 5 races and added a 6th win on day 2. Radke led the rider standings for several weeks early on and had visions of winning the riding title as he did here at Emerald Downs back in 2002 and 2003. But Cruz would overhaul him late and Radke settled for 2nd place in both wins with 77 and earnings at a little more than 1.15 million. Radke finished the season tied for 2nd in win percent at 21% and 3rd in top 3 finishes at 55%.
However, Radke surged past Juan Gutierrez on closing day and led all jockey's in Stakes wins. Radke won 5 with two on the final day with Blazingbellablu and Papa's Golden Boy his 2nd Stakes victory on Papa. Radke also won with Slack Tide and an emotional win on Annette Marie for leading owner John Parker. Annette Marie was named in honor of Parker's niece who passed away.
Radke's biggest disappontment was likely in the Longacres Mile where he had a big lead in the stretch but could not hold off Slew's Tiz Whiz and placed 2nd in the Pac NW's classic race. The criticism of Papa is he was a sprinter and couldn't get a 2 turn race despite his gutty performance in the Mile. Radke and Papa proved everyone wrong winning the mile and 16th Muckleshoot Classic. We talked with Radke on closing day about his ride on Papa and on the whole season:
Kevin Radke reflects on a special comeback season at Emerald Downs
#3 Jose Zunino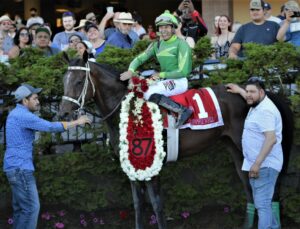 The journeyman longtime rider at Emerald had his best season yet. Zunino from Argentina began riding at Emerald Downs in 2005. He has been a regular rider taking any and all mounts and always has one of the highest ROI's of any rider. He finished this season in 6th place with 26 wins but 4th overall in money won.
Zunino made his mark this season in the big races and none more bigger than winning the $150,000 Longacres Mile and then picking off the 3rd largest pot of the year winning the $70,000 Gottstein Futurity on Lloyds Logic. He also picked up a 3rd stakes win with Dontkissntell to finish 3rd in the Stakes standings. Zunino racked up more than $600,000 in purse money this season. Completing the top stakes Daily Double of winning the Longacres Mile and capping it with a dominant win in the Gottstein surged Zunino up our rankings to #3.
#4 Juan Gutierrez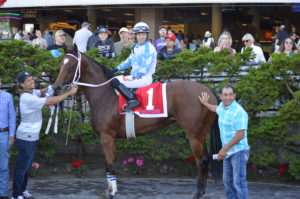 We weren't sure Gutierrez would knock Cruz off the top spot but early on the all-time winningest jockey at Emerald Downs showed he us far from retirement. He not only finished 3rd overall with 70 wins and 3rd in earning at just over a million dollars he had a big early lead in the stakes standings.
Gutierrez won 4 stakes with 2 coming aboard Running Out of Days plus a win with  Ms Dynamite and one with Itsallabouttheride. Gutierrez remained as consistent as he always has been and was knockin on the door all season. This was Gutierrez's 1st million dollar season since 2013. Gutierrez tied with Radke for 2nd best win percent of 21% and was 2nd in top 3 at 56%.
#5 Jake Samuels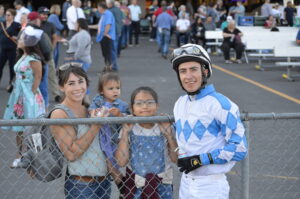 Jake Samuels came out of a self imposed retirement after his wife, jockey Kassie Guglielmino who was off to a fast start took a fall and broke her leg early in the season. Samuels made his first ride on July 29th. Over the 23 days he rode he was on 118 rides averaging 5 a day and finished with 20 wins which was 8th overall at a 17% win rate. He finished in the money 55% of the time tied with Radke for 3rd and he earned nearly 340k in purses.
Samuels biggest win was aboard Tiz a Macho Girl in the $75,000 Washington Oaks on Championship Sunday at 21-1 odds. Samuels ROI was one of the highest during his time in the saddle and was riding as good as anyone at the end of the meet which pushed him up our final Power Rankings.
#6 Kevin Orozco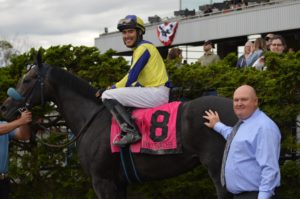 Kevin Orozco was last year's leading stakes winning jockey and this year he remained strong in the big money races finishing with 2 Stakes wins and a 2-2-2-3 stakes record. He won aboard Executive Chef in the Auburn Stakes and then took the Hastings Stakes with Maybe I Will.
Orozco finished tied for 4th in the rider standings with 28 wins and totaled up more than 570k in earnings. Orozco was very steady throughout the season and one of the most reliable riders in the colony.
#7 Leslie Mawing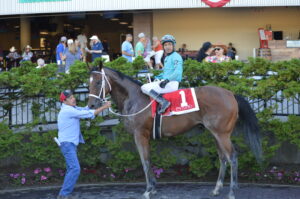 Leslie Mawing came into the season with more money in the bank than any other rider and the old pro was very consistent tying for 4th in wins with 28. He won at an 11% rate and was in the top 3 46% of the time.
In Stakes races Mawing was similar to Cruz where he got the one win, Mawing brought home It's Turbo in the Lads Stakes but was close in many more. Mawing placed 3rd 7 times in Stakes races and had 2 4ths. Mawing was around those big races but only got the one win. Just a very solid year for the veteran.
#8 Eddie Martinez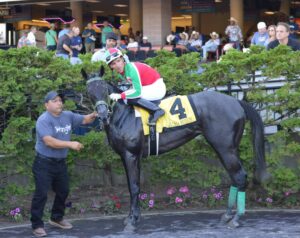 Eddie Martinez got 143 mounts all season or about 3 a day. Martinez would ride everything from the longest shot in a $2,500 claimer to favorites in a Stake. As one of the regular riders for trainer Tom Wenzel and owner George Todaro he was on Aloha Breeze in the Barbara Shinpoch. Martinez broke to the lead and went wire-to-wire on the 5-1 shot. Martinez was also prominent in the big money races going 1-2-1-3.
Martinez finished 9th in the final standings with 18 wins and a 13% win clip and finishing in the top 3 at 47%. Martinez finished 7th in total earnings with $381,019.
#9 Javier Matias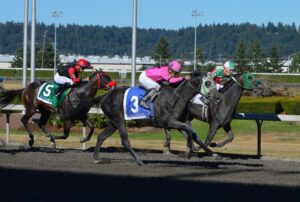 Javier Matias began his 23rd season at Emerald Downs first arriving in 1999. Matias has been a constant and his highly regarded as a rider who will take care of his horses. He has won the Longacres Mile and is most known as the regular rider of Barkley. With that experience in his back pocket trainers trust him and he regularly gets rides in the added money events.
This year he didn't have a lot of luck in the Stakes races until Championship Sunday when he stunned everyone bringing home You're the Cause in the 85th Muckleshoot Derby at the gigantic odds of 56-1. Matias finished 7th in the standings despite leaving a few weeks early with 23 wins and racking up more than $377,000 in purse money.
#10 Alex Anaya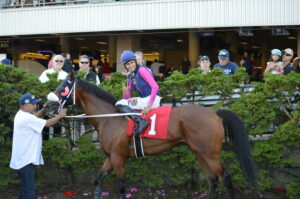 The other Alex had a big case of 2nd-itis for much of the season until the final 5 or so weeks when those close finishes began turning into wins. Anaya finished the year in 10 with 15 wins but had 27 places and 8 shows. Let's be honest here as well it's not like Anaya was on a lot of 1-1 shots. Many of Anaya's places were part of some of the highest exotic bet pay-outs.
Anaya had 165 rides or a little more than 3 a day and he made the most of those chances. He banked a total of $256,807.
Honorable Mentions
Kassie Guglielmino
Who knows what kind of season Kassie would have finished with had she not been injured. She was just finding her rhythm when the accident happened and had worked her way into several barns. The good news is she is recovering and hopes to be back riding soon. We hope to see both her and her husband Jake Samuels back at Emerald next year.
Jennifer Whitaker
The winningest female jockey in Emerald Downs history got off to a great start winning 2 on opening day for her regular trainer Howard Belvoir. For the rest of the season Whitaker would get one more win but remains a huge part of the Belvoir operation and with just 57 mounts  this season she earned $67,474 in purse money.
Clayan Millwood
Millwood arrived from the other side of the country in July and got off to a slow start but riding long shots while getting his feet wet. Millwood would eventually get some real chances and took advantage winning 5 races which was 12th in the standings and finished with a little more than 60k in earnings.
Vladmir Jensen
There are many riders who start the season but when things don't go their way they move on to another track. Jensen stuck it out the entire year and is a reliable rider in the morning for trainers and got 34 chances to ride in races. It took 34 tries to get his 1st win and did it in the final race of the season. Jensen is one of those folks the industry relies on and was great to see him get his win.
Nicolle Disdier
Disdier is another like Jensen, she works hard is at the track early to work and gallop horses and this year got a few chances to ride in races as well. She rode in 29 races and got her win and finished with a 1-2-3 record. Disdier is also a mother to a young son with leading rider Alex Cruz making it a family affair at the track.
Connie Doll
Connie is must to include as she broke her own record as the oldest jockey to win a race in Washington State history. She set the record last year at age 62 and with just 4 rides this season she got a win and re-set that record to 63. 
Visiting Riders
Evin Roman led the visitors with 7 rides and a 2-0-2 record winning the very 1st  Stakes of the season on Slack Tide and earning $65,387.
Geovanni Franco was called to action on Longacres Mile day when Rocco Bowen who was set to ride 3 stakes races including the Mile on Background trying to defend their Mile title. Franco would finish 0-1-0 on the day and earned $25,500 for the 2nd most for a visitor.
Final 2022 Emerald Downs Jockey Standings
(Starts, wins, places, shows, earnings, win%, top 3 finish %)
1 Alex Cruz     380 90-83-64  $1,250,866  24%  62%
2 Kevin Radke     374 77-62-66  $1,151,791  21%  55%
3 Juan Gutierrez     328 70-59-54  $1,043,414  21%  56%
4 Leslie Mawing     256 28-37-52  $590,784  11%  46%
4 Kevin Orozco     222 28-32-33  $570,483  13%  42%
6 Jose Zunino     199 26-28-40  $600,447  13%  47%
7 Javier  Matias     150 23-14-24  $377,392  15%  41%
8 Jake Samuels     118 20-28-17  $338,569  17%  55%
9 Eddie Martinez     143  18-24-25  $381,019  13%  47%
10 Alex Anaya     165  15-27-8  $256,807  9%  30%
11 Kassie Guglielmino     53 7-7-8  $121,834  13%  42%
12 Clayan Millwood     58 5-1-6  $60,204  9%  21%
13 Jennifer Whitaker     57 3-3-6  $67,474  5%  21%
14 Evin Roman     7 2-0-2  $65,387  29%  57%
14 Jose Nava-Marin     10 2-1-0  $14,475  20%  30%
16 Vladmir Jensen     34 1-4-4  $31,546  3%  26%
16 Nicolle Disdier     29 1-2-3  $21,956  3%  21%
16 Francisco Diaz-Lopez     6 1-1-1  $17,007  17%  50%
16 Connie Doll     4 1-0-0  $5,287  25%  25%
16 Cerapio Figueroa     1 1-0-0  100%  100%
Other riders who rode in at least 1 race but had no wins:
Geovanni Franco, Edgar Velasco, Chester Bonnet, Tiago Pereira, Oracio Muro, David Martin, Angela Straight, Erick Lopez, Cassidy Burg, James Wooten, Kenneth Deonauth, Wayne Barnett, Declan Cannon, Rocco Bowen.
www.elisportsnetwork.com