9/29/2022
Curtis 1, Puyallup 0
By Tony Davila
(Puyallup, WA) Sparks stadium was the site of a SPSL 4A Viking battle with Curtis and Puyallup taking to the turf. Curtis came in with a 5-2 overall record and 3-1 in league. Puyallup was 2-4 overall record and a 2-2 league record. Those 2 losses to Rogers and Olympia were both shootouts. The long time rivals are part of a packed top end of the SPSL. At the beginning of the night only Sumner was undefeated at 4-0, 3 teams were 3-1 and 2 others 2-2. So this match could gum up the top end even more with a Puyallup victory or Curtis may be able to separate from a few other teams as well.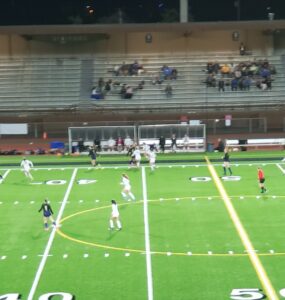 The Puyallup Vikings came out on the offensive putting up a good run for the first 10 minutes with Melanie Torres and Maddie Spence leading the way.  Once Curtis got settled in, their back line became a solid wall. Curtis' Hoku Mose, Ivy Korbal, Sophia Mayne and KV Miller were on another level while defensive midfielder Elke Moerkeseth and goalkeeper Shaliya Dupar pitched in and rounded out the defensive unit that we would name MVP for the game.
The Puyallup defense was no slouch either Keeper Olivia Weidner made huge saves and senior Defender Kristin Gratzer seemed to be everywhere on the field.
It was Curtis senior midfielder Noelle Lordahl hitting a beauty from just outside the 18-yard box in the 28th minute for what would turn out to be the game winning goal.
Puyallup would hold more possession in the 2nd half, but it was Curtis and their counters down the wings that would result in better opportunities and cleaner shots on goal being denied time and time again by Weidner.
Curtis is now 4-1 in league and 6-2 overall with a game at Bellarmine Prep next. Puyallup is now 2-5 overall and 2-3 in league with a home game against South Kitsap next.
Video Highlights
Puyallup Keeper with a tremendous save
Curtis knocks in the winning goal
www.elisportsnetwork.com