9/30/2022
By Alex Benzegala
Eastside Catholic 24, O'Dea 17
(Sammamish, WA) It was a tale of two halves at Acosta Field on Friday night in Sammamish, where defenses dominated early and offenses caught fire late, as 3A #3 Eastside Catholic used big plays and stout defense to escape #2 O'Dea 24-17 in a 3A Metro League showdown.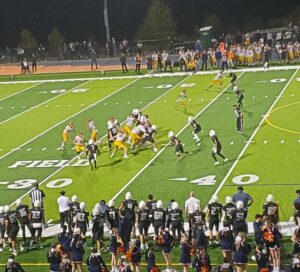 The first half was like two battering rams colliding with each other, as both defenses shut down the opponent's offenses, as there were 6 total turnovers forced in the contest, 3 by each defense.
The game started with a miscue for Eastside Catholic, as an 85-yard kick return TD by Tyson Weaver was brought back due to a holding penalty.
The Crusaders did get on the board first on a 40-yard field goal by Adam Jacobs, set up by a Brady McKelheer 50-yard pass to Jayden Reyes to give Eastside Catholic a 3-0 lead after 1 quarter.
Both teams were exchanging turnovers and 3-and-outs, but a Brenden Murphy interception of McKelheer set up a 30-yard field goal for Owen Livingston  for the Irish with 2:08 in the 2nd, and the game remained tied at 3-3 at halftime.
The heavyweight fight received its first big offensive punch, coming at 2:13 in the 3rd when Eastside Catholic had a 53-yard scoring drive, set up by a pair of McKelheer passes to tight-end Gabe Hoffman 1 of which on 4th down and 10, and Mason Uribe punched it in from 2-yards out to give EC a 10-3 lead.
The slugfest morphed into a shootout, as Beckett Swenson went in untouched for a 13 -yard scamper for O'Dea to tie it at 10-10 at 10:52 in the 4th.
The Crusaders, who despite being contained for most of the game offensively, made some explosive plays when it counted in the 4th quarter. Eastside Catholic freshman wide receiver Asa Thompson made arguably the biggest play of his young career, turning a short pass from McKelheer into a 58-yard TD to give the Crusaders a 16-10 lead as EC missed the extra point.
The drama continued to build, as O'Dea marched down the field and reclaimed the lead on a Luke D'Anna 8-yard TD pass to University of Colorado commit Tucker Ashcraft and the extra point gave the Irish the 17-16 lead with just 1:47 in regulation.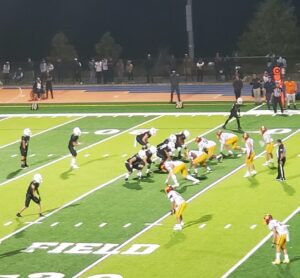 Eastside Catholic remained poised, and McKelheer cooked up another magical deep pass, this time to Jayden Reyes who caught the 42 yard TD pass and also scored the 2-point try to give EC the 24-17 with just under a minute to play.
O'Dea would try one last rally, as 4-star running back recruit Jason Brown caught a 30-yard pass on a wheel route to get the Irish in scoring position. The drive fizzled out however in the final seconds as D'Anna pass intended to Ashcraft in the end zone fluttered incomplete to give Eastside Catholic the victory.
Jayden Reyes earned the ESN player of the game honors for getting over 100-yards receiving, including a 50-yard reception to set up a field goal and the game winning touchdown 42 yarder. His quarterback, Brady McKelheer deserves a lot of credit to overcome a pair of early interceptions to lead the scoring drives late, the senior Linfield University recruit went 18-32 for 294 yards and 2 touchdowns.
Another big storyline was how Eastside Catholic kept O'Dea star running back Jason Brown mostly in check. Unofficially, he had 21 carries for 71-yards and 0 touchdowns, and a big reason for that was the commitment of Eastside Catholic to taking him away. He still made an impact in the game, especially with the big catch in the final minute, but he did not have the monster game that Irish fans are used to seeing.
The EC front seven committed bodies to trying to stop him, and AJ Tanupo had a particularly impactful game from his defensive line and offensive line positions.
The win for Eastside Catholic puts them at 5-0 overall, and sets them up with a really good Garfield team that is also 5-0. O'Dea drops to 4-1 and now needs a win over Garfield late in the season along with a Garfield win next week over EC to win the Metro league. The Irish look to rebound next week at Roosevelt.
Interview
MVP Jayden Reyes
Video Highlights
Eastside Catholic strikes 1st with a 40-yard Field Goal
O'Dea takes their 1st lead late in the Game
Eastside Catholic answers with game winning drive
Picture Gallery
www.elisportsnetwork.com