10/12/22
Puyallup 3, Curtis 1
(University Place, WA) The Puyallup Vikings came into Tuesday's 4A SPSL match with Curtis 12-0 and 8-0 in league play, but the Curtis Vikings who were 12-1 and 8-1 in the league gave Puyallup a real battle, with Puyallup winning 3-1 (29-27, 26-28, 25-23, 25-15)
In their last matchup against each other, Puyallup dominated Curtis on their home gym with scores of 25-15, 25-16 and 25-19 but Tuesday's showdown in University Place was much different.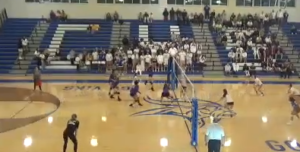 The entire match was full of big swings of momentum one way to the other with Puyallup and Curtis exchanging 4-0 runs in the early portion of the 1st set. Curtis really started to get their offense going with Ella Ensign and Ariana Medchil getting a lot of kills, and Curtis had Puyallup on the ropes late in the set with multiple set points. Puyallup got out of the jams and kept their hopes alive before scoring the final points of the set to steal the 1st set 29-27.
Puyallup started to dominate the 2nd set, leading 7-3 early on and 15-9 over Curtis, but Curtis called a timeout and scored the next 3 points to get back in the set.  Puyallup still had a lead at 22-21 but Curtis mounted another rally to outscore Puyallup down the stretch in a 28-26 win.
The 3rd set was extremely close as well with Puyallup up 14-10 at one point before Curtis came back yet again to tighten the set, but Puyallup just did enough to win the 3rd 25-23.
It seemed like Curtis might have finally run out of gas in what turned out to be the 4th and final set, as the set started out competitive before Senior Ivy Vindivich keyed a big run for Puyallup who got some breathing room and won the set handily 25-15 to clinch the match.
Ivy Vindivich earned the ESN MVP Award for Puyallup, who according to the broadcast estimations led Puyallup in kills and also had some big service Aces as well. Dani Brown did what Dani Brown does, a little bit of everything for Puyallup as she overcame a little bit of a difficult start offensively, but she made some blocks and kills down the stretch to help Puyallup get the win.
On the other side, sophomore setter Peyton Ensign kept feeding her sister Ella for more than 20 kills in the match, but other Curtis players that stood out were Ariana Medchil who had double digit kills and Taty Tauese Paulino who was excellent in the back row as libero.  Sophomore Avery Cukjati and freshman Selana Morales and huge impact games for Curtis as well.
The win for Puyallup keeps them in 1st place in the 4A SPSL and the only unbeaten team in conference play at 9-0 and 13-0 overall. The loss dropped Curtis to 12-2 and 8-2 in SPSL and faces 12-2 Graham-Kapowsin next Monday, while Puyallup will try to continue their success against a struggling 0-11 Sumner team on Tuesday.
Video Highlights
Curtis pushes Puyallup in OT in 1st set
Puyallup surges past Curtis to take 1st set
Curtis rallies back to take set 2 in OT
Puyallup completes the win to remain undefeated
www.elisportsnetwork.com