11/12/2022
(Yakima, WA) The Oakesdale Nighthawks just continue to collect large gold balled trophies as they won their 2nd straight Volleyball State Championship and 6th of the last 7 years with the only stumble finishing 2nd in 2019 to Pomeroy. Oakesdale has several more 1st place finishes when they competed as Tekoa-Oakesdale but the last 6 are all Nighthawks.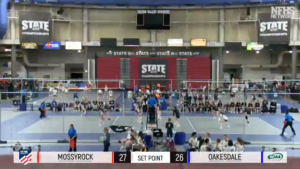 Oakesdale was prepared to take on the team that pushed them to 5 sets last year before winning it 3-2 over the Mossyrock Vikings. The Vikings were lasered focused all season and rolled into the title showdown undefeated at 21-0 after going 18-0 in the regular season. Still was not enough to get the 1 seed and were ranked #2.
Oakesdale matched that record at 18-0 and 21-0 heading into the Championship match. The Nighthawks began by sending a message pulling away to a comfortable 25-13 win in the 1st set. Mossyrock played on their heels for most of the 1st set and could not slow down the high powered Nighthawk offense.
In set 2 Mossyrock closed the gap some but still in the end Oakesdale won fairly easily 25-17 stunning many spectators who thought this one might come down to a 5 set street brawl. In the 3rd set it was the match everyone had anticipated as the Vikings were not going to go quietly and battled hard to fall in OT 29-27 but had to settle for their 2nd straight 2nd place trophy.

Oakesdale will lose just 4 seniors, Marilla Hockett, Jessie Reed, Gianna Anderson and Emily Dingman but will return 6 of the 10 listed on the state roster so don't expect Oakesdale to go away. Head Coach McKinzie Turner will likely have her Nighthawks cranked and ready to defend in 2023.
For Mossyrock the disappointment is real as they finished 2nd for the 4th time in school history but still have not gotten that Championship. But if you are tired of seeing Oakesdale and Mossyrock battle for the trophy you may be disappointed because Head Coach Alex Nelson has a bunch coming back. They will lose some key seniors in Payton Torrey, Caelyn Marshall, Paige Houghtelling and Hailey Brooks but 10 of the 14  on the state roster will be back to make another run.
The other trophy winners included 3rd place Naselle who out lasted Mary Walker 3-2 (23-25, 25-18, 20-25, 25-20 15-10) and came back from a 2-1 deficit to take 3rd place.
In the 5th place match 7 seed Northport knocked off the 12 seed Odessa 3-1 for a couple of excellent runs for both teams. Odessa upset the 5 seed Liberty Christian in the opening round.
Darrington had one of the most impressive runs in the entire tournament as the 19 seed they had to survive a loser out play-in game on Thursday morning and knocked out 14 seeded Crosspoint 3-2. The Loggers would then advance to the 7th/8th place game with wins over Pomeroy and Grace Academy, both loser out contests and then dropped 3-1 to 8 seed Neah Bay and took home 8th place while Neah Bay trophied with 7th place.
Video Highlights
Oakesdale Clinches State Title
Mossyrock pushes 3rd set to OT
Nighthawks go up 2-0
www.elisportsnetwork.com