11/13/2022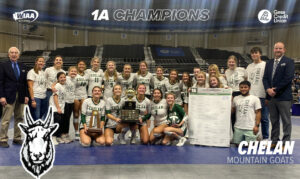 The Chelan Goats have been in this position before in fact the last 2 tournaments and they made 3 Championships in a row and 4th overall. Chelan was not overlooked as the #1 seed and proved more than worthy. The Goats opened play on Friday with an easy 3-0 win over Bear Creek the 16 seed.
In the quarterfinals they built a 2-0 lead with 25-17 and 25-20 wins over Nooksack Valley before stumbling to the Pioneers 25-16 in the 3rd set. Chelan quickly got back on track and closed out their match with Nooksack to advance to the Semi-finals with a 25-19 win, In the Semi-Finals they would again lose a set to Lynden Christian in the 2nd set but was too strong for the Lyncs. The Goats won it 25-20, 22-25, 25-21 and 25-21 to qualify for the State Championship match against Annie Wright.
There were some who thought this may be the year that Chelan gets knocked off as the Gators ran through the 1st 3 rounds unblemished. A-W led off with a 3-0 win over Montesano 25-13, 25-14 and 25-9. Up next in the quarters was Castle Rock. 25-19, 25-14 and 25-13 as the Gators shot down the Rockets. In the Semi-Finals A-W did not take their foot off the gas pedal with a straight sets win over Cascade Christian 25-16, 25-15 and 25-13.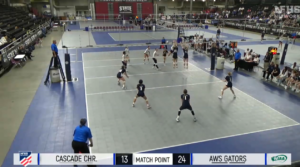 So it was a bit of a surprise that despite being 19-0 that the Goats rolled over the 22-1 Gators and by the way their only loss was to 4A Curtis who is the 5 seed heading into this week's 4A state tournament. Chelan's experience may have had something to do with how the Goats started and they took charge in the 1st set and never allowed the Gators to really challenge any set with wins of 25-17, 25-18 and 25-19.
Chelan will lose 5 seniors, Celia Polley, Makenzie Griggs, Kira Sandoval, Olivia Strandberg and Juliana Perez but will return 6 juniors to next years team so there will again be a big senior presence for Goats coach Abbigail Lewellen.
Annie Wright no doubt disappointed but still got 2nd and set a new standard for the Gators with their highest finish in school history. Head Coach Jeff Grosshans will return 8 of his 12 on the state roster as seniors Rae Wartelle, Kiran Hutchinson, Isabella Iregui and Kamalani Enomoto will all graduate.

The other placers included a great comeback win for Lynden Christian in the 3rd place match. The Lyncs fell behind 0-2 to Cascade Christian only to rebound and sweep the next 3 sets and ended up be the final match of the weekend.
In the 5th/6th and 7th/8th place matches, before we get to those we should say all 4 teams had to play a loser out consolation match 1st thing in the morning and all 4 matches went 2-2 before these 4 teams eked out 3-2 wins to earn a trophy.
For 5th place Nooksack Valley defeated Castle Rock 3-1 (25-21, 23-25, 25-16, 25-9). And in the 7th place match 13 seed Cedar Park Christian finished strong with a 3-0 win over 3 seed LaCenter.
Video Highlights
Championship Match Point for Chelan
Goats take early lead clinching set 1
Annie Wright moves on to the Championship Match
Lynden Christian completes late comeback for 3rd
www.elisportsnetwork.com