11/11/2022
The 2B State Volleyball tournament came in with several teams eyeing that top prize and the Kalama Chinooks were the top seed followed by Manson. However, the 3 time defending Champions the La Conner Braves were the 3 seed and they weren't ready to give up the top spot. Colfax checked in as the 4 seed and in the end the selection committee was spot on with their final 4 but just backwards.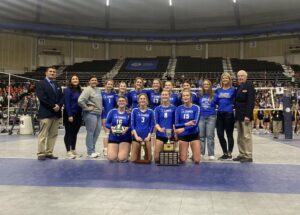 La Conner won it with a 3-1 set finish over Colfax. The Braves took the 1st set with a dominant performance of 25-12 but the Bulldogs bounced right back evening the match at 1-1 with a 26-24 win. But the Braves finished strong and were too much for the Bulldogs with a 3rd set 25-19 win and clinched in the 4th set 25-18.
La Conner got to the Championship match with an opening win on Thursday morning with a hard fought win over Okanogan who pushed the 3 time defending champs losing 25-20, 25-23 and finally the Braves pulled out to a 25-17 win. In the quarterfinals La Conner faced L-R-S-W-H and racked up their 2nd straight set win.
In the Semi-Finals is where #3 met #2 Manson but the Trojans were no match for the focused Braves who clearly had one thought on their minds, winning #7 and cruised in straight sets to the Championship match with wins of 25-22, 25-15 and 25-22.

The Braves got solid performances from Junior's Morgan Huizenga and Abigail Udlock and Senior's Josie Harper, Makayla Herrera and Kennedy Miller. But it was Senior Ellie Marble who shined the brightest with an all-around incredible performance. La Conner finished the season 18-3 and are coached by Suzanne Marble and assisted by Pam Keller.
Colfax took home 2nd place and played in their 20th state championship match but could not add number their 16th Title trophy to the their collection. The Bulldogs are18-3 for the season. The Colfax Seniors were Jaisha Gibb and Olivia Ng so coach Megan Dorman will loaded again in 2023.
The other trophy winners were 3rd place went to Manson who defeated Kalama in straight sets and the Chinooks ended up 4th. Adna outlasted L-R-S-W-H for 5th 3-2 taking the 1st set 29-27 and the 5th set 15-8. So the Pirates take home the 5th place trophy and LRSWH 6th. And Okanogan swept Tri-Cities Prep 3-0 for 7th place while the Jaguars settled for 8th.
State Tournament Bracket Link
Video Highlights
La Conner Clinches 7th State Championship
Colfax evens the match at 1-1
La Conner sweeps the Quarters
Manson secures the 3rd place Trophy
www.elisportsnetwork.com