11/12/2022
(Federal Way, WA) Sammamish was looking to improve on the 2nd place trophy they took home last year. The Redhawks got the meet started with a win in the 200 Medley Relay.
East Valley Spokane freshman Brigid Dinnen showed that the future is bright for the 1a/2a meet with wins in the 200 Freestyle and 100 Backstroke. Blaine freshman Hailey Ferrell had the upset of the meet beating defending champion Poppy Edge and runner up Enumclaw's Kate Perlot who came in with the fastest times in the 500 yard Freestyle. Bremerton sophomore Gabbie Patti won the 50 Freestyle while Fife senior Lindsay Campbell won the 100 Freestyle.
Defending team champs Pullman took home the 200 Freestyle Relay trophy for the 2nd year in a row. Anacortes took the top spot in the 400 Freestyle Relay. Sammamish got individual wins from senior Milan Manfredi in the 100 Breaststroke and junior Ava Gruner defended her 200 Individual Medley and 100 Butterfly crowns on the way to being named Swimmer of the Meet. Anacortes Leslie Mix being voted Coach of the Year by her peers.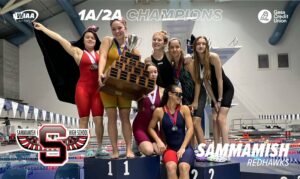 200 yard Medley Relay
1 Sammamish 1:51.33 Gheewala, Maya 12 Manfredi, Milan 12  Gruner, Ava 11 Rich, Lauren 9               
2 Anacortes 1:53.77 Claridge, Hailey 12 Brown, Lindsay 12 Ellis, Annaly 12 Hambleton, Sabine 12         
3 Pullman 1:55.48 Myers, Bree 10 Thomas, Codi 11 Peng, Nelia 10 Edge, Poppy 11
200 yard Freestyle
 1 Dinnen, Brigid 9 East Valley Spokane 1:55.02
 2 Swaney, Loren 12 Klahowya 2:01.26 
 3 Perlot, Kate 12 Enumclaw 2:02.26
200 yard Individual Medley
1 Gruner, Ava 11 Sammamish 2:07.11
2 Brown, Lindsay 12 Anacortes 2:08.37
3 Myers, Bree 10 Pullman 2:14.12
50 yard Freestyle
1 Patti, Gabbie 10 Bremerton 24.05  
2 Vick, Isabella 12 Selah 24.67  
3 Ferrell, Hailey 9 Blaine 24.90
100 yard Butterfly
1 Gruner, Ava 11 Sammamish 56.95
2 Truong, Caelee 12 Lindbergh 57.93
3 DuBois, Mackenzie 12 Port Angeles 1:00.14
100 yard Freestyle
1 Campbell, Lindsay 12 Fife 54.79
2 Vick, Isabella 12 Selah 55.70
3 Hambleton, Sabine 12 Anacortes 56.10
500 yard Freestyle
1 Ferrell, Hailey 9 Blaine 5:25.01
2 Perlot, Kate 12 Enumclaw 5:27.14
3 Edge, Poppy 11 Pullman 5:27.51
200 yard Freestyle Relay
1 Pullman 1:42.84 Edge, Poppy 11 Myers, Bree 10 Thomas, Codi 11  Peng, Nelia 10               
2 Anacortes 1:45.01 Claridge, Hailey 12 Gold, Mica 12 Watkins, Fiona 12 Hambleton, Sabine 12         
3 Enumclaw 1:45.58 Hoyne, Ella 12 Massey, Tori 10 Levesh, Alexandra 9 Perlot, Kate 12
100 yard Backstroke
1 Dinnen, Brigid 9 East Valley Spokane 58.08
2 Patti, Gabbie 10 Bremerton 58.95
3 Myers, Bree 10 Pullman 1:01.25
100 yard Breaststroke
1 Manfredi, Milan 12 Sammamish 1:05.44
2 Brown, Lindsay 12 Anacortes 1:05.91
3 Forsyth, Parker 12 South Whidbey 1:09.82
400 yard Freestyle Relay
1 Anacortes 3:44.55 Hambleton, Sabine 12 Watkins, Fiona 12 Ellis, Annaly 12 Brown, Lindsay 12            
2 Sammamish 3:46.74 Long, Jadynrae 12 Gheewala, Maya 12 Manfredi, Milan 12 Gruner, Ava 11               
3 Port Angeles 3:52.60 McGuire, Harper 11 Fu, Yau 11 Asgeirsson, Danika 10 DuBois, Mackenzie 12
Final Team Standings:
  1. Sammamish                         305   2. Anacortes                         227
  3. Enumclaw                          183   4. Pullman                           180
  5. Port Angeles                    150.5   6. Fife                              106
  7. Selah                              98   8. North Kitsap                       95
  9. Shelton                            78  10. Aberdeen                           71
 11. Steilacoom                         67  12. Ellensburg                         61
 12. Squalicum                          61  14. Klahowya                           60
 15. Lindbergh                          57  16. Sehome                             52
 17. Tumwater                           43  18. East Valley Spokane                40
 19. Bremerton                          37  20. Blaine                             36
 21. Centralia                          35  22. Archbishop Murphy                  32
 23. South Whidbey                      27  24. Ridgefield                         26
 25. Hockinson                          24  26. Lynden                             19
 27. White River                        18  28. Kingston                           17
 29. Bellingham                         15  30. Hudson's Bay                       14
 31. Clarkston                          13  32. Black Hills                         9
 32. Sedro Woolley                       9  34. Sequim                              8
 35. Medical Lake                        6  36. East Valley                       5.5
 37. Cashmere                            5  37. Burlington Edison                   5
 39. Grandview                           4  39. Toppenish                           4
 39. East Jefferson                      4  42. Renton                              1
Video Highlights
Ava Gruner wins the 200 Individual Medley
Pullman wins the 200 Freestyle Relay
East Valley Spokane freshman Brigid Dinnen wins the 100 Backstroke
elisportsnetwork.com