11/12/2022
(Federal Way, WA) The Curtis Vikings started the 4a meet with a win in the 200 Medley Relay for their only trip to the top of the podium. Woodinville senior Marin Rusk won the 200 IM and Newport sophomore Sophia Sunwoo won the 100 Freestyle with an All-American Consideration time of 50.42.
Three other individuals would double dip in wins with Tahoma sophomore Elayne Chen winning the 200 and 500 Freestyle, Redmond senior Michelle Chen won the 100 Butterfly and 100 Backstroke. Issaquah senior Gillian Tu won the 50 Freestyle in an All-American Consideration time of 23.21 and the 100 Breaststroke in an Automatic All-American time of 1:00.72 also setting a New 4A Meet Record in the process. Those 2 wins earned Tu the Swimmer of the Meet Award while Curtis Coach Aaron Hughes was voted Coach of the Year.
With all of the individual events done the team title would come down to the last event. Going into 400 yard Freestyle Relay defending State Champion Tahoma had a 1 point lead on upstart Newport. The Knights would edge out the Bears for the win and the first team title in school history.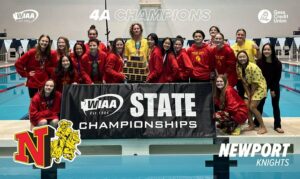 200 yard Medley Relay
1 Curtis 1:48.45 Caritativo, Athea 12 Guidoux, May 10 Link, Trinity 11 Proctor, Alexa 12            
2 Issaquah 1:48.68 Dandeneau, Chloe 10 Tu, Gillian 12 Bowen, Amelia 12 Minotte, Sophia 9            
3 Tahoma 1:50.01 Schlutt, Emma 12 Portmann, Makenna 12 Warner, Elena 10 Gaul, Rowan 11
200 yard Freestyle
1 Chen, Elayne 10 Tahoma 1:54.01  
2 Anderson, Elissa 9 Jackson 1:57.66
3 Parrish, Makhaela 12 Moses Lake 1:58.27
200 yard Individual Medley
1 Rusk, Maren 12 Woodinville 2:09.36
2 Deringer, Campbell 12 Camas 2:09.89
3 La, Yvy 10 Olympia 2:10.06
50 yard Freestyle
1 Tu, Gillian 12 Issaquah 23.21 AAC 
2 Sunwoo, Sophia 10 Newport 23.31 AAC
3 Parrish, Issabelle 11 Moses Lake 23.97
100 yard Butterfly
1 Chen, Michelle 12 Redmond 56.21
2 Girotto, Kaitlyn 12 Newport 56.29
3 Smith, Claire 11 Kamiak 56.95
100 yard Freestyle
1 Sunwoo, Sophia 10 Newport 50.42 AAC
2 Parrish, Issabelle 11 Moses Lake 52.04
3 Squeri, Giulia 12 Richland 54.59
500 yard Freestyle
1 Chen, Elayne 10 Tahoma 5:03.03
2 Winn, Leah 11 North Creek 5:08.91
3 Rusk, Maren 12 Woodinville 5:10.85
200 yard Freestyle Relay
1 Newport 1:39.55 Huang, Megan 9 Carlson, Amy 9 Huang, Kaylee 11 Sunwoo, Sophia 10            
2 Tahoma 1:40.12 Chen, Elayne 10 Portmann, Makenna 12 Conklin, Karis 12 Gaul, Rowan 11
3 Moses Lake 1:40.36 Parrish, Issabelle 11 Parrish, Makhaela 12 Heaps, Julia 10 DuVall, Kathryn 10
100 yard Backstroke
1 Chen, Michelle 12 Redmond 56.59
2 Girotto, Kaitlyn 12 Newport 58.27
3 Smith, Claire 11 Kamiak 59.14
100 yard Breaststroke
1 Tu, Gillian 12 Issaquah 1:00.72 AAA 4A Meet Record
2 Deringer, Campbell 12 Camas 1:04.14
3 Kim, Calliope 12 Skyline 1:05.18
400 yard Freestyle Relay
1 Newport 3:35.56 Makhervaks, Nicolle 11 Carlson, Amy 9 Girotto, Kaitlyn 12 Sunwoo, Sophia 10            
2 Tahoma 3:41.21 Chen, Elayne 10 Conklin, Karis 12 Schlutt, Emma 12 Gaul, Rowan 11               
3 Kamiak 3:41.26 Cho, Iris 10 Lorenzo, Julia 10 Ryu, Janey 10 Smith, Claire 11
50 yard Adaptive Freestyle
1 McIrvin, Jillian 12 Wenatchee 50.20  
2 Douglas, Missy 10 Wenatchee 1:35.37  
3 Wiest, Shannon 12 Wenatchee 1:44.02
 50 yard Adaptive Backstroke
1 McIrvin, Jillian 12 Wenatchee 53.05  
2 Wiest, Shannon 12 Wenatchee 1:15.58  
3 Douglas, Missy  10 Wenatchee 2:16.81
Final Team Standings:
 1. Newport                           239   2. Tahoma                            234
 3. Issaquah                        169.5   4. Moses Lake                        157
 5. Jackson                           152   6. Curtis                          140.5
 7. Kamiak                            121   8. Olympia                           114
 9. Redmond                           112   10. Skyline                            82
 10. Kennedy Catholic                   82  12. Eastmont                           78
 13. Camas                              76  14. Glacier Peak                       67
 15. Woodinville                        64  15. Puyallup                           64
 17. Mount Rainier                      63  18. Richland                         44.5
 19. North Creek                        41  20. Wenatchee                        40.5
 21. Eastlake                           36  22. Graham Kapowsin                    18
 23. Rogers                             15  23. Inglemoor                          15
 25. Union                              11  25. Hanford                            11
 27. South Kitsap                        9  28. Skyview High School                 7
 29. Chiawana                            6  30. Lake Stevens                        4
 31. Battle Ground                       3  31. Eisenhower                          3
 33. Kentridge                           2
Video Highlights
Issaquah's Gillian Tu sets new 100 breaststroke meet record
Newport's Sophia Sunwoo wins the 100 Freestyle
50 yard adaptive freestyle
elisportsnetwork.com