1/13/2023
Steve Schultz has been a head Football coach for 25 years with the last 21 all at River Ridge in Lacey. Schultz began his Head Coaching career in Montesano prior to coming to River Ridge where he remained through this past season. Schultz's teams were always known for being prepared, athletic and ready to give you their best shot each and every time.
Schultz finishes with a 144-86 record. He advanced to the round of 32 19 times, quarterfinals 3 times and 1 semi-final appearance. Schultz was League Coach of the Year 4 times and All-Area Coach of the Year twice. The semi-final and two of the quarterfinal appearances were with Montesano.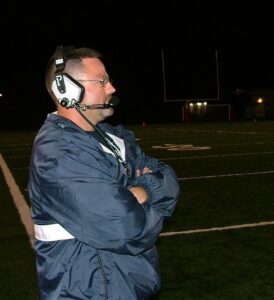 Schultz steps down not because he is through with coaching, he is leaving because it has become to burdensome to simply practice. Over the past 5 years Schultz and the football team have had to pack up and find their own way over to the RAC fields to practice many times because the field at the school was hard as rock in August, then turned to mud by October. This last season that expanded to every single day they had to get over to the RAC just to practice.
Schultz says his daily attendance at practice dropped from 95%+ to about 75%. Most of those who didn't attend didn't have a ride to get to practice and their parents were working so it was a huge burden. Schultz says he was thankful to the RAC for accommodating them, but with the off-site field the team could not use a lot of their large equipment like blocking sleds because they could not be picked up and moved daily.
Schultz also said this last year there was no trainer available on campus for athletes. His players that needed care and treatment had to travel to an office across town keeping them from having any interaction with the team. Schultz says he would also personally have to tape up players on a daily basis because he did not want that responsibility laid on an assistant coach who would be inexperienced at doing it correctly. Schultz says there were many days he was taping players on picnic tables in the rain at the RAC just to practice.
It is fair to note that many schools around the state have struggled in finding athletic trainers on a full part-time basis. Since the pandemic many companies that offer these services are short on qualified trainers and much like everything the demand is currently higher than the supply.
He said his frustrations wouldn't be as much as it is if the other North Thurston schools, North Thurston and Timberline, didn't have turf fields they get to use on a daily basis.  Schultz was not upset they had turf fields for their teams, he was just extremely disappointed knowing there was only one high school grass field out of all three that needed to be maintained.
Schultz was confident after a meeting last March regarding a maintenance plan that would allow the 110 players turning out to have an onsite practice field. He says these conditions became too much and after 25 years of being the head man it was simply time to turn it over to someone else with new energy to continue the battle of these challenges.
Schultz says despite how frustrating the current situation is he is hopeful for the Hawks and wishes them the best and will continue to be their biggest supporter. Schultz says he is not finished with coaching and has a potential varsity assistant position he is currently talking with a team he declined to name at this time.
However, Schultz says he has one hard and fast rule at taking a new job and that is they never play River Ridge. So the position he is pondering is in another classification with no chance of a non-league game being scheduled against River Ridge.
Schultz says he owes a lot to his assistant coaches, the administration, staff, kids and community of River Ridge. Schultz says the support he felt from inside the building. He said he truly believes the relationship he has had with each principal, athletic direct and teaching staff to para-educators to the custodians was very special and unique. Schultz says walking away from those relationships is the hardest and what will always make him bleed navy blue.
The process to hire Schultz's replacement is underway with a committee that will vet the applicants and then interview their top choices to find the right fit. The hope is to have this completed over the next few months so the new head coach has time to hire a staff and be ready for Spring ball in June.
www.elisportsnetwork.com