1/13/2023
Tenino 73, Elma 63
(Tenino, WA) On a Friday the 13th evening the Elma Eagles nightmare was the 3-point shooting of the Tenino Beavers. Tenino drained 10 from behind the arc and led from start to finish knocking off the 2-0 Eagles to push their own league mark to 3-1. The Beavers, under new Head Coach Ryan Robertson, came into the week facing the top two teams in the EVCO 1A in Eatonville and Elma. A sweep would have been great but after dropping a 7 point loss on Wednesday to the Cruisers they knew they needed to come out firing for a chance to defeat a very good Elma squad and they did just that.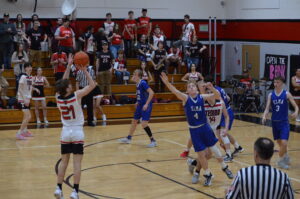 Keegan O'Connor and Will Feltus combined for just 2 points total with O'Connor being shut out in the game against Eatonville. The pair combined for 17 in the 1st half alone Friday night with O'Connor dumping in 11 with 3 longballs. That production took the pressure off of their offensive engine of Noah Schow and Austin Gonia but those two would still led the Beavers but in a more deliberate fashion.
Tenino jumped out to a 21-12 lead after the 1st quarter with 4 different Beavers sinking 3-pointers. Tenino was just 3 of 16 on Wednesday from deep. By halftime Tenino held that 9 point advantage with a 40-31 lead. Schow led with 13 points, O'Connor had 11 while Gonia and Feltus each had 6.
The Eagles were led by the 10 points of Cason Seaberg who sank a pair  of deep shots, Traden Carter had 6 and Grant Vessey with 3 but Vessey added a pair of steals and 4 assists to keep the Eagles within range of a 2nd half comeback.
However, when the 3rd quarter began it was the Beavers picking up where they left off and pushed their lead heading into the final 8 minutes to 17, 62-45. Gonia led the Beavers in the 3rd with 9 and ended up with 24 for the game scoring 18 of those in the 2nd half. Many of those points came from a pick and roll play with Schow that the Eagles could never slow down. Schow had 5 assists in the game 4 of those to Gonia.
Carter for the Eagles was virtually single-handedly trying to keep the Eagles in the game scoring 15 of his co-team high 21 in the 2nd half. Carter also had 4 steals and 3 rebounds. Seaberg also stayed hot with 11 2nd half points also finishing with 21, Carter Studer off the bench was next with 8.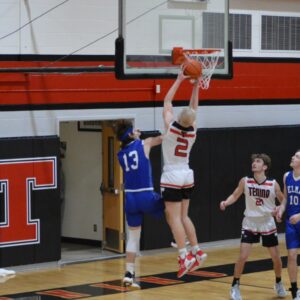 But it was all too late as Tenino at one point built a 20 point lead. Gonia added 14 rebounds to his game high 24 for his 2nd double-double in a row. Schow ended up dishing off 8 assists with his 20 points while O'Connor finished with 16. Brody Noonan threw some defense atthe Eagles as well with 8 boards and 3 blocks and had 4 points and pair of assists. O'Connor finished with 4 3-balls, Gonia, Schow and Feltus had 2 each.
Tenino is now 3-1 in league and 9-5 overall and travels to Willapa Valley on Monday. Elma drops to 2-1 in league and 8-3 for the season The Eagles will host Eatonville on Wednesday in a huge EVCO 1A showdown.
If you'd like to watch this game it is available on-demand on the NFHS Network. It is a subscription site of $11.99 a month and you may cancel at any time. Click this link to get to the on-demand recording of this game.
Our Thorbeckes MVP went to O'Connor who hadn't played basketball since he was a Freshman and came out and set the tone draining 4 1st half 3's. Check out our interview with Keegan below.


Interview with Keegan O'Connor
Video Highlights
Photo Gallery
www.elisportsnetwork.com