1/18/2023
(Adna, WA) Coming into this game sole possession of 3rd place in the Central 2B league was on the line with both Wahkiakum and Adna at 6-2 in league play. Both behind the 1st place Morton-White Pass at 8-0 and the 6-1 Napavine Tigers. With just 4 league game left after this one, it made this game vitally important to both teams and would give them each the tie-breaker in a head-to-head going into the District Tournament.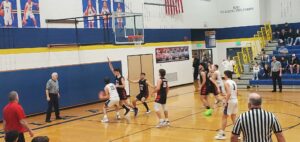 The home team Pirates got off to a good start scoring 16 in the 1st quarter led by Braeden Salme's 8 points which included 2 3-balls. The Adna defense held the Mules to just 8. In the 2nd quarter Wahkiakum began to find their groove and stopped firing from deep looking instead to penetrate the paint and score in close and drawing fouls. Wahkiakum went on a 20-7 run in the 2nd 8-minutes and led at the half 28-23.
The Mules put the game away in the 3rd exploding for 26 points and found their deep shot touch draining 8 long balls for the game. 2 from Avalon. Jacob Johnson, Titan Niemela and Zakk Carlson. Kyler Sause and Dominic Curl kept the pressure on inside the paint for a very tough inside and out game for the Mules and they led 54-34 after 3.
The Pirate simply could not hit shots and after a solid 1st quarter never regained their offensive touch until late in the game when Wahkiakum put in all reserves with about 2-minutes to play and held a 20 point lead. The Pirates made the late run but the hole was too deep to get out of and took the loss. For Adna Salme led their scoring with 20 while Lane Johnson had a solid game with a double-double of 10 points and 10 rebounds.. Eli smith also finished in double figs with 10.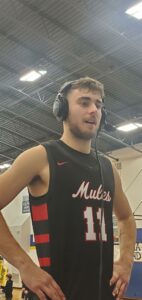 Avalon led Wahkiakum with 25 and 6 rebounds, 2 steals, 2 assists and a block while going 5-5 at the free throw line to fill out his stat line which was good enough to earn our Thorbeckes MVP of the game award.
The Mules also got 11 from Sause and then well spread scoring with 7 for Curl and 6 each for Johnson, Niemela and Carlson. Wahkiakum shot 13 of 17 from the free throw line as well. Adna was strong at the line too going 18-26.
Wahkiakum is now all alone in 3rd place with a 7-2 record, Adna falls to 6-3. The Mules are just behind both Napavine and MWP after Napavine defeated MWP by 2 last night the Timberwolves drop to 8-1 and the Tigers improve to 7-1. Wahkiakum hosts Onalaska on Friday while Adna heads to Toledo also Friday.
The game is available to watch on-demand on the subscription based NFHS Network by clicking this link.
Scoring
Wahkiakum: Avalon 25, Sause 11, Curl 7, Johnson 6, Niemela 6, Carlson 6, Carvalho 2
Adna: Salme 20, Johnson 10, Smith 10, Meister 8, Guerrero 4, Loose 2
Our Interview with Game MVP Brodie Avalon
Video Highlights
www.elisportsnetwork.com