1/16/2023
(Kent, WA) The annual MLK Classic at the Showare Center featured 8 games, showcasing 16 teams. 5 games were boys and 3 girls. Below is a re-cap story, pictures, video highlights and interviews for each game.
If you'd like to go back and watch any of these games they are all available on the NFHS Network. It is a subscription network and costs $11.99 per month or $79.99 for an annual subscription and you can cancel at any time. Click on this link and it will take you to the page where you can view the on-demand games an d subscribe if you don't already have a subscription.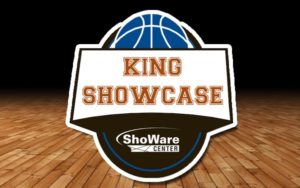 Game 1
Puyallup 65, Kentlake 44
The Puyallup Vikings and Kentlake Falcons kicked off the day long MLK Showcase in the Showare Center on  Monday and it was the Vikings that used a big 2nd quarter to propel them to the first win of the day.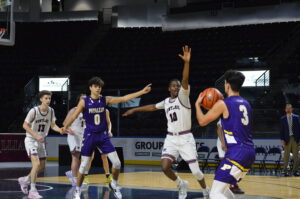 After a tight 1st quarter saw the Vikings hold a slim 16-15 lead it was Isaiah Sonntag who blew up in the 2nd quarter draining 4 of his 6 3 balls and finished with 14 1st half points. Sonntag was the only player to reach double figures between both teams finishing with 22. Will Nasinec off the bench sank 6 of his 8 for the game in the 1st half and Puyallup led 33-23.
Cannon Wilton led the Falcons with all 9 of his points in the 1st half including a 3 ball. Starter Stephen Delhumeau picked up 2 quick fouls and was very limited in the 1st half. 
The Vikings then took over in the 3rd stretching their lead to 50-32 after 3 quarters and finished with the 21 point win. Isaiah Sonntag finished with 22 points, 7 rebounds, 2 steals was 2 for 2 from the line and hit 6 shots from behind the arc to take our MVP award for the game. 
Also for Puyallup, Carsen Lovett had 9, Kaden Rolfsness added 8 with 4 boards while Lawson Looker grabbed 5 boards, a pair of steals, 3 assists and had 3 points.
For Kentlake, Wilton led with 9 along with 3 boards and a blocked shot. Trevontay Richardson off the bench scored 6 and had 3 boards and Cohen Thompson scored 5 with a long ball picked off 6 free throws with a steal and a block.
Puyallup improves to 9-8 for the season and will travel to Bethel on Tuesday getting back into SPSL league play. Kentlake drops to 3-8 and will next play at Kent-Meridian in NPSL league action.
Scoring
Puyallup: I Sonntag 22, Lovett 9, Rolfsness 8, Nasinec 8, Hanis 6, Jones 4, Looker 3, M Sonntag 2, Temple 2, Richardson 1
Kentlake: Wilton 9, Richardson 6, Thompson 5, Lawrence 4, Wilson 4, Hussein 4, O Williams 3, Delhumeau 3, X Williams 2, Rai 2
Video Highlights
Photo Gallery
Game 2
Rogers (Puy) 54, Mercer Island 51
Game 2 on the day had a real post-season feel as it went down to the final seconds. Mercer Island jumped on the Rogers Rams for a 16-6 lead after the 1st quarter. Syver Lanctot got the Islanders rolling early scoring 11 of his 14 in the 1st half doing with 3 long balls from behind the arc.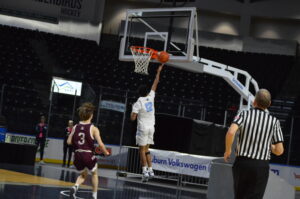 The Rogers Rams made up a lot of ground in the 2nd quarter cutting the 10 point deficit to just 3. Amanna Anusiem led the charge by taking to the hoop and drawing several fouls that sent him to the line a total of 9 times in which he sank 7.
The Islanders held on tight to that 3 point lead after 3 quarters with a 42-39 lead but the Rams would not allow them to slip off to another double digit lead and made their run in the 4th where they would take their first lead when they pulled ahead 43-42. Anusiem would add 4 to his 9 for a total of 13 but he got plenty of help from Treyshawn Weatherspoon who finished with a dozen doubling his halftime total and Dylan Gilderhaus who scored 7 of his 11 in the 2nd half.
Mercer Island got 14 from Lanctot with 4 3 balls, Jackson Bredy hit for 12 including a 3 and going 3 for 4 from the line. Spencer Kornblum also finished in double digits with 11. 
Rogers improves to 9-7 overall and plays at Olympia Tuesday night. Mercer Island is now 5-7 and travels to Hazen on Tuesday in a Kingco 3A league match-up.
Our MVP of the game went to Amanna Anusiem for Rogers.
Scoring
Rogers: Anusiem 13, Weatherspoon 12, Gilderhus 11, Yoder 5, Nasinec 3, Rigney 2, Reeves 2
Mercer Island: Lanctot 14, Bredy 12, Kornblum 11, Nordale 5, Cruzen 5, Korvarskas 4
Interview with MVP Amanna Anusiem
Video Highlights
Photo Gallery
Game 3
Bellarmine Prep 49, Eastlake 45
In the 1st of three girls contests on the day the Bellarmine Prep Lions came storming back from a 7 point 3rd quarter deficit to the 4 point win by outscoring the Wolves 20-9 in the 4th. The Lion were put in the hole after leading 23-21 at the half and Eastlake scoring 15 points and shutting down the lions holding them to just 6.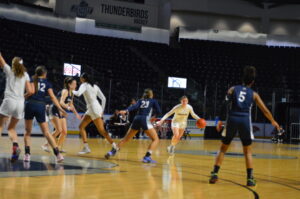 Eastlake's Ava Schmidt led with 17 points and grabbed 7 rebounds and then filled out her stat line with 5 blocks, a steal and 2 assists. Meantime team mate Sofia Aluas recorded a double-double with 15 points and 16 rebounds. Darcy McCoy finshed with 4 points but dished out 4 assists, had a steal and 3 rebounds.
Bellarmine Prep's Taylor Teeple led all scorers knocking down 19 and went 8 for 8 at the free throw line and added 5 boards. Kiara Stone added 13 and picked off 3 steals while Keiara Curtis was tough down low with 9 rebounds and dished out 5 assists adding 7 points. For her efforts Taylor Teeple was named the game MVP.
Bellarmine Prep is now 12-5 and will play at Curtis Tuesday night in SPSL 4A league play while Eastlake drops to 12-4 and travels to North Creek on the 20th in their next game.
Scoring
Bellarmine Prep: Teeple 19, Stone 13, Curtis 7, Travis 5, Leingang 3, Wiggins 2
Eastlake: Schmidt 17, Aluas 15, Sefair-Lopez 5, McCoy 4, Baumgartner 2, Jackson 2
Video Highlights
Photo Gallery
Game 4
Lynden 52, North Kitsap 50
The last two state tournaments saw Lynden win it all last year and finish 3rd the time before, whereas, North Kitsap finished 3rd last year and won it all the time before. Neither team was willing to give an inch and it showed Monday afternoon at the Showare Center where the winning shot literally rolled in as time expired in the game.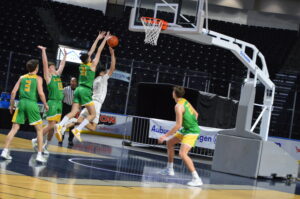 Neither team allowed the other to get too far away as they were tied after 1 at 11-11 and then the Lions led 29-28 at the break. Coston Parcher led the Lions with 12 1st half points while Brant Happner knocked in 8 of dozen for the game. North Kitsap hung right with the defending champions behind Harry Davies' 14 points and the 9 from Cade Orness.
The Vikings kicked it up a notch outscoring Lynden 13-7 to take a 41-36 lead into the final 8 minutes. The Lions showed why they are defending Champs and scratched their way back into a tie late in the game 50-50. In the final series Parcher brought the ball down the floor, drove into the lane and put up a shot that rolled off with no whistle but the Lions Treyson Smiley was in perfect position to grab the offensive board and put it back up and as the ball hit the rim and rolled around time expires and then fell through for the win. Pure joy for the Lions and the ultimate heartbreak for the Vikings.
Lynden's Parcher led the Lions with 14 and added 4 steals while Heppner had 12 points and snared 7 rebounds. Treyson Smiley scored 4 but nabbed 10 boards including the game winner board and bucket. Parcher's overall effort and leadership on the floor earned him our MVP award.
North Kitsap had a monster game from Harry Davies with 22 along with 8 rebounds, and a pair of steals and assists. Cade Orness right behind with 19 and 5 boards also with 2 steals and 2 assists. Mason Chmielewski was 2 for 2 at the line but dished off 5 assists had 3 boards and a steal.
Lynden, the #1 RPI team in the state is now 12-1 overall and will host Burlington-Edison on Wednesday in league play while North Kitsap is now 10-5 overall and plays at Bainbridge Tuesday night.
Scoring
Lynden: Parcher 14, Heppner 12, Canales 8, Baar 8, Elsner 6, Smiley 4
North Kitsap: Davies 22, Orness 19, Ashford-Downing 4, Gillespie 3, Chmielewski 2
Interview with our Game MVP Lynden's Coston Parcher
Video Highlights
Photo Gallery
Game 5
Woodinville 52, Sumner 42
In a rematch of last year's girls State Championship game in which Woodinville Falcons pulled off a 2 point win over Sumner, it was the defending Champs who looked more like they were ready for post-season as the #1 ranked RPI team gradually pulled away from the Spartans to post an impressive win who entered the game as the #3 RPI.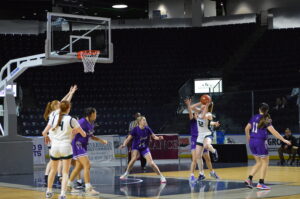 Both teams started a bit slow with the Falcons holding a 10-9 lead.. Woodinville would get their offense rolling in the 2nd knocking down 14 led by Brooke Beresford's 9 but 6 other Falcons would contribute. Woodinville's defense would lock down the Spartans holding them to just 6 points. Kylie Griffin led with all 9 of her points in the 1st half.
In the 3rd quarter the Falcons surged to push their lead to nearly 20 leading 44-25 scoring 20. Sumner would not give in but the big 3rd quarter was too much for the Spartans to overcome as they outscored Woodinville in the final 8 minutes 15-8 for the final 10 point difference. 
For the Falcons our MVP went to Jacey Eggers as defense was the theme of the day for Woodinville and she had 14 rebounds, 4 blocked shots and a steal to go with her 11 points an all-around winning performance. Beresford finished with 13 and also got a double-double with 14 boards. Lyla Kahrimanovic was the 3rd with a double-double for the Falcons with 11 and 17 rebounds. 
The Spartans were led by the 12 points of Lainee Houillon. Houillon grabbed 9 boards and had 3 steals. Olivia Collins dropped in 10 and Griffen had 9 and just missed a double-double with 10 rebounds.
Woodinville is now 15-1 and travels to Newport High School Wednesday. Sumner falls to 13-3 and returns to SPSL 4A league play on Tuesday at South Kitsap. 
Scoring
Woodinville: Beresford 13, Kahrimanovic 11, Eggers 11, Quiggle 8, Wilkerson 4, Laccinole 3, Segadelli 2
Sumner: Houillon 12, Collins 10, Griffin 9, Perez 4, Hughes 3, Gould 2, Nohr 2
Our Interview with Game MVP Jacey Eggers
Video Highlights
Photo Gallery
Game 6 
Tahoma 54, Sumner 38
The Tahoma Bears trophied in the State Tournament for the 1st time last season in school history and they are out this year to prove they are not a 1-hit wonder. The Bears led front start to finish and led by 20 at the half 30-10. Dalton Brown and Jayden Stephens led the scoring at the break for the Bears with 9 each.
Tahoma would keep it going in the 3rd with another 15 points but Sumner finally got their offense rolling and outscored Tahoma 16-15 but still were in a 19 point hole. They would again outscore the Bears in the 4th but just by 3. Javion McLaughlin heated up for the Spartans with 15 after being shut out in the 1st half. Kaden Kastberg finished with 9 and finished with 4 rebounds.  Sumner is now 8-8 overall and will next host South Kitsap in SPSL 4A league play on Tuesday night.
Tahoma was led by Brown's 21 points while grabbing 8 rebounds and added a couple of blocked shots. This was the MVP performance of the game. Stephens finished with 10 with 3 rebounds and a steal while Adam Davis knocked down 8 with 5 boards a steal and an assist.
Tahoma came in as the #13 ranked in the RPI and improve to 11-3. The Bears are back in NPSL league action when they host Kentridge on Tuesday night.
Scoring
Tahoma: Brown 21, Stephens 10, Davis 8, McGough 5, Sheries 4, Stonerock 4, Miller 2
Sumner: McLaughlin 15, Kastberg 9, Bohl 6, Mentink 4, Miller 2, Nordling 2
Interview with Game MVP Tahoma's Dalton Brown
Video Highlights
Photo Gallery
Game 7
Kentridge 60, Mt Si 55
The Kentridge Chargers haven't been to the State Tournament since 2019 and haven't since 2011 with a 6th place trophy. A far cry from the Kentridge glory days of 1992 when they won their lone State Championship. So, coming into this game they are facing the Wildcats who finished 2nd last year losing to Curtis in the Title game. Mt Si came in as the #2 RPI team and Kentridge was #4 and ready to show they belonged.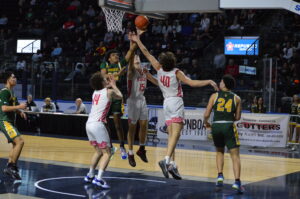 The Chargers bounced out to a 10 point 1st half lead using a strong power game in the paint to help build their lead. Elijah Cain led Kentridge at the break with 11 while Jaylon Blackwell scored 10 and Jamarri Harris scored all 6 of his points in the 1st half. The Wildcats hung in there with a big 1st half from Blake Forrest with 9 and Bennett Olujic was next with 6.
Mt Si would chip away at that 10 point hole and cut it in half after the 3rd quarter trailing 43-38. In the 4th Mt Si would pull within 2 several times but down the stretch Alex Conner hit a couple beautiful fall-away floaters that were back breakers and Blackwell hit some key free throws and the Chargers would pull the upset knocking off the #2 RPI team with a 5 point win.
Blackwell added 11 in the 2nd half to lead all scorers with 21, picked off 3 steals had a pair of assists and 2 rebounds to make him our MVP of the game. Cain finished with 15 and grabbed 5 boards while Conner scored 7 of his 9 in the 2nd half.
For Mt Si Olujic led with 16 while Forrest finished with 15 with 5 dishes and a pair of steals and Miles Heide also reached double digits and in fact double-doubled with 14 points and 15 rebounds and also had 4 blocks.
Kentridge improves to 13-2 overall and has their hands full over the next 8 days taking on Tahoma on the road Tuesday night, then Mt Rainier on Friday and then on the 24th they get the #3 RPI team in Federal Way on the road.
Mt Si is now 13-2 and will play North Creek on Tuesday and then the Wildcats get the #1 RPI team hosting Skyline Friday night.
Scoring
Kentridge: Blackwell 21, Cain 15, Conner 9, Harris 6, D Randhawa 3, X Randhawa 2, Thomas 2
Mt Si: Olijic 16, Forrest 15, Heiden 14, Hennig 5, Taylor 3, Smith 2
Kentridge MVP Jalon Blackwell
Video Highlights
Photo Gallery
Game 8
Kentwood 47, Bethel 45
The Kentwood Conks are off to a good start sitting tied for 2nd with a 6-0 league record in the NPSL with Decatur both at 6-0 and both trailing 7-0 Kentridge by a half game. Meantime, Bethel is in mid-pack of the SPSL 4A with a 5-4 record behind powerhouses Sumner, Olympia, Emerald Ridge and Bellarmine Prep and were looking to pull an upset to spark a 2nd half run.
The Bison didn't pull off the win but they just might have gotten the spark they wanted as they pushed Kentwood down to the final second literally when a desperation shot bounced off the back of the rim and had it gone in would have been a stunning game winner. The shot and performance left the Conks leaving the floor breathing a huge sigh of relief.
Kentwood took the lead after the 1st quarter with a solid 18 points holding Bethel to 12. In the 2nd quarter Bethel clamped down on defense and poor shooting limited KW to a single basket, 2 points while they remained consistent with 13 and took a 25-20 lead into the break.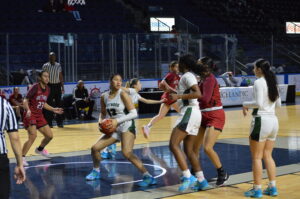 Kentwood would reverse course and hit for 18 again while Bethel stayed the course with another 13 and going into the final 8 minutes it was all even at 38-38. Nearly 7 minutes would tick off and nothing had been decided with the teams deadlocked at 45-45. With 1:09 to play Kentwood's Jessica Ajayi would take the ball in the backcourt and drive into the lane pulled up and dropped a sweet little floater from about 4 feet away for the 47-45 lead. 
After some fouling back and forth Bethel found themselves at the free throw line with 6 seconds to play and Foai Pula shooting. Pula came up short and the ball came out and was rebounded by Kentwood but Alyssa Smith got her hands on the ball to force a jump and Bethel had possession and 4 seconds to work with. From the baseline the ball was thrown into Pula just outside the key, she took a dribble and it went off her foot and rolled out across the 3 point line where the Bison's Moriah Sears picked it up and launched a shot that would have won the game and as the horn sounded the ball clanked off the rim just barely missing the game winner.
Kentwood's Ajayi led the Conks with 16 points and just missed a double-double with 9 rebounds and also had a pair of assists and steals and a blocked shot. That was more than enough to take our MVP honors. Dee-Vyne Salu had 11 and Niki Boris added 9. 
Lei Lime-Laupati led the Bison with 17 points and hit her double-double with 10 boards and added a couple of steals. Pula hit for 12 with 6 rebounds and Smith hit for a half dozen.
Kentwood is now 10-4 overall and is back in action on Tuesday at Kennedy Catholic. Bethel falls to 6-9 for the season and will next play at Puyallup Tuesday night.
Scoring
Kentwood: Ajayi 16, Salu 11, Boris 9, Pam 7, Va'a 4
Bethel: Kime-Laupati 17, Pula 12, Smith 6, Sears 5, Clemons 3, Austin 2
Interview with Game MVP Jessica Ajayi
Video Highlights
Photo Gallery
www.elisportsnetwork.com