8/18/2023
The 14th Power Rankings of the season was easy to crown the RED HOT MOVER as Carlos Montalvo tripled on Friday, tripled on Saturday and added a Stakes win in the Distaff on Sunday for a 7 win week the highest week win total of the season. We had a lot of efforts this week that were all close to each other so there is no Blazer of the week, we just couldn't set anyone apart.
Overall, a lot of movement in the Power Rankings so let's get to this week's rankings!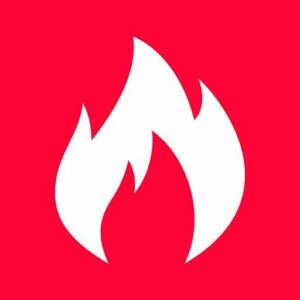 The Red Hot Mover of the Week!
#1 Carlos Montalvo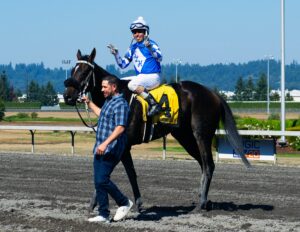 Carlos Montalvo had a week with 3 of 7 win on both the Friday and Saturday cards for a total of 6 wins in 14 races or a win percent of 43% of the races available but he only rode in 10 races so he was an eye-popping 60% win rate for the 1st 2 days. The on Sunday he only got 1 win but it was a big one taking the 50k Distaff on Tiz a Macho Girl and finished the week with a 7-1-1-3 record from 16 starts. This is a massive 44% win rate and 75% top 4 finish making Montalvo our Red Hot Mover of the week by a landslide moving up from #9 to #1!
#2 Alex Cruz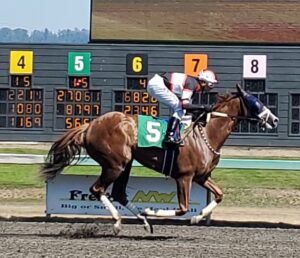 Alex Cruz had a solid week scoring 3 wins and had one taken away that is more than a questionable call but still added to his lead over Luis Negron in the Jockey standings. Cruz finished the week 3-7-0-4 from 18 rides winning at a 17% clip and top 4 finish rate of 78%. Cruz also had a solid run in the Distaff with Blazingbellablu running 2nd to Tiz A Macho Girl. Cruz remains focused on winning that 4th straight title.
#3 Jose Zunino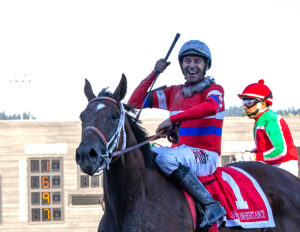 There were 2 other riders with 1 more win than Zunino this week but Jose continues to make the most of his chances and although most thought he might get a Stakes win with 2nd favorite Lloyds Logic in the Derby or of course Slew's Tiz Whiz in the Mile but few thought his big moment would be on 23-1 Jamie's Inheritance in the Oaks and won it by 7 lengths! Zunino finished 2-0-2-3 from 11 starts winning at an 18% clip and top 4 finish rate of 64%.
#4 Kevin Radke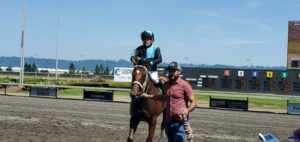 Kevin Radke was super consistent along with a tough break when he felt he was interfered with in the stretch run of the Muckleshoot Derby. The Stewards decided the contact created was not enough to make a change which would have given Radke the win in one of the 4 Stakes races. Despite that he still finished with 3 wins going 3-1-2-2 from 15 rides for a win percent of 21%. Radke was below his season average superfecta rate by quite a bit which cost him a placing in the PR's finishing with a 53% top 4 rate.
#5 Kevin Orozco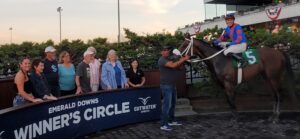 Kevin Orozco has now won 6 races over the past 6 racing days and jumped his total wins from 9 to 15 just like that. Orozco is starting off hot here in August and looks to keep that rolling. He finished 3-0-2-1 from 14 rides for a solid 21% win rate but fell off on the 2nd-4th finishes overall 43%. Orozco holds onto his #5 ranking.
#6 Rocco Bowen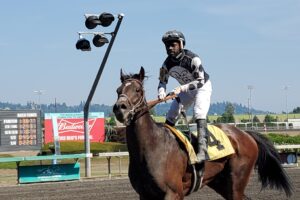 Rocco was only here for 1 day this week and he made the most of it with a pair of wins from 8 rides for a 25% win rate. He also had 2 places and show and finished the day 63% top 3 finishes.
Negron has been hit with a serious case of 2nditis taking the place position 13 times over the past 9 racing days. He's 4 behind Cruz now and did grind out a win this week. We can't help but believe Negron will bust out soon and when he does he may be right back nose to nose for the riding title.
#8 Isaias Enriquez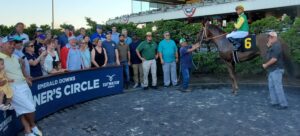 Isaias Enriquez got just 1 win this week but sure made a lot of folks happy with a huge crowd in the winner's circle. Enriquez was 1-2-4-1 from 13 mounts for an 8% win rate and 62% in he superfecta.
#9 Naptali Ortiz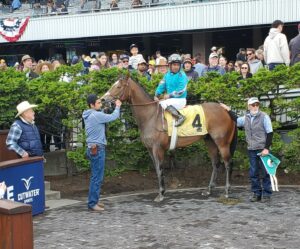 Neptali Ortiz only had 3 rides last weekend and all on longshots. He finished 2nd on 11-1 March on Linch but was the benefactor of a Stewards ruling moving him up to 1st place giving him the win. We note tho without him riding hard and getting the place he would not have been in position to get the move up.
#10 Silvio Amador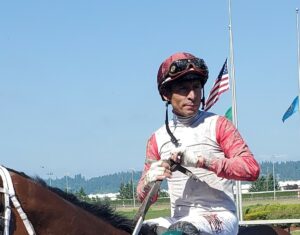 Silvio Amador has cooled off after about a 5-week hot streak and did not get a win this past week. He finished with a hearty 65% top 4 finish with a 0-5-3-3 record from 17 rides. Those 5 2nd can be turned around to wins so we don't think Amador will be shut out again.
The Invaders
3 riders invaded to ride in the Stakes races with a total of 5 rides they did well with 2 wins, a 2nd and 2 4thplace finishes. Joe Bravo rode Five Star General to victory in the Longacres Mile with his lone ride. Alexander Chavez got the win on Prince Abu Dhabi in the Muckleshoot Derby and placed 4th in the Oaks and the Mile. And Alejandro Gomez took 2nd in the Longacres Mile on II Bellator.
www.elisportsnetwork.com