8/27/2023
Special Thanks to Wayne Nagai for many of the Stakes pictures and track photographer's Reid and Erin Palmer.
(Auburn, WA)  Two Stakes races were on tap along with the annual wiener dog races and the wanna-be dog races. A total of 10 races were run with 73 starters for a 7.3 average per race. Sunday's total handle was $1,921,390 for an average of $192,139 per race. 3 betting favorites won while there were only 2 odds-on choices with one of them winning.
The Betting Window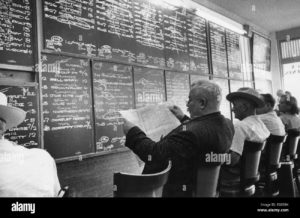 The high $2 win pay of the day was 8-1 Special Diva in the Wa Cup fillies race and paid $19. The high $2 place was 6-1 Rodeo Rose in the 4th race of $9.20 and the high show pay-off was in the 6th race where 10-1 Validate paid $6.20.

The biggest pay of the day was the 50-cent pick 5 that returned $3,334.15, races 6-10. There were 2 pick 5's on Sunday with a 10-race card and the 1-5 races also paid well $1,325.80. The 20-cent Jack-pot Pick 6 had multiple winners and paid a handsome consolation of $1,378.86 and a carry-over is headed to next Saturday of $5,993.
There were 3 pick 4's and the 1-4 races paid $424.70, the 4-7 races paid $713.45 and the 7-10 final pick 4 returned $443.05. There were 8 pick 3's with the high pay of $304 on races 7-9 which included both stakes races. The lowest pay was the 1-3 races of $48.50. For the day the pick 3's averaged $117.09 or 233-1. There were 9 $1 daily doubles with the high pay of $69.20 which was the 6th and 7th races. The low pay was the 1st one, races 1-2 of $19.10. For the day the DD's averaged $40.47 or 39-1.
The high pays for the exacta, trifecta and superfecta's all came in the 4th race with a 7-1 to 6-1 to 2-1 to 7-1 top 4 finish. The $1 exacta paid $59.60 (58-1), the 50-cent trifecta paid $134 or $268 for the $1 bet (267-1) and the dime superfecta returned $117.63 or $1,176.30 for the $1 bet (1,175-1). The 50-cent Super Hi-5 in the 10th race was pretty easy and the pay-off proved it of just $28.35.
Starting the day leading rider Alex Cruz held a 4 win lead over Luis Negron 56-52. Cruz looking to become the 1st ever jockey in state history to win 4 straight riding titles is laser focused on that goal and tripled on Sunday to push his win total to 59. Negron got 1 win but now trails 59-53 and 6 win lead with just 6 days left to go. Cruz is close to clinching this and Negron will have to gain ground this next weekend to stay in the race.
For the 1st time this season Kevin Radke was shut out of the winner's circle and a bit of the dreaded 2nditis bug with 5 2nd place finishes. But he holds onto 3rd place with 43 wins. Silvio Amador won the opener but that's all he could get and is just 2 behind Radke for 3rd with 41 wins. Carlos Montalvo sits in 5th place as he got a win on Sunday with 31 total wins. Isaias Enriquez doubled sweeping the final 2 races on the card including the Wa Cup Juvenile filly stake and is just behind Montalvo with 29 wins. Jennifer Whitaker picked up an impressive win in the Wa Cup Juvenile colts and geldings stake for her 6th win on the season. And Rocco Bowen was sniffing around that winner's circle a lot on Sunday and got just 1 winner with 4 places to wrap-up the winners on Sunday.
Leading trainer Justin Evans picked up a win on Sunday to push his win total to 39 and maintained his 10 win lead over last year's champion Jorge Rosales who also had a win, his 4th of the week. Frank Lucarelli scored a win in the get-away race giving him 21 wins for the year. Also picking up wins were Luciano Medina Gabriel his 17th, Candi Cryderman got her 15th, Tim McCanna scored his 5th win of the season and Ryland Harwood got #4.
Hall of Fame trainer Howard Belvoir got win #6 by winning the Wa Cup Juvenile colts and geldings with Rimrock Lake. Vince Gibson had his best week of the season as he finished with 4 wins, a place and a show from 7 starts. This included a double on Friday and a double on Sunday and also winning one of the big races taking the Wa Cup fillies with Special Diva. Gibson is the clear trainer of the week.
The Owner's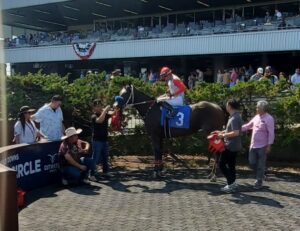 After the 1st race of the day there was a new leader in the owner's race as young Luciano Medina Gabriel won his 16th race with Arthur Spooner that was enough to break the tie he was in with Justin Evans. Last year's defending champ John Parker then got into the action winning his 13th of the season in the 4th race with Western Dream to keep his hopes of repeating alive. Justin Evans then pulled into a tie with Gabriel in the 5th race with Mosquito Fleet. Parker had the only entry after the 5th and it was the odds-on choice in the Wa Cup fillies race with Neissa who ran a solid race but had to settle for 2nd so the top 3 all ended up pushing on Sunday. Gabriel and Evans each have 16 wins and Parker sitting right behind in 3rd with 13 victories.
Other winning owners on Sunday included Tsujikawa Racing, Ryland Harwood, Tim McCanna and Ian McLean, Lusk Racing and David Bales. Two other winners were the Stake winners and Clemans View Farm won the Wa Cup colts and geldings with Rimrock Lake and Jeff Cissell took the Wa Cup fillies with Special Diva.
The Wiener's and Wanna-be's
Sunday the Granddaddy of all Dog racing at Emerald Downs took to the track with the Wiener dog races that go all the way back to 1997 and was started by radio station Star 101.5 specifically the hugely popular Kent and Allan morning show. Since then the Wiener dogs have been an  annual late summer tradition at Emerald Downs.
The Wiener dogs ran their 4 qualifying races and last year's Champion Luka was back and ready to defend his title. In the Championship race he broke free from his owner Alex and stopped about 15 yards from the finish line, looking up and barking at the overhead drone. He was corralled and taken back to the starting line and when the flag dropped he was off like a shot chasing the drone and won by a landslide.
We talked with his owners Alex and Fabian and they had no idea the he would even notice the drone but clearly he had drone on his mind as he chased it past the finish line and up near the 1st turn.
Wiener Dog Championship Race
Champion Luke and owners Alex and Fabian
Wannabes Championship Race
7th Race Stakes Washington Cup Juveniles Colts & Geldings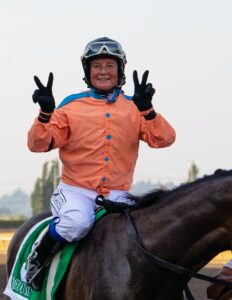 A field of 6 broke from the gates at 6 1/2-furlongs in the $50,000 Washington Cup Juveniles for colts and geldings and Knightline with Rocco Bowen was bet down to 1-1 favoritism with Chancellors Boom and Kevin Radke the 8-5 2nd choice. Chancellors Boom went straight to the lead and set solid fractions of 22.18 and 45.30. 5-1 Rimrock Lake with Jennifer Whitaker was making his 2nd start after an impressive maiden win at tne 25k claiming level and Whit had the Rock out of trouble sitting just off the front speed with Knightline.
Entering the turn Rimrock Lake was within a length of Chancellors Boom just cruising along and then they hit the quarter pole and Whitaker could no longer hold him back as Rim rock Lake bolted from the pack adding a length to his lead with every stride pulling away from Knightline with a 7 length win in a time of 1:18.81.
Rimrock Lake's stablemate Allante at 23-1 with Carlos Montalvo ran on well to be 3rd while fellow 23-1 Beer Begone and Alexis Valdes took 4th. Chancellors Boom would fade to last whike Where Ya Gonna Go a 1st time starter with Javier Matias ran 5th.
Rimrock Lake is owned by Clemans View Farm and trained by Howard Belvoir. Rimrock Lake is a Washington bred by Raised a Secret out of Nightwalker by Parker's Storm Cat and bred by Clemans View Farm. Rimrock Lake is now 2-0 from 2 career starts and has earned a healthy $37,070.
Stretch Run of Wa Cup Colts and Geldings
Winner's Circle Ceremonies
Photo Gallery
9th Race Stakes Washington Cup Juvenile Fillies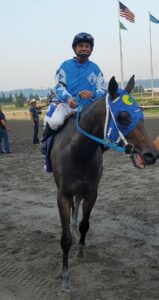 A field of 10 2-year-old fillies went to the gates in the $50,000 Washington Cup for fillies. Despite the big field #3 Neissa was the odds-on 3-5 favorite with Rocco Bowen. She's a Kraken with Alexis Valdes was the 6-1 2nd choice and those two would battle on the front end from the beginning of the 6 1/2-furlong race setting fractions of 22.16 and 45.28.
Meantime, Special Diva at 8-1 got a patient ride from Isaias Enriquez sitting in 3rd off the pace just waiting to make her move and breaking from the 10 hole had no traffic issues. By the time the trio hit the quarter pole they were lined up across the track but Special Diva had all the momentum and rolled on by the early speed dual. Neissa tried to resist but Special Diva was not going to be denied and pulled away inside the 16th pole for a 3-length victory in a time of 1:19.43. Neissa was a clear 2nd while 23-1 Coastal Girl with Kevin Radke closed well to be 3rd and She's a Kraken held onto 4th place.
Special Diva came into the race with a win but got it through a disqualification, this time she left no doubt who was best. The Washington bred by Misremembered out of Special Holiday by Private Gold was bred by Connie Belshay. Special Diva is owned by Jeff Cissell and trained by Vince Gibson. Special Diva is now 2-0-0 from 4 starts and earned $27,500 for the win pushing her career earnings to $38,780.
Stretch run of Wa Cup Fillies
Winner's Circle Ceremonies
Photo Gallery
There's a new leader in the owner standings with Luciano Medina Gabriel taking the lead with a win by Arthur Spooner and Silvio Amador with a perfect stalking trip to win easy by more than 2 lengths. The 4-year-old gelding covered the 6-furlongs in 1:11.08. Gabriel is also the trainer. Running 2nd was Miso Fast with Alex Anaya, 3rd went to Our Empire with Neptali Ortiz aboard and 4th was Besame Mucho and Alexis Valdes.
2nd Race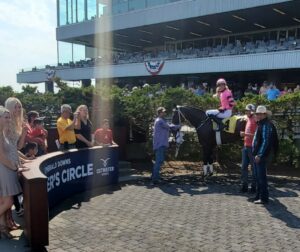 Alex Cruz knew what to do with Fire Escape and went straight to the lead and never looked back winning by 5 1/2. Mean Sharon and Rocco Bowen got 2nd followed by 18-1 Mischief Mama and Jose Zunino for the show and taking 4th was V Bucks and Alexis Valdes. Fire Escape races for Tsukiawa Racing and is trained by Jorge Rosales and ran the 3/4′ mile in 1:10.49. There were 2 claims in the race First Promise went to owner/trainer Jose Raudales and V Bucks goes to owner Dawn Spillman and trainer Jorge Rosales. Both claims were $2,500 each.
3rd Race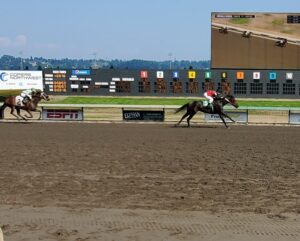 Carlos Montalvo brought Lucinda Rella from just off the pace with a bold move and drew off to win by 3 lengths for owner/trainer Ryland Harwood stopping the clock for the 5 1/2-furlongs in 1:04.96. Scatalicious and Rocco Bowen ran 2nd followed by Lady Atta Tude with Luis Negron up and rounding out the superfecta was Distinctive Deb and Kevin Radke. There was an objection claimed by Bowen against the winner but was disallowed.
Rocco Bowen got the win on a nicely timed ride on 7-1 Western Dream to beat Rodeo Rose Kevin Radke by a neck. Above the Stars with Alex Cruz was just a 1/2 length back and in 4th came Stickinittotheman and Isaias Enriquez. Western Dream ran the 6 1/2 in 1:17.10 for owner John Parker and trainer Candi Cryderman. Rodeo Rose was claimed by new owner Rancho Viejo and trainer Rigo Velasquez.
5th Race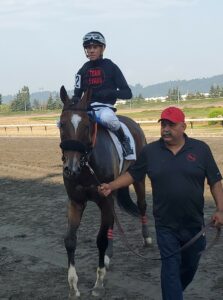 Mosquito Fleet went gate to wire for Alex Cruz in this mile event running it in a time of 1:38.70 for owner/trainer Justin Evans. With that win Evans answers Luciano Medina Gabriel in the owner's standings and both are again tied. Olympic Legend ran 2nd with Kevin Radke aboard, the show goes to Coolcross and Rocco Bowen while taking 4th was March On Linch with Neptali Ortiz.
6th Race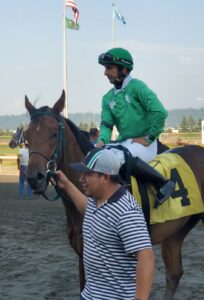 Alex Cruz pushed his lead back to 5 in the 5th and Luis Negron pulled it back to 4 also winning in wire-to-wire fashion on Wegotbeeronice. The duo got the 6-furlongs in a time of 1:10.09 and Beer races for Tim McCanna and Ian McLean and trained by McCanna. Nation of Faith with Kevin Radke ran 2nd while 10-1 Validate and Jennifer Whitaker got 3rd and Sparks Flyin with Alex Cruz was 4th.
8th Race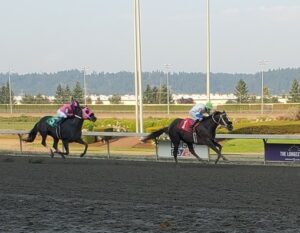 Alex Cruz has had his focus on winning that 4th straight riding title and has not taken his foot off the gas as he picked up his 3rd win of the day going coast-to-coast on Company's Dream in a swift time of 1:16.63 for the 6 1/2-furlongs. 7-2 It's Kraken Time ran on well to be 2nd with Kevin Radke, 5-2 favorite Naval Escort and Silvio Amador took 3rd and finishing off the top 4 was 27-1 Lucky Code with Luis Negron. Company's Dream is owned by Lusk Racing who were also awarded last week's Owner of the Week. Vince Gibson trains and added to one of his best weeks of the season.
10th Race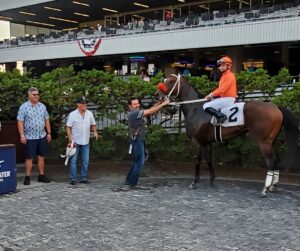 Isaias Enriquez finished off the week winning the late daily double taking the filly stake at 8-1 and not disappointing the bettors with an easy win in the 10th on a front running effort aboard Bails Him Out at 3-5. Smiling Preacher with Silvio Amador ran 2nd, 3rd went to 8-1 Brannigan and Rocco Bowen while 5-1 Pedal to the Metal and Kevin Radke ran 4th and completing the Super Hi-5 was 19-1 Moon Time and Luis Negron. Bails Him Out races for David Bales and trained by Frank Lucarelli and ran the 6-furlongs in 1:10.37.
www.elisportsnetwork.com